Fire Pit | Outdoor Living | Overlay | Patio | Pavers | Project Design | Retaining Wall | Sitting Bench | Sitting Wall | Steps | Techo-Bloc | Transformation | Walkway
When you pull up to the the Hebert residence, one of the first things you notice is the large set of concrete steps leading up to their side entry, with a walkway leading only part way to the patio. When you take the walkway (or grass) to the back patio...you discover what used to be a beautiful patio years ago but now needs a little face lift.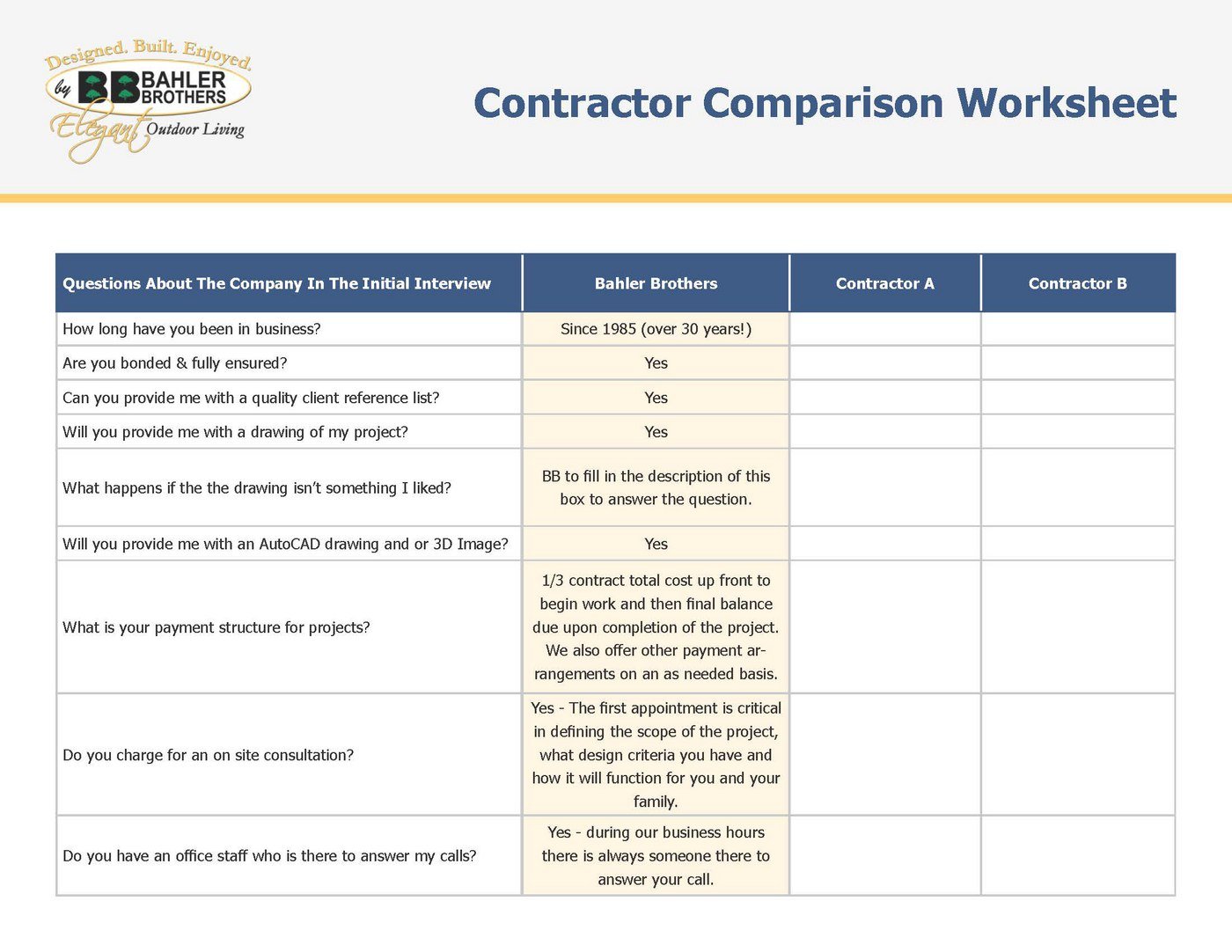 Contractor Comparison Worksheet
Take the frustration out of comparing bids from different landscape contractors with our Contractor Comparison Checklist
Built-in Grill | Driveways | Fireplace | Gas Fire Pit | Outdoor Kitchen | Outdoor Living | Patio | Pavers | Pool Patio | Project Design | Raised Patio | Retaining Wall | Retaining Walls | Steps | Transformation | Wall Design
Working with this customer was an incredible joy. They were not satisfied with their yard as it was so they called us in to help them out. It was amazing to watch this transformation unfold and now you can too!
Choosing a Contractor | Outdoor Living | Pavers | Project Design
How do you know what your project will look like when you sign on the dotted line? Creating your backyard oasis is not something to take lightly. It is a considerable investment and takes time to create the perfect plan. Almost every time you choose a contractor to have a project done at your home, a contract is involved. Of course you want to read through it to know exactly what you are going to be getting for your money. So why should a landscape contract be any different? When a construction project is involved, we always want to know what the contractor is going to do and have a drawing to give us some idea of what they plan to do. In the landscaping business especially, it is important to know exactly what your landscape plan and design entails. How can you know what's going to be built if you don't have a drawing or designed plan?
Built-in Grill | Landscape Lighting | Outdoor Kitchen | Outdoor Living | Patio | Pavers | Retaining Wall | Sitting Wall
"The professionalism and thoroughness with which our job was done was most impressive beginning with the sales/marketing and design team to the workers on site." The first time this customer came into our design center for an appointment we knew we were going to have a blast. We clicked right away and the process began. They wanted to redo not only their front yard but their back yard too. Through many many questions from an engineer to lauging at his many jokes, the design came together beautifully! After many appointments and picking out the perfect pavers, the plans were set and ready to go!
Choosing a Contractor | Driveways | Pavers | Techo-Bloc
Driveway, walk, front steps, drainage, and grading project. Completed June 18-22, 2012