Choosing a Contractor | Come Alive Outside | Erosion | Landscaping | Maintenance | Outdoor Living | Transformation | Trees | landscape designer
A look at the elements involved in good landscape design and installation and what it means for your property long term. Your home is not just a place to live; it's an extension of your personality, a sanctuary of comfort, and an expression of your style. One of the most effective ways to enhance your home's beauty and value is through expert landscape design. We understand the profound impact that a well-planned landscape can have on your property. In this blog, we'll delve into the importance of landscape design, and touch upon the importance of good installation techniques. Also, responsible plant selection, consideration of year-round color and textures, soil amendments, transplant expertise, and proper drainage – all elements that make the Bahler Brothers Landscape Design team your trusted partner in creating the perfect outdoor space.
Hardscape Cleaning and Maintenance | Hardscaping | Maintenance | Patio | Patio Repairs | Paver Joint Sand | Pavers
Everyone loves a newly installed hardscape. We take pride in the newly renovated spaces we build and the upgraded curb appeal they provide. What we don't talk about enough is the routine maintenance needed to keep that beautiful hardscape looking its best for years to come. Hardscape materials have advanced tremendously over the years. Manufacturers have revolutionized the aggregates and pigments used in their materials, extending the life of their products. There is however still basic cleaning and maintenance required. Without following a structured maintenance schedule, you will slowly see wear and tear on your outdoor living space. Left undone, this could contribute to erosion and costly repairs. What should I expect to see after a hardscape installation? Shortly after installation you may see some efflorescence on your pavers and walls. These are naturally occurring white chalky stains that develop on the face of concrete products. While they may seem unsightly, these stains dissipate in time. You can choose to have this haze removed by an annual cleaning and sealing. With time you may also start to notice the joint sand failing. This is usually signified by moss growth or wash out.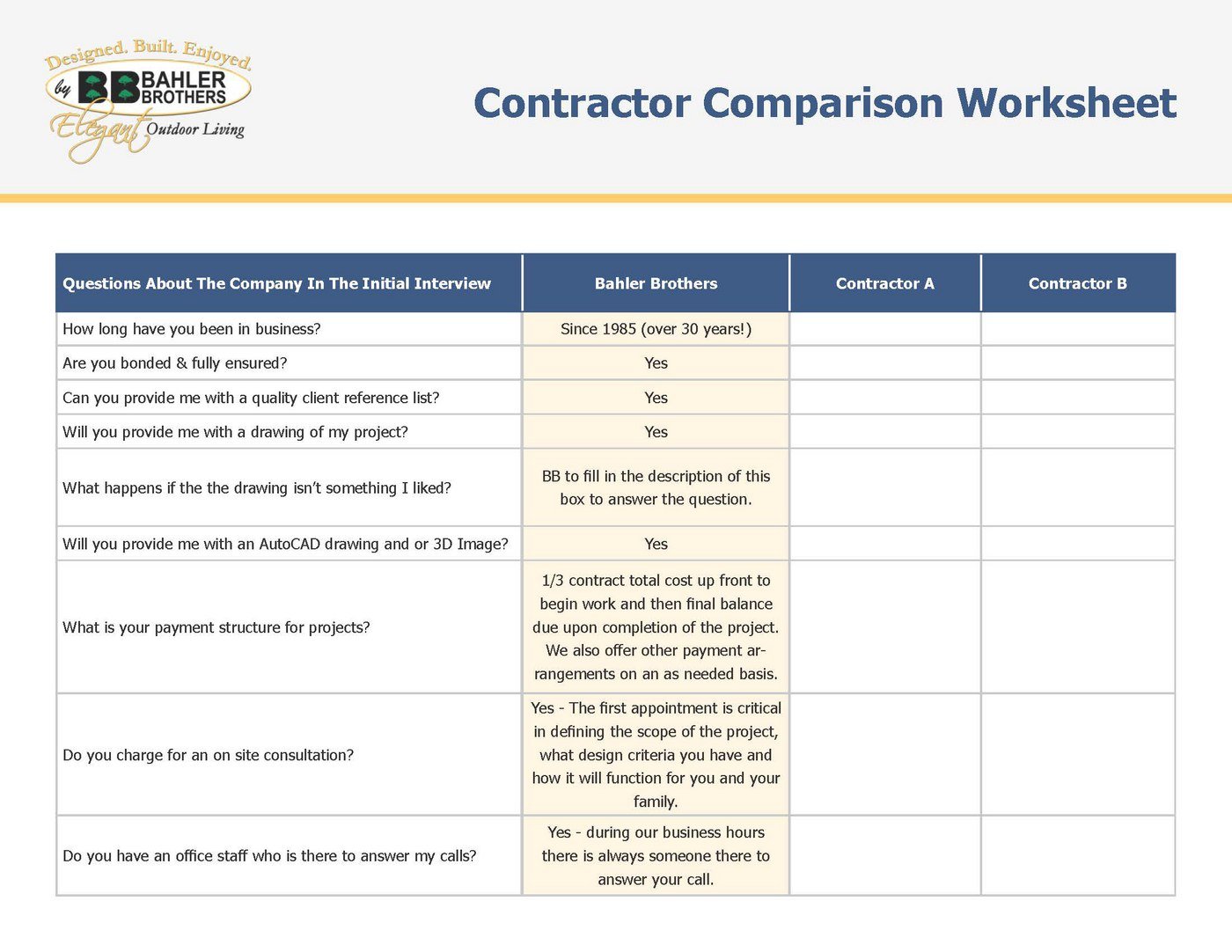 Contractor Comparison Worksheet
Take the frustration out of comparing bids from different landscape contractors with our Contractor Comparison Checklist
Landscaping | Maintenance | Outdoor Living | Trees
This Summer is starting out drier than normal. As the Summer heat starts to kick in, we worry about our landscaping drying out and about any new plant material. It's a must to keep your new plantings, sod and newly seeded grass well watered to keep them looking great. Avoiding drought distress by following these guidelines:
After the beating your yard took this winter, you're probably looking at it, wondering how you'll ever get it back in good shape. A few weeks ago, we shared some tips to help you get your yard ready for spring. There are many simple steps you can take to get your yard to where you want it to be for the warmer weather. And one of those steps is pruning.
Built-in Grill | How To | Maintenance | Outdoor Kitchen
Protect the investment you've put into your outdoor kitchen and built-in grill. Keeping the grill, other appliances and stainless steel cabinets clean and well maintained is going to help preserve your investment for many years to come. There are some minor issues that can occur when you own a gas grill – no matter how much you spend on it, things can go wrong and malfunction once in awhile. Here is a checklist of things to watch for and to include in your regular maintenance of the grill. Some of these tips are specific to the Summerset brand of grills, and some are more general and may apply to other brands as well.
Cleaning | Maintenance | Ponds | Water Feature
When winter is turning and springtime is in the air, it is time to start thinking about getting your water garden back into operation. Don't worry, the steps are very easy and almost anyone can do it.