Bahler Brothers is an award-winning design/build landscape contractor that has been a leader in the hardscape industry since 1985. Founded by 4 brothers - Tom, Steve, Lloyd and Phil, Bahler Brothers was built on a strong family working environment, where honesty and integrity serves as the foundation of our business. This carries through today with a commitment to the highest level of service to our customers. We recently entered the second generation of ownership. On April 1, 2022, the ownership transferred to Josh Bahler (Steve's son). He has the same core values and commitment to quality and serving our clients that the company has embraced since the beginning.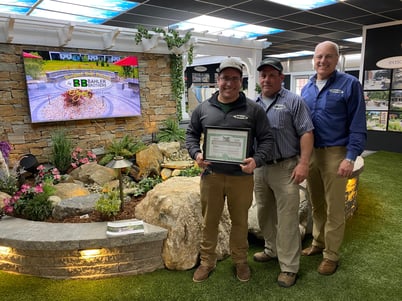 Every one of our team members learns early on that our dedication to quality and attention to detail is the key to serving you, our customer. We're fortunate to have some incredible expertise and talent on our team - from salespeople and designers to foremen and various other team members. Some of them have been with us for 15 years or more. All of this allows us to stand confidently behind our work and provide our customers a hardscape warranty of 5 years, exceeding the industry standard by 3 full years.
We work hard to build a collaborative working relationship with our customers and deliver a beautiful project beyond expectations... providing you with a professional experience on all levels.