Fire Pit | Landscape Lighting | Outdoor Living | Pavers | Raised Patio | Retaining Wall | Retaining Wall Cost | Retaining Walls | Sitting Wall | Techo-Bloc
Wow! From Pool to Paver Patio. Wow! What a transformation! This customer came to us and said he was sick of the gunnite pool. His kids were all grown up and it was time to create a space they could not only entertain in, but also could enjoy by themselves. The stone wall that was holding up the hill side was also leaning forward and needing to be replaced before it got any worse. We sat down with him and worked on many designs, and finally came up with the perfect plan. Remove the pool, install a multi-level paver patio with a fire pit, landscape lighting, an area for their hot tub and landscape beds.
Patio | Ponds | Water Feature
Deck-be-gone! This customer came to us and informed us that they were sick of their deck and it was all torn out. They needed a raised paver patio. Of course we thought that was a great idea and we started designing and planning right away. When the plans were complete, we had a raised patio using Techo-Bloc's Blu 60. Multiple sets of Rosetta steps leading to the pool, a waterfall, and low voltage landscape lighting.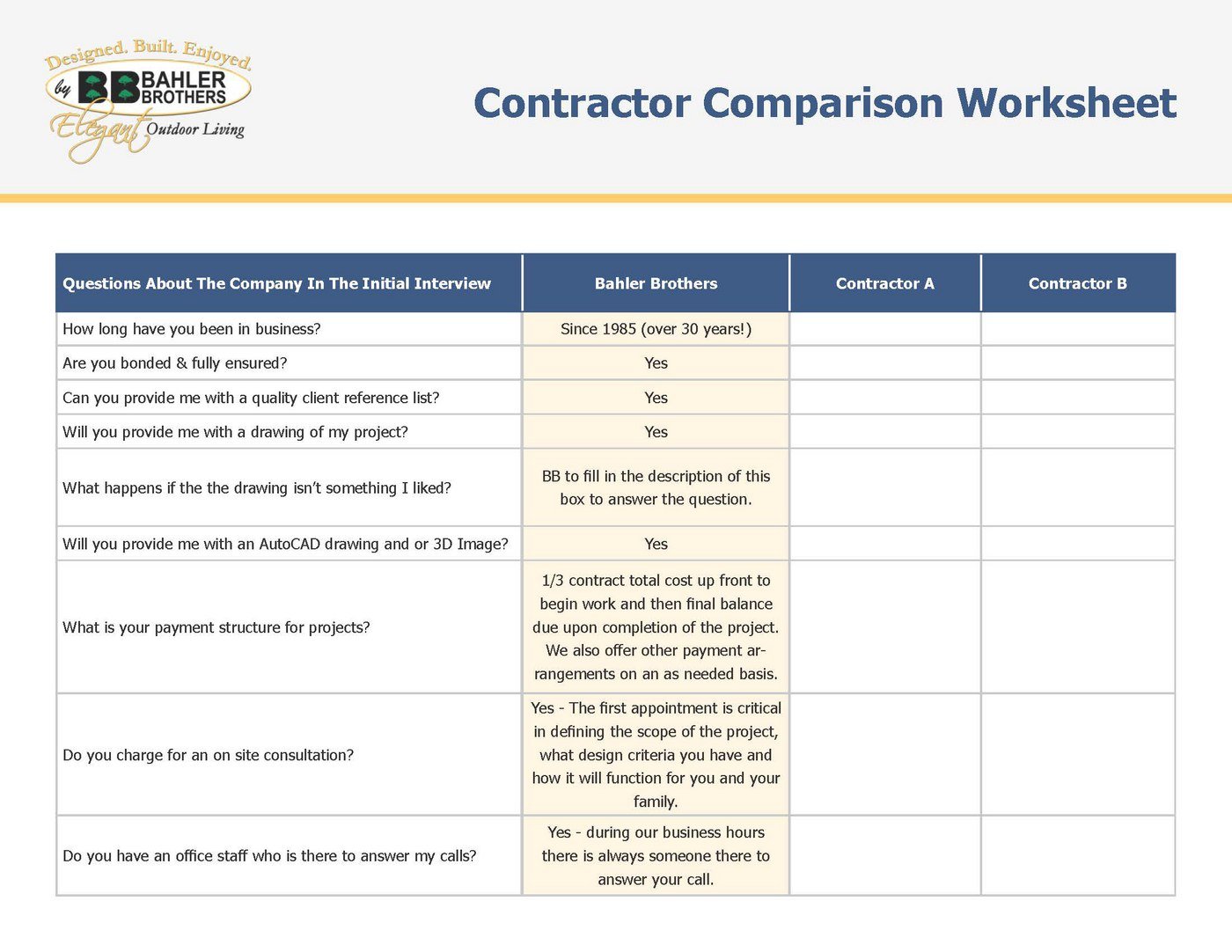 Contractor Comparison Worksheet
Take the frustration out of comparing bids from different landscape contractors with our Contractor Comparison Checklist
Arbors Direct | Fiberglass Pergolas | Outdoor Living | Pergolas
Fiberglass is one of three main types of materials used to build pergolas. Strength, appearance, resistance and stability by far outweight wood or vinyl structures. We have found, by installing all three types, that fiberglass pergolas truly are the best. To find out more about where we get our pergolas, check out Arbors Direct web site.
Landscape Lighting | Outdoor Living | Patio | Pavers | Sitting Wall | Steps | Techo-Bloc
This paver patio installation was simple but brought much more character to the customer's front porch area. They use their front porch a lot, but it wasn't big enough. They also wanted to include an area "just for mom", have steps stepping down the hill leading to the pool area, and have a small path through the herb garden to access the hose faucet. Some landscape lighting was also added. Here is what we came up with, resulting in a very satisfied customer!
This project was our first project on the calendar this year. It was a pleasure working with this couple who love to read and enjoy the outdoors. We designed them a paver patio with the works.