Hardscape Cleaning and Maintenance | Hardscaping | Maintenance | Patio | Patio Repairs | Paver Joint Sand | Pavers
Everyone loves a newly installed hardscape. We take pride in the newly renovated spaces we build and the upgraded curb appeal they provide. What we don't talk about enough is the routine maintenance needed to keep that beautiful hardscape looking its best for years to come. Hardscape materials have advanced tremendously over the years. Manufacturers have revolutionized the aggregates and pigments used in their materials, extending the life of their products. There is however still basic cleaning and maintenance required. Without following a structured maintenance schedule, you will slowly see wear and tear on your outdoor living space. Left undone, this could contribute to erosion and costly repairs. What should I expect to see after a hardscape installation? Shortly after installation you may see some efflorescence on your pavers and walls. These are naturally occurring white chalky stains that develop on the face of concrete products. While they may seem unsightly, these stains dissipate in time. You can choose to have this haze removed by an annual cleaning and sealing. With time you may also start to notice the joint sand failing. This is usually signified by moss growth or wash out.
Landscaping | Maintenance | Outdoor Living | Trees
This Summer is starting out drier than normal. As the Summer heat starts to kick in, we worry about our landscaping drying out and about any new plant material. It's a must to keep your new plantings, sod and newly seeded grass well watered to keep them looking great. Avoiding drought distress by following these guidelines: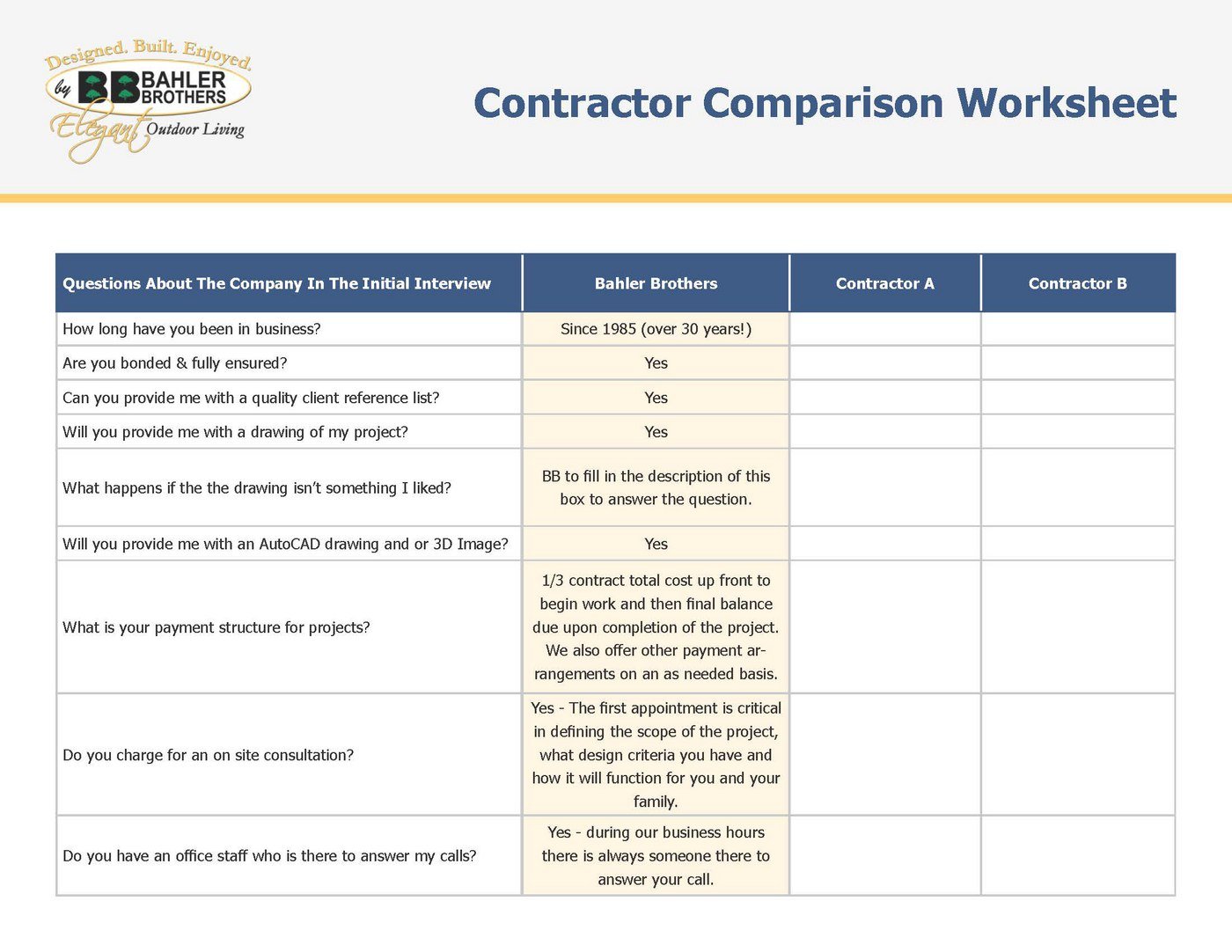 Contractor Comparison Worksheet
Take the frustration out of comparing bids from different landscape contractors with our Contractor Comparison Checklist
Front Entrance Design | Landscape Lighting | Landscaping | landscape designer
Lighting is an incredibly powerful addition to your outdoor living space. It can highlight your favorite features, help you set the mood for special occasions, and even protect your home from potential threats like burglars.
Gunite Pools | Outdoor Living | Pool Patio
On a hot summer day, there's absolutely nothing like access to cool, refreshing water right in your own backyard. A beautiful pool can bring the whole family together and help the space to come alive all season long.
Retaining walls are found around many homes, businesses and schools. But chances are, you've never really noticed them. Though they can be beautiful additions to a property, they serve a fundamental purpose: expanding your useable outdoor living space.
Landscaping | Pondless Waterfeature | Ponds | Water Feature | Water Garden
Landscaping doesn't have to be restricted to hardscapes and plantings. When you add a water feature, you open up your yard to much larger opportunities for visual impact. A water feature such as a pond invites many interesting visitors, like birds, dragonflies, frogs, and other wildlife, as well as offers a tranquil setting in which to relax and enjoy. But before you start digging, make sure you're ready. Water features can take time, energy, and a healthy budget to install. This post will help you decide if a water feature is right for your home. Take our patio style quiz for insight and inspiration!