Built-in Grill | Outdoor Kitchen | Patio Design
You may not need a kitchen on your patio, but installing a grill, prep area or more can be an amazing and effective use of your space. An outdoor kitchen is a luxury that not only gives you more flexibility, but it's a great way to spend more time in fresh air. The idea of designing a patio that offers comfort, beauty, relaxation and functionality may be overwhelming – especially if you don't have the help of a landscape designer or outdoor living space specialist. But if you understand how to approach designing your outdoor kitchen, you'll have a much easier time choosing the right elements.
Built-in Grill | How To | Maintenance | Outdoor Kitchen
Protect the investment you've put into your outdoor kitchen and built-in grill. Keeping the grill, other appliances and stainless steel cabinets clean and well maintained is going to help preserve your investment for many years to come. There are some minor issues that can occur when you own a gas grill – no matter how much you spend on it, things can go wrong and malfunction once in awhile. Here is a checklist of things to watch for and to include in your regular maintenance of the grill. Some of these tips are specific to the Summerset brand of grills, and some are more general and may apply to other brands as well.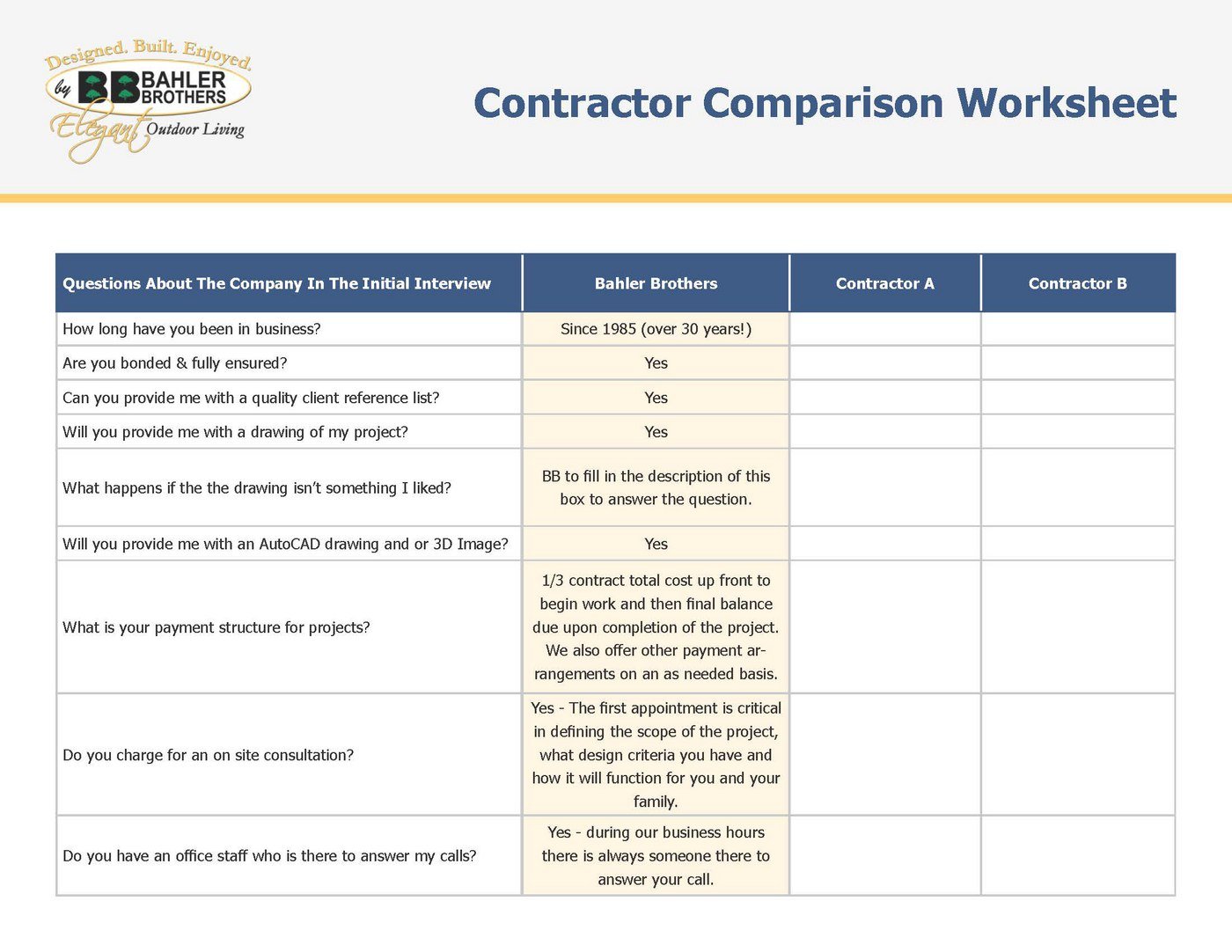 Contractor Comparison Worksheet
Take the frustration out of comparing bids from different landscape contractors with our Contractor Comparison Checklist
Built-in Grill | Outdoor Kitchen | Patio | Pavers
Built-in Grills are becoming more and more popular. In an economy that is making a recovery, we have seen a steady increase in the number of grills and outdoor kitchens we've been asked to install. So how much does a built-in grill cost to install? Well - It depends.
Built-in Grill | Driveways | Fireplace | Gas Fire Pit | Outdoor Kitchen | Outdoor Living | Patio | Pavers | Pool Patio | Project Design | Raised Patio | Retaining Wall | Retaining Walls | Steps | Transformation | Wall Design
Working with this customer was an incredible joy. They were not satisfied with their yard as it was so they called us in to help them out. It was amazing to watch this transformation unfold and now you can too!
Built-in Grill | Landscape Lighting | Outdoor Kitchen | Outdoor Living | Patio | Pavers | Retaining Wall | Sitting Wall
"The professionalism and thoroughness with which our job was done was most impressive beginning with the sales/marketing and design team to the workers on site." The first time this customer came into our design center for an appointment we knew we were going to have a blast. We clicked right away and the process began. They wanted to redo not only their front yard but their back yard too. Through many many questions from an engineer to lauging at his many jokes, the design came together beautifully! After many appointments and picking out the perfect pavers, the plans were set and ready to go!
Built-in Grill | Outdoor Kitchen | Pavers
Ahhh, food. This is one of my favorite topics. I love to eat... really, just about anything. But, I also enjoy the time of preparing the scrumptious food item(s). Although I love my indoor kitchen, there really isn't anything better than grilling that favorite steak or kabob with a few friends on a beautiful summer evening.