Customer Testimonials
"Professional and high tech process compared to others."
-Jeanne E, East Hartford
"Brad & Jen, The process thus far has been truely amazing. I thank you both very much for all your help, making this happen."
-Lorch
"Bahler Brothers installed a large patio for us as well as underground drainage for six downspouts and 2 different steps - one into the house and one up to the pool. I got five different quotes. They were not the cheapest and also not the most expensive. I chose them because I was very impressed with their knowledge, professionalism and responsiveness.
I needed to get the work done quickly this fall in order to allow other landscaping to be completed as well. They re-arranged schedules, showed up on time, and worked long days, including a full day excavating in the pouring rain. Even my contractors working at the house simultaneously were impressed by these guys - both in their work and in their friendliness. My landscaping company has also complimented the quality of the installation...Overall they did a fabulous job. I'm still marveling at the speed and professionalism of the whole operation."
-Lisa Douglas, Windsor
"Bahler Brothers had laid my original patio 9 years ago. It still looked fabulous be we outgrew it and asked them to give us ideas on how to best utilize the backyard. We tripled the size added a grill area, bar, sitting wall and waterfall. BEST move ever. They are professional, informative, engaged throughout the entire process. highly recommend them!"
- Mary Macsuga, South Windsor
"We are very please with the work that everyone in your wonderful company did for us in transforming our driveway, sidewalk, landscaping and lighting into a property with great curb appeal as well as a much more functional access to our yard. Not only is your crew expert at what they do but they also possess the added bonus of being friendly and extremely thoughtful and polite. Never a day passed that the workmen didn't arrive right on the dot of 7:30 am - and work they did despite the extreme heat and humidity that descended on us day after day.
Jen's landscape design prowess was so much appreciated. She listened to what was important to us and gave us great suggestions that we heeded and were so glad we did. Her delightful nature as well as her expertise certainly is a winning combination.
Never in all the years of dealing with contractors have we had the level of satisfaction that we have experienced with Bahler Brothers from the on-time beginning and completion of the projet to the expert workmanship."
-Joan Hopper, Bloomfield
"Since the completion of our project, many of our neighbors, friends and family have stopped by to see it. We have received much positive feedback. The driveway/steps really complement our house and adds curb appeal.
We are extremely pleased with the results and we highly recommend Bahler Brothers to anyone that is considering a paver project, big or small." Click HERE to view the journal of their installation process.
-Steve & Carol Fong, Ellington
"Thank you! We love the new look of our home. Thank you again."
-Tom & Maria Prignano, South Windsor
"The yard is beautiful. Everyone at Bahler Brothers did a great job. Phil was a pleasure to work with. He took time each morning to talk with us and make sure we were happy. The sales process was a breeze, and Brad's work on the design was amazing. It is great when you see the plan come to life. We will need work done in the front yard in a few years, and we won't hesitate to call Bahler Brothers again! Thanks again!"
Kim Rainville, South Windsor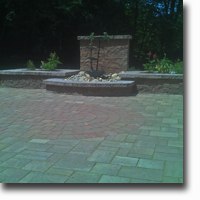 "How many ways can we say we LOVE our new patio, planters, built-in barbeque, and paths. An absolute magnificent job was done.
Everyone who came to work was outstanding, friendly, polite and a terrific worker. We were so impressed at the fact that when they arrived on site in the morning, there was no standing around...they just got to work and did so all day long. The professionalism and thoroughness with which our job was done was most impressive beginning with the sales/marketing and design team to the workers on site.
All of our hundreds of questions were answered well and with great patience. Eventually, they all knew they were dealing with an engineer!! Our only hope is that we did not spoil the workers with the coffee, iced tea, and goodies we provided them.
The compliments from our neighbors have been many, and we have not been shy about singing your praises.
Many, many thanks again for making a big undertaking so pleasant for us. We feel as though we are now living in a resort!" [photo at left]

-Lew Noble and Betsy Mack aka "Mom and Pop", Granby
"I can not begin to tell you what a pleasure it has been working with the members of your staff. Juan and his son worked incredibly hard and the result of this work shows as now I have a beautiful pavement walk to the front of my house.
I am incredibly satisfied with the work done, am proud to show it off, and hope to be able to recommend you to other people."
-Gerda Kochman, South Windsor
"Thanks! It came out great. Thanks for getting it done so quickly!"
-John & Susan Mathieu, Tolland
"We originally contracted with Bahler Brothers in 1993 to install a driveway and walkways, front and rear. Every aspect of the contracting, from initial consultation through installation, proved to be perfect. The design team at that time helped us clarify our intentions, made a suggestion that corrected what would have been a significant error on our part, and the dream was flawlessly rendered. In short, in 1993, Bahler Brothers came when they said they would, did what was agreed upon, left when they said they would, left a clean work site, and delivered all work at the agreed cost. The work has held up for these 18 years with little maintenance and recieves complements daily. And, in particular, there has never been a single day when we did not, ourselves, appreciate the work.
In 2012 we returned seeking "continuation work" for a patio. Once again, the experience of contracting was perfect. The current design team, Brad and Jen, worked to help us create a far better backyard patio then we could have imagined. Their suggestions led us to include a few features we had not originally thought of. We were grateful for the ideas and now, grateful for the improved space.
And again, this contracting experience was a model of perfection.
If you are in the market for the type of work Bahler Brothers offers, you simply cannot do better than this contractor and I'd doubt you would do as well. Frankly, it is both a pleasure and a continuing astonishment as an example of perfection. There is enormous peace of mind when you are confident that your own level of accepted performance mirrors the contractor's.
We are on the Bahler Brothers list of clients and their work is available at our home for your inspection. Come see new work. Come see 18 year old work. We are obvioulsy satisfied customers and would be happy to be future customers." [Photo at Left] Click here to see their project transformation video!

-George Miller, North Branford
Hi, the work is all done and looks great and I wanted to say what a nice people Josh and the guy helping him were. They were truly professional and I can't say enough good things about them.
-Steve Sutton, Glastonbury

"Beautiful! I can't say enough! The working guys are wonderful! You are so lucky to have those men working for you!"
-Henry & Barbara Cote, South Windsor
"Thank you for another beautiful job done at our home! The project was professionally completed and the workers cleaned up very neatly. Louis made excellent cuts! We are looking forward to the nicer weather to enjoy the "new" patio.
-Paul and Karin Pagel, Enfield
"The crew who did the work was great! They were extremely professional and they kept the work site clean. Lloyd was a magician in the way he prepped the base material and finished the grading. I am blown away by the way the patio turned out. I can't thank the crew enough. There were days when it was 90 degrees plus and they soldiered through...I must tell you I shopped around extensively before choosing Bahler Brothers. Jen and Brad were very professional and explained the process in great detail. One of your competitors sealed the deal when they sent me an email and said they wouldn't bid on the project because it was too complicated. They recommended I call Bahler Brothers since they are known for projects of this scope. If that alone isn't enough to convince customers to choose your company, have them call me... I owe you and the team a big Thanks for making my yard look amazing! Please give the crew a special thanks on behalf of Beth and I. We truly appreciate the craftsmanship and professionalism of these folks." [photo at left]
-Bill & Beth Spargo, Coventry

"Just a pleasure to work with . Professional and considerate of any disruptions caused by work. A beautiful job that makes us smile every time we go outside."
-Frank Yaskin, Higganum
"I want to tell you how pleased (actually ecstatic is a better word) my wife Joann and I are about the completion of our brand new patio. This is the 3rd time we have had you put in either a patio or walkway. The work and finished product is phenomenal."
-Michael Lynch, New Britain

"Beauiful... just beautiful... what more can I say!... What an amazing crew you have, kudos to Juan and his son, JC... We are so pleased to have all of you at our home; my sister, who has a "cement" patio, is in awe... she was here today and came back again tonight to show her husband... maybe she's re-thinking her cement... Anyways, that's her fault for not asking my advice! We just love it, totally!" [photo at left]

-Mike & Nancy Bard, Ellington

"Just a quick note to say how pleased Nancy and I are with the patio, walkway and retaining wall that Bahler Brothers installed for us. We had an idea of what we expected it to look like, but the job your company did far surpassed our expectations.."
-Justin & Nancy DiGiacomo, Ellington
"Fantastic! They guys were even nice enough to put some wood logs in the fire pit. Really great and very professional! They did everything from soup to nuts! I already gave two people recommendations!"
-Eric Womack, East Hartford
"Thanks so much for the great job and our beautiful patio, you and your team always go above and beyond, exceeding our expectations! We love the fire pit! [photo at left]
-Bill & Franca Lewis, Broad Brook

"I just want to express my deepest appreciation for the fine service and work that your employees do. One of your young men repaired a badly damaged retaining wall this morning, and it now looks as good as it originally did when you installed it several years ago.
It is so rare to see young workers who are so courteous and have pride in what they do, but your young man certainly possesses those qualities."
-Josephine Sheridan, Enfield
" The highest quality finished product we could have ever imagined. Thank you Bahler family for the beautiful hardscape and granite steps. Your work is truly one masterpiece after another. Thank you so much!
-Joanne Wiley, Vernon
"After drooling over your website, I just had to write. We have recently sold our home, and moved to Florida. We sold our home in one day and I am quite sure it was your beautiful walkway, wall, and patio that did the trick. Other than our kids, the only thing we miss about Connecticut is our beautiful stonework. We received SO many compliments, and loved absolutely EVERYTHING that you did and your wonderful ideas, that we would not have thought of, that enhanced what we had in mind...Now that we are in Florida and looking to do something similar, we feel we have lost a good friend!!...So once again, a BIG THANK YOU, from us and also the new owners of our house, who just LOVE what you put in for us!!"
-Ron & Gini Lamb, Formerly of Tolland
"Words truly can not express how thrilled we are with the work you and your team have done at our home. It is exactly what we envisioned! In addition to your fine workmanship, we have been impressed by the professinalism and work ethic exhibited by each of you. It is not often that you find an organization where all employees take such pride in their work.
Our thanks to the entire team for taking the time to introduce yourselves, for answering our numerous questions with a smile, for cleaning up the job site everyday and for treating the job as if it were for your own home. Special thanks to Jen for your design work; to Josh and Luis for pulling it all together; and to Tom for your personal attention in ironing out the details....It has been a sincere pleasure working with all of you. Thanks again for helping to make our dream home a reality! [photo at left]
-Steve & Donna Lewkowicz, Somers

"I am writing to thank you for the work you did in building a patio for me. From my first contact with you, and all the way through to job completion, I was very impressed.
Your control of every aspect of the job from the initial estimate, to the invitation to come to the showroom to choose pavers, to the actual physical work that was done to make the patio a reality made everything easy for me. You made commitments and held to them and I was never "in the dark" about the status of the job. Professionalism and service like this is a rarity in business today, and you should be proud of your organization.
Thanks again for a job VERY WELL DONE, and I hope to do business with you again in the future."
-AnneMarie Bartholomay, Suffield
"Excellent!! These guys know what they're doing. Very professional and timely. Cost was higher than other estimates but well worth it. They worked with my specifications involving multiple levels and a corner planter. When we called them back about paver color issue, they returned in a reasonable time, and corrected the issue. I highly recommend this company."
-Karen Maher, Plainville