Fire Pit | Outdoor Living | Overlay | Patio | Pavers | Project Design | Retaining Wall | Sitting Bench | Sitting Wall | Steps | Techo-Bloc | Transformation | Walkway
When you pull up to the the Hebert residence, one of the first things you notice is the large set of concrete steps leading up to their side entry, with a walkway leading only part way to the patio. When you take the walkway (or grass) to the back patio...you discover what used to be a beautiful patio years ago but now needs a little face lift.
Choosing a Contractor | Driveways | Pavers | Techo-Bloc
Driveway, walk, front steps, drainage, and grading project. Completed June 18-22, 2012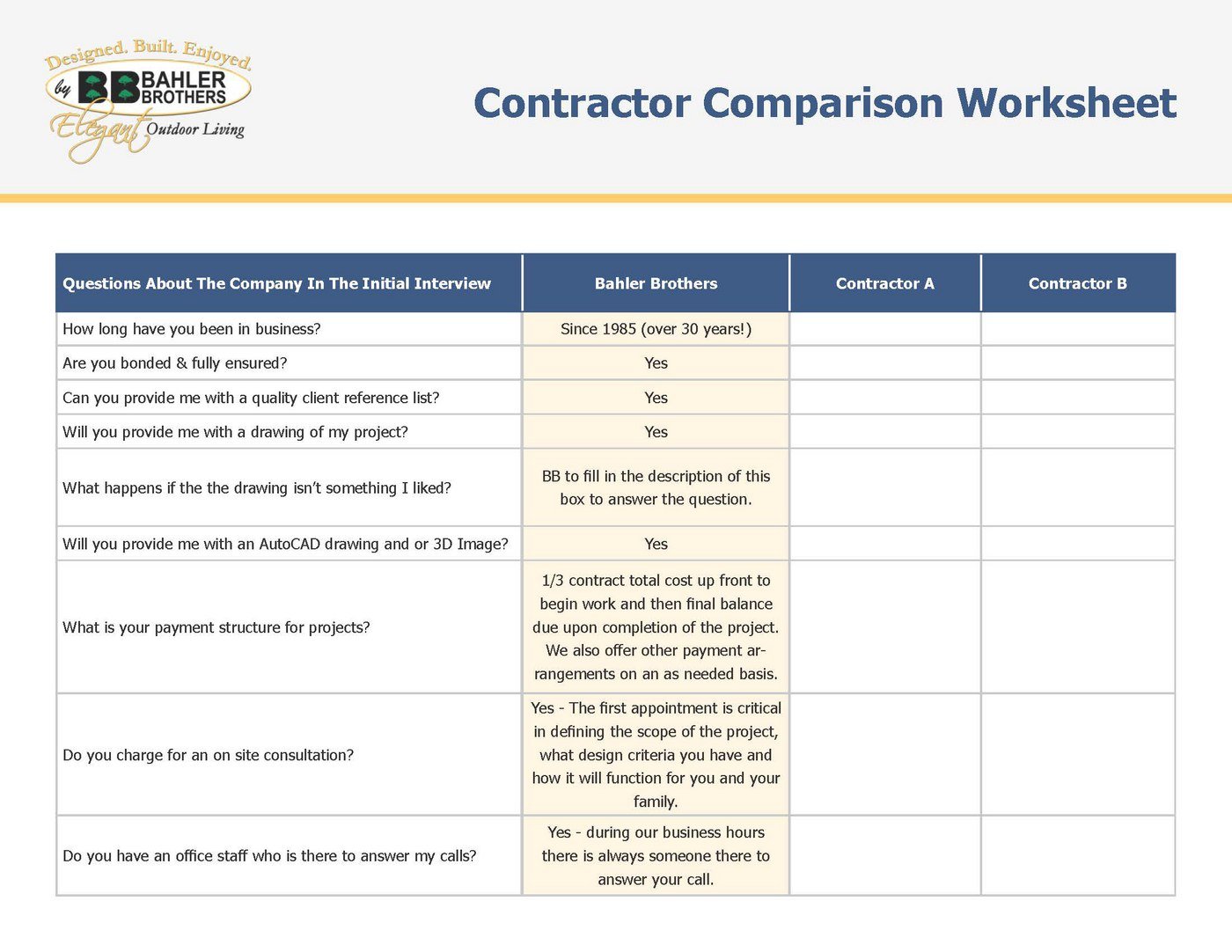 Contractor Comparison Worksheet
Take the frustration out of comparing bids from different landscape contractors with our Contractor Comparison Checklist
Fire Pit | Landscape Lighting | Outdoor Living | Pavers | Raised Patio | Retaining Wall | Retaining Wall Cost | Retaining Walls | Sitting Wall | Techo-Bloc
Wow! From Pool to Paver Patio. Wow! What a transformation! This customer came to us and said he was sick of the gunnite pool. His kids were all grown up and it was time to create a space they could not only entertain in, but also could enjoy by themselves. The stone wall that was holding up the hill side was also leaning forward and needing to be replaced before it got any worse. We sat down with him and worked on many designs, and finally came up with the perfect plan. Remove the pool, install a multi-level paver patio with a fire pit, landscape lighting, an area for their hot tub and landscape beds.
Landscape Lighting | Outdoor Living | Patio | Pavers | Sitting Wall | Steps | Techo-Bloc
This paver patio installation was simple but brought much more character to the customer's front porch area. They use their front porch a lot, but it wasn't big enough. They also wanted to include an area "just for mom", have steps stepping down the hill leading to the pool area, and have a small path through the herb garden to access the hose faucet. Some landscape lighting was also added. Here is what we came up with, resulting in a very satisfied customer!
Pavers | Rainwater Harvesting | Techo-Bloc | Water Feature
In todays society we need to conserve water. According to a Gallup poll in March 2008 Americans rated their level of worry about each of 12 environmental concerns, the top 4 all related to the quality of water. Harvesting rainwater is better all around for you, your children, grandchildren and the generations to come. A quality company who is the leading innovator of water features Aquascape, Inc. has designed a revolutionary system known as the RainXchange sytem. Harvesting rainwater helps to avoid strict watering schedules during droughts and reduce water bills. Recycled rainwater is also better for the plants in your yard because no chemicals are added to rainwater. The water feature created from the system enhances the yard and increases value. Tying the downspouts into the system will recycle the rain water which falls on the roof. One inch of rain on a 2,000 sf. house is the equalivent of 1,250 gallons of water. According to the DEP website, Connecticut recieves on average 45 inches of rain. Just in one year on one roof that is 2,000 sf, harvesting the rainwater from just the roof alone would recycle 56,250 gallons. Harvesting the rainwater that falls on the driveway by using a Permeable pavement system would increase the amount of gallons conserved. For a short video on the installation of a rainwater harvesting system click here. Use the RainXchange system to get up to 12 LEED points on a "Green Project". Related Articles: Permeable Pavers vs. Non-Permeable Pavers Advancements in Permeable Pavements Permeable Pavements Study
Driveways | Non Permeable Pavement | Patio | Pavers | Pool Patio | Rainwater Harvesting | Techo-Bloc | Unilock | Water Feature
Over the last 20 years we have seen major advancements in permeable pavements. The first permeable paver was introduced here in North America in 1989.