Hardscape Cleaning and Maintenance | Hardscaping | Maintenance | Patio | Patio Repairs | Paver Joint Sand | Pavers
Everyone loves a newly installed hardscape. We take pride in the newly renovated spaces we build and the upgraded curb appeal they provide. What we don't talk about enough is the routine maintenance needed to keep that beautiful hardscape looking its best for years to come. Hardscape materials have advanced tremendously over the years. Manufacturers have revolutionized the aggregates and pigments used in their materials, extending the life of their products. There is however still basic cleaning and maintenance required. Without following a structured maintenance schedule, you will slowly see wear and tear on your outdoor living space. Left undone, this could contribute to erosion and costly repairs. What should I expect to see after a hardscape installation? Shortly after installation you may see some efflorescence on your pavers and walls. These are naturally occurring white chalky stains that develop on the face of concrete products. While they may seem unsightly, these stains dissipate in time. You can choose to have this haze removed by an annual cleaning and sealing. With time you may also start to notice the joint sand failing. This is usually signified by moss growth or wash out.
Hardscaping | Patio | Patio Design | Project Design | landscape designer
If you look outside your window or walk in your backyard, you may envision a day when you can walk out onto a patio and relax on a warm summer day. Perhaps later in the evening you'll grill a delicious meal and enjoy dinner with a side of fresh air. You may even be thinking as grand as swimming in a pool or lounging on a sundeck.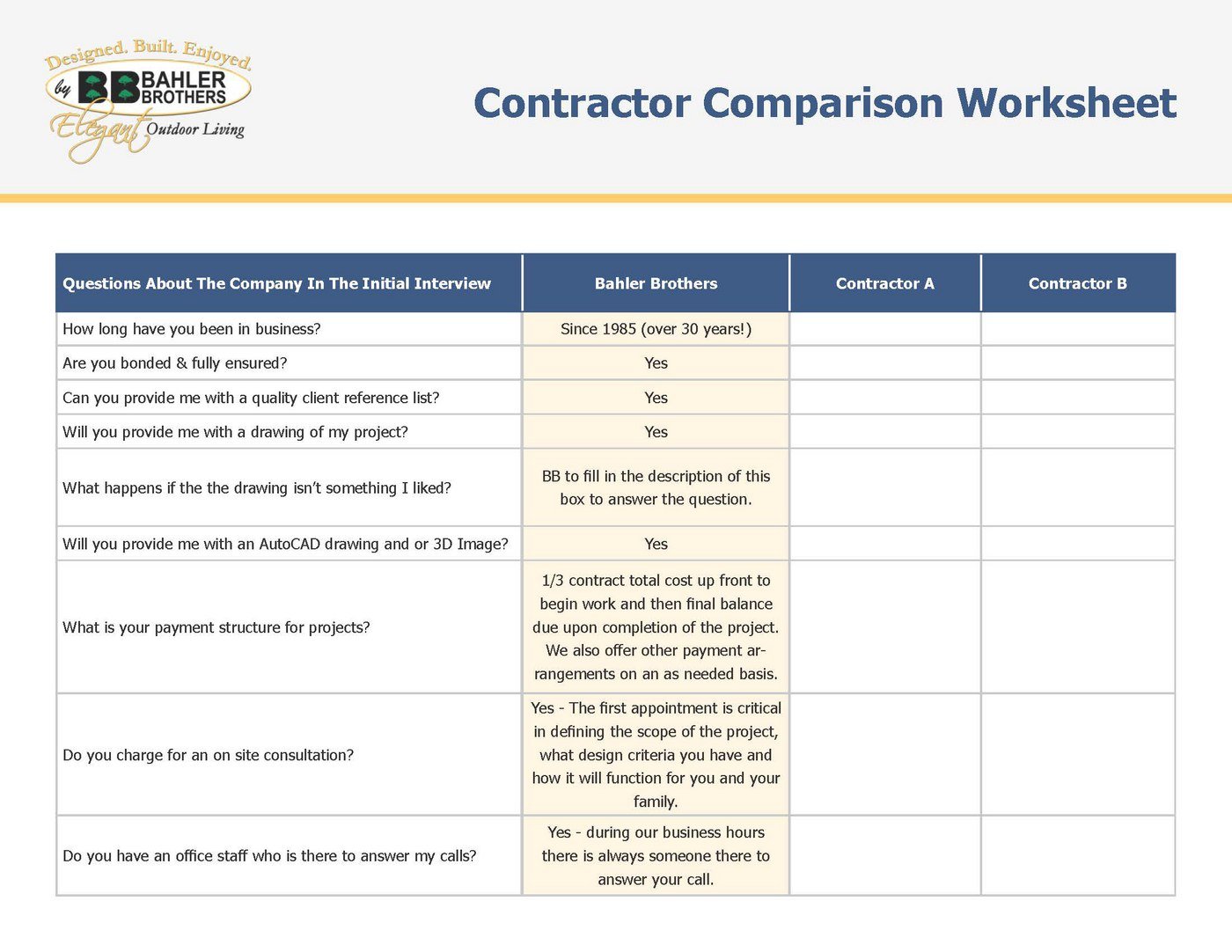 Contractor Comparison Worksheet
Take the frustration out of comparing bids from different landscape contractors with our Contractor Comparison Checklist
Built-in Grill | Outdoor Kitchen | Patio | Pavers
Built-in Grills are becoming more and more popular. In an economy that is making a recovery, we have seen a steady increase in the number of grills and outdoor kitchens we've been asked to install. So how much does a built-in grill cost to install? Well - It depends.
Fire Pit | Outdoor Living | Overlay | Patio | Pavers | Project Design | Retaining Wall | Sitting Bench | Sitting Wall | Steps | Techo-Bloc | Transformation | Walkway
When you pull up to the the Hebert residence, one of the first things you notice is the large set of concrete steps leading up to their side entry, with a walkway leading only part way to the patio. When you take the walkway (or grass) to the back patio...you discover what used to be a beautiful patio years ago but now needs a little face lift.
Excavation | Patio | Pavers
There are many reasons that paver contractors, like us here at Bahler Brothers, dig up so much ground for our customer's patios. The biggest reason is that in order for a paver patio to last, it must have a good base. The base must be free of biodegradable matter such as roots and other fill matter.
Fire Pit | Patio | Patio Repairs | Pavers | Pool Patio | Poured Concrete | Reinstallation | Stamped Concrete
Patio repairs are less complicated with a paver patio. Have you ever had to make repairs under a patio or walkway? There are many utilities and other underground obstructions that can affect either one: