Choosing a Contractor | Comparing Contractors | Patio Cost | Pavers | Retaining Wall Cost
So you want a new patio or walkway, and you're doing your research to pick 3 contractors to talk to. After all, it is the smart and responsible way to go about having a project built. All that is great, but do you know how to look for the differences between the bids, installation methods and the services that each one will give you? What information is going to help you make the right choice? This can be very intimidating for anyone, but especially for someone not in the consruction field, familiar with building terms and methods.
Choosing a Contractor | Outdoor Living | Pavers | Project Design
How do you know what your project will look like when you sign on the dotted line? Creating your backyard oasis is not something to take lightly. It is a considerable investment and takes time to create the perfect plan. Almost every time you choose a contractor to have a project done at your home, a contract is involved. Of course you want to read through it to know exactly what you are going to be getting for your money. So why should a landscape contract be any different? When a construction project is involved, we always want to know what the contractor is going to do and have a drawing to give us some idea of what they plan to do. In the landscaping business especially, it is important to know exactly what your landscape plan and design entails. How can you know what's going to be built if you don't have a drawing or designed plan?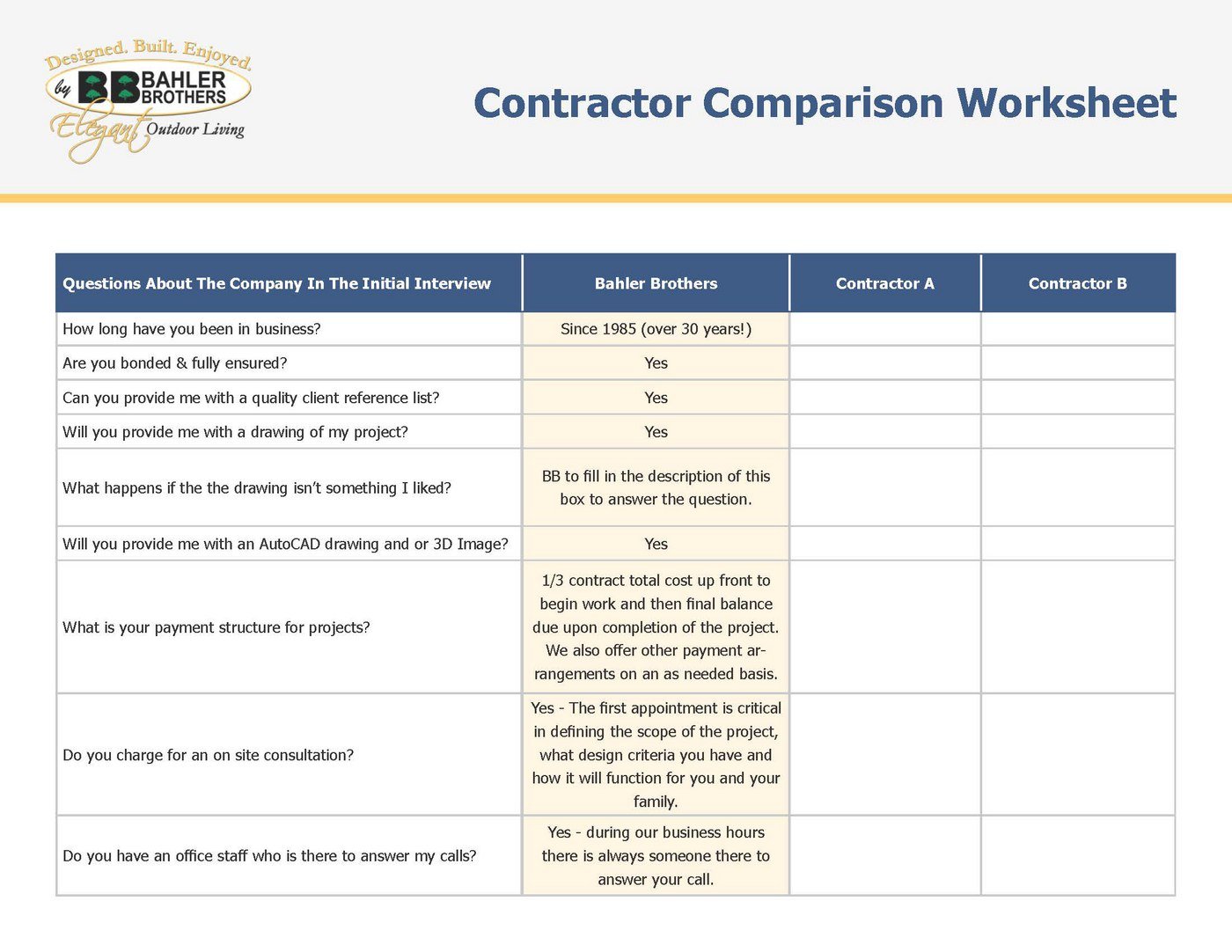 Contractor Comparison Worksheet
Take the frustration out of comparing bids from different landscape contractors with our Contractor Comparison Checklist
Choosing a Contractor | Driveways | Pavers | Techo-Bloc
Driveway, walk, front steps, drainage, and grading project. Completed June 18-22, 2012
Choosing a Contractor | Outdoor Living | Patio Cost
How do we know when to pay a little more for something and know it's worth it??? There are many reasons as to why we buy something, and yet it always comes down to a few questions...