UPDATED 4/24/18: That's a great question and one that we get on a regular basis. The question I would pose to you is 'what are the functions you would like it to perform?' Jen wrote a fabulous article for Bahler Brothers a while back called 6 Things to consider when designing a paver patio. In this article, she lays out the thought process that a homeowner should consider when they begin to think about a patio.
In our years of business, we've heard a lot of misconceptions about paver patios. The internet is a valuable tool that contains a wealth of information. However, we've also found that not all of the information is accurate or showing the complete picture. When looking at paver patios, it seems that information can be skewed against them. We've seen firsthand that they are an excellent option for many people looking to spruce up their landscaping or outdoor living space. We'd like to bring a lot of the info together so that you can make your own choice. Read on to learn the real pros and cons of paver patios.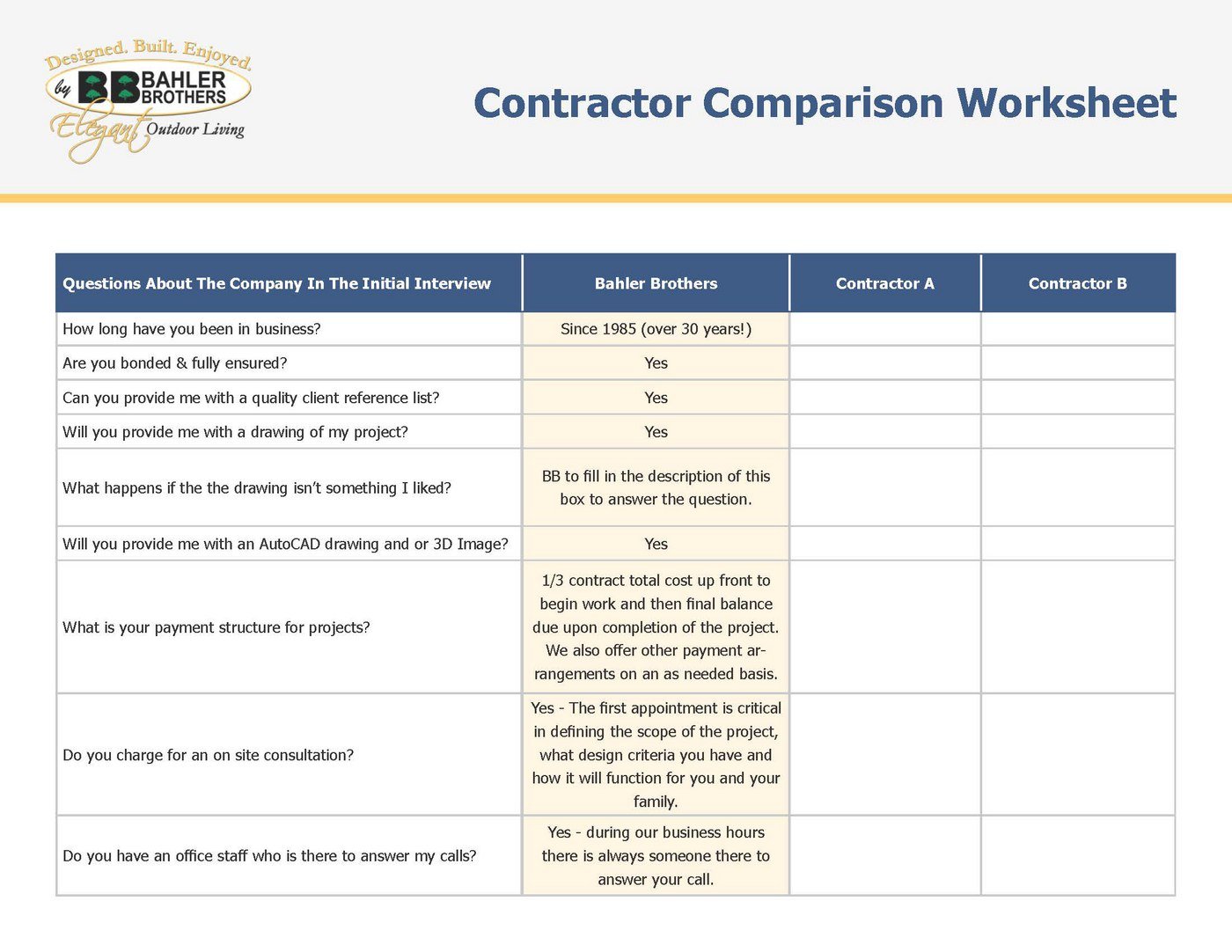 Contractor Comparison Worksheet
Take the frustration out of comparing bids from different landscape contractors with our Contractor Comparison Checklist
Often the question is posed to us; Why should I seal my paver patio regularly? Aren't pavers supposed to hold up without sealer? The short answer is yes, pavers are very durable and made to last a long time. However, with regular maintenance and care they will remain nicer and hold their value longer, the same as if you regularly maintain your vehicle.
Cleaning | Hardscaping | Pavers
This is a question posed to us often. While pavers are a great choice for your hardscape surfaces, there are three main benefits to sealing them. The first is to prevent surface erosion, second is to keep them cleaner, and third is to help stabilize the joint sand. We will discuss each of these reasons in more depth below.
Is your joint sand failing signified by moss growth or wash out? Does your hardscape project not look as nice as when it was first installed? Are you experiencing efflorescence (whitish stains) on your pavers and walls? If so, hardscape cleaning and maintenance may be just right for you. Now is the time to Clean, Restore, Beautify and Protect your investment. Seal your recently installed job now to preserve its beauty, or have us restore your old, tired project like new again. Call today to have the Paver Doctor prescribe just what your Patio, Walkway, Pool Surround or steps need to look and perform their best for years to come. Our High-Performance Joint Sands, Cleaners & Coatings will enhance the look and protect your investment from future wear, efflorescence, staining, and contaminants.