Fire Pit | Outdoor Living | Overlay | Patio | Pavers | Project Design | Retaining Wall | Sitting Bench | Sitting Wall | Steps | Techo-Bloc | Transformation | Walkway
When you pull up to the the Hebert residence, one of the first things you notice is the large set of concrete steps leading up to their side entry, with a walkway leading only part way to the patio. When you take the walkway (or grass) to the back patio...you discover what used to be a beautiful patio years ago but now needs a little face lift.
Outdoor Living | Retaining Wall | Sitting Bench | Sitting Wall | Wall Design
So, what is a sitting wall? A sitting wall is a low wall built on a patio that can also serve as seating. Typically built to the vertical height of approximately 18" to 21", a sitting wall is usually about 12" to 24" wide. This allows an individual to sit in a comfortable position.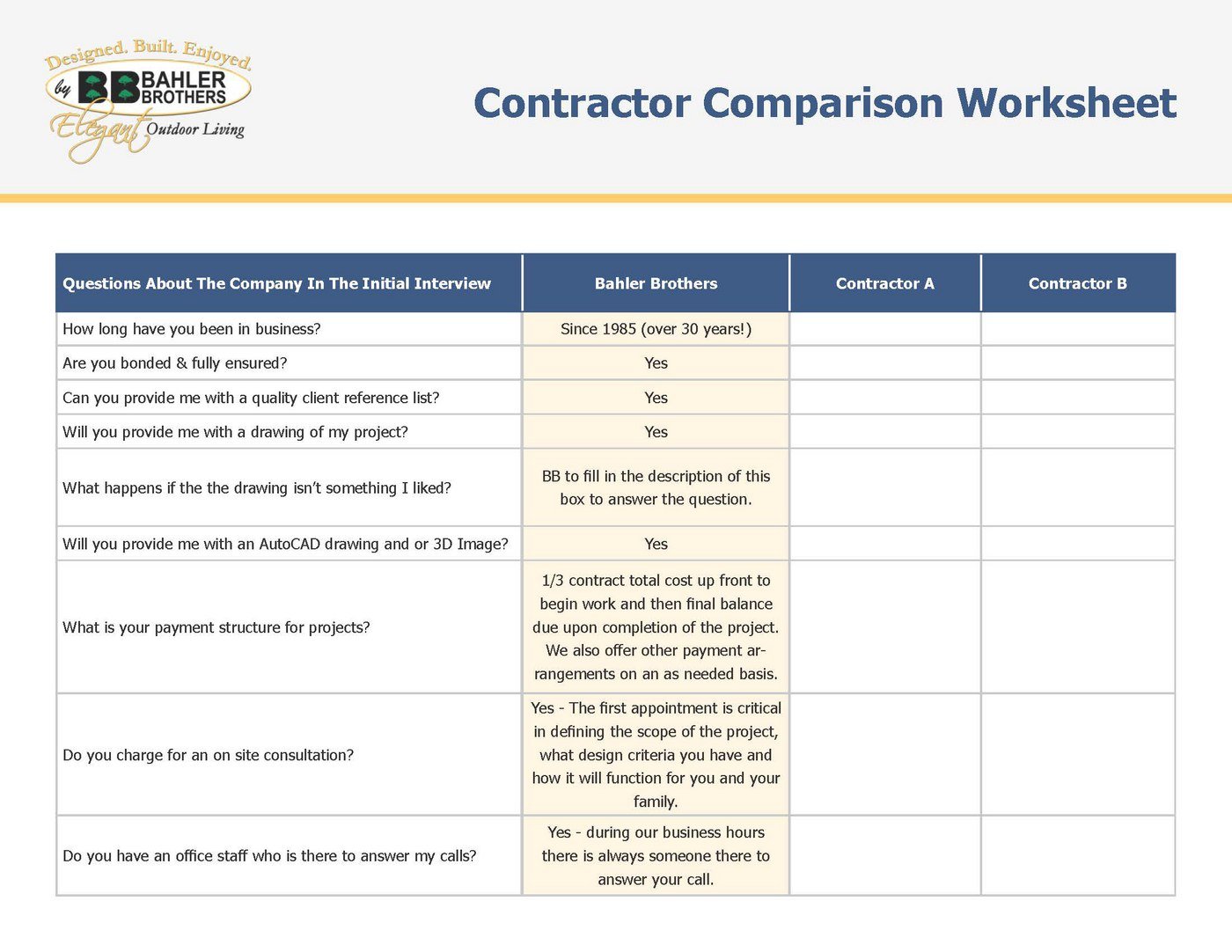 Contractor Comparison Worksheet
Take the frustration out of comparing bids from different landscape contractors with our Contractor Comparison Checklist
Built-in Grill | Landscape Lighting | Outdoor Kitchen | Outdoor Living | Patio | Pavers | Retaining Wall | Sitting Wall
"The professionalism and thoroughness with which our job was done was most impressive beginning with the sales/marketing and design team to the workers on site." The first time this customer came into our design center for an appointment we knew we were going to have a blast. We clicked right away and the process began. They wanted to redo not only their front yard but their back yard too. Through many many questions from an engineer to lauging at his many jokes, the design came together beautifully! After many appointments and picking out the perfect pavers, the plans were set and ready to go!
Fire Pit | Landscape Lighting | Outdoor Living | Pavers | Raised Patio | Retaining Wall | Retaining Wall Cost | Retaining Walls | Sitting Wall | Techo-Bloc
Wow! From Pool to Paver Patio. Wow! What a transformation! This customer came to us and said he was sick of the gunnite pool. His kids were all grown up and it was time to create a space they could not only entertain in, but also could enjoy by themselves. The stone wall that was holding up the hill side was also leaning forward and needing to be replaced before it got any worse. We sat down with him and worked on many designs, and finally came up with the perfect plan. Remove the pool, install a multi-level paver patio with a fire pit, landscape lighting, an area for their hot tub and landscape beds.
Landscape Lighting | Outdoor Living | Patio | Pavers | Sitting Wall | Steps | Techo-Bloc
This paver patio installation was simple but brought much more character to the customer's front porch area. They use their front porch a lot, but it wasn't big enough. They also wanted to include an area "just for mom", have steps stepping down the hill leading to the pool area, and have a small path through the herb garden to access the hose faucet. Some landscape lighting was also added. Here is what we came up with, resulting in a very satisfied customer!
Retaining Walls | Sitting Wall | Unilock
Many of us have either seen clips like this on TV, the internet, or have witnessed it in real life. It is the sights and sounds of man-kinds' advancements in the world of technology and innovation. Sending a man into space is not only an incredible feat, but it also brings a new sense of respect for nature and it's beauty.