Choosing a Contractor | Come Alive Outside | Erosion | Landscaping | Maintenance | Outdoor Living | Transformation | Trees | landscape designer
A look at the elements involved in good landscape design and installation and what it means for your property long term. Your home is not just a place to live; it's an extension of your personality, a sanctuary of comfort, and an expression of your style. One of the most effective ways to enhance your home's beauty and value is through expert landscape design. We understand the profound impact that a well-planned landscape can have on your property. In this blog, we'll delve into the importance of landscape design, and touch upon the importance of good installation techniques. Also, responsible plant selection, consideration of year-round color and textures, soil amendments, transplant expertise, and proper drainage – all elements that make the Bahler Brothers Landscape Design team your trusted partner in creating the perfect outdoor space.
Fire Pit | Outdoor Living | Overlay | Patio | Pavers | Project Design | Retaining Wall | Sitting Bench | Sitting Wall | Steps | Techo-Bloc | Transformation | Walkway
When you pull up to the the Hebert residence, one of the first things you notice is the large set of concrete steps leading up to their side entry, with a walkway leading only part way to the patio. When you take the walkway (or grass) to the back patio...you discover what used to be a beautiful patio years ago but now needs a little face lift.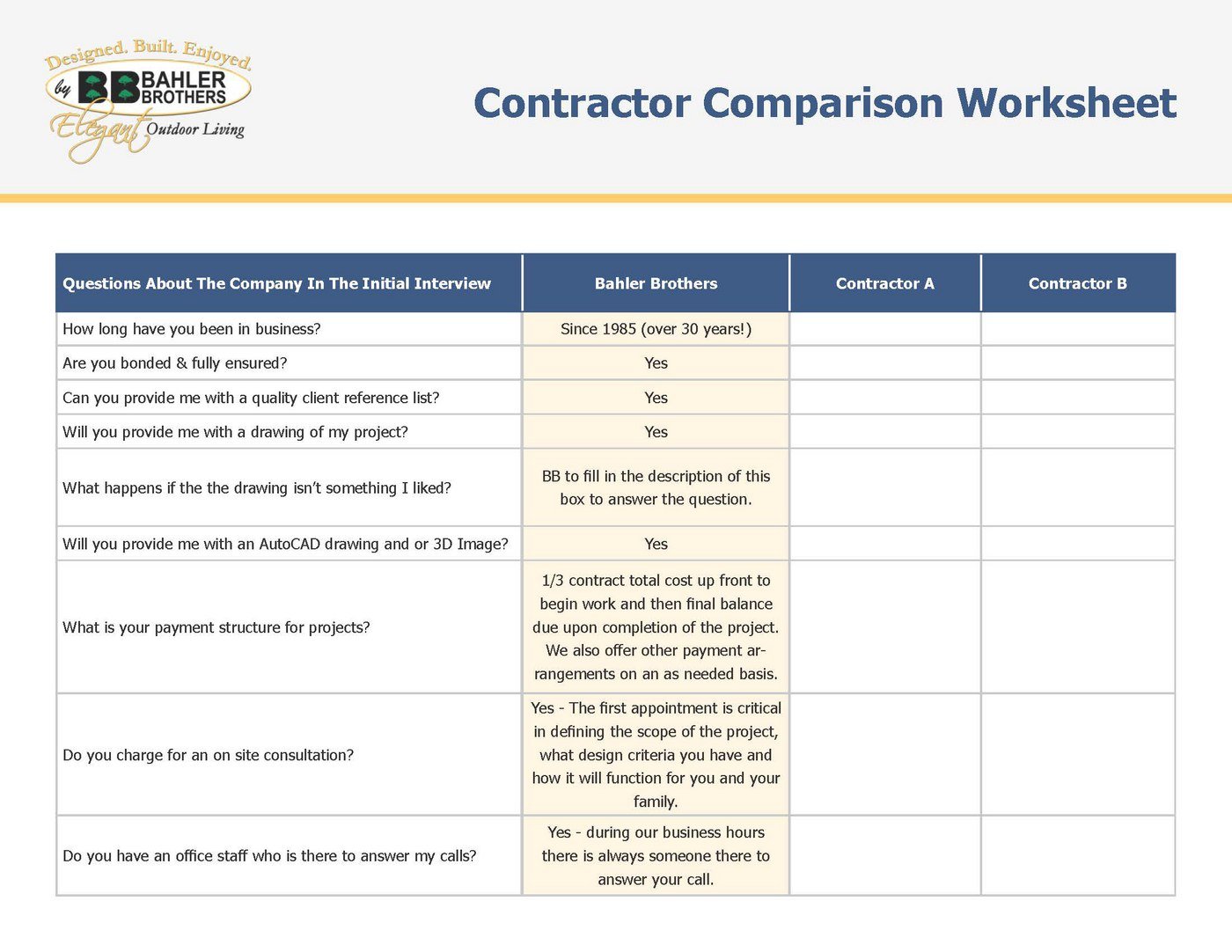 Contractor Comparison Worksheet
Take the frustration out of comparing bids from different landscape contractors with our Contractor Comparison Checklist
Decks | Outdoor Living | Transformation
My deck is falling apart, and I don't know what to do with it! Can I replace my deck with a patio? This question is posed to me quite often. The short answer is: most times. While most decks can simply be removed and a patio installed in its place, we need to step back and examine the project as a whole. A couple of questions that you may want to ask yourself are:
Built-in Grill | Driveways | Fireplace | Gas Fire Pit | Outdoor Kitchen | Outdoor Living | Patio | Pavers | Pool Patio | Project Design | Raised Patio | Retaining Wall | Retaining Walls | Steps | Transformation | Wall Design
Working with this customer was an incredible joy. They were not satisfied with their yard as it was so they called us in to help them out. It was amazing to watch this transformation unfold and now you can too!