Built-in Grill | Landscape Lighting | Outdoor Kitchen | Outdoor Living | Patio | Pavers | Retaining Wall | Sitting Wall
"The professionalism and thoroughness with which our job was done was most impressive beginning with the sales/marketing and design team to the workers on site." The first time this customer came into our design center for an appointment we knew we were going to have a blast. We clicked right away and the process began. They wanted to redo not only their front yard but their back yard too. Through many many questions from an engineer to lauging at his many jokes, the design came together beautifully! After many appointments and picking out the perfect pavers, the plans were set and ready to go!
Patio | Ponds | Water Feature
Deck-be-gone! This customer came to us and informed us that they were sick of their deck and it was all torn out. They needed a raised paver patio. Of course we thought that was a great idea and we started designing and planning right away. When the plans were complete, we had a raised patio using Techo-Bloc's Blu 60. Multiple sets of Rosetta steps leading to the pool, a waterfall, and low voltage landscape lighting.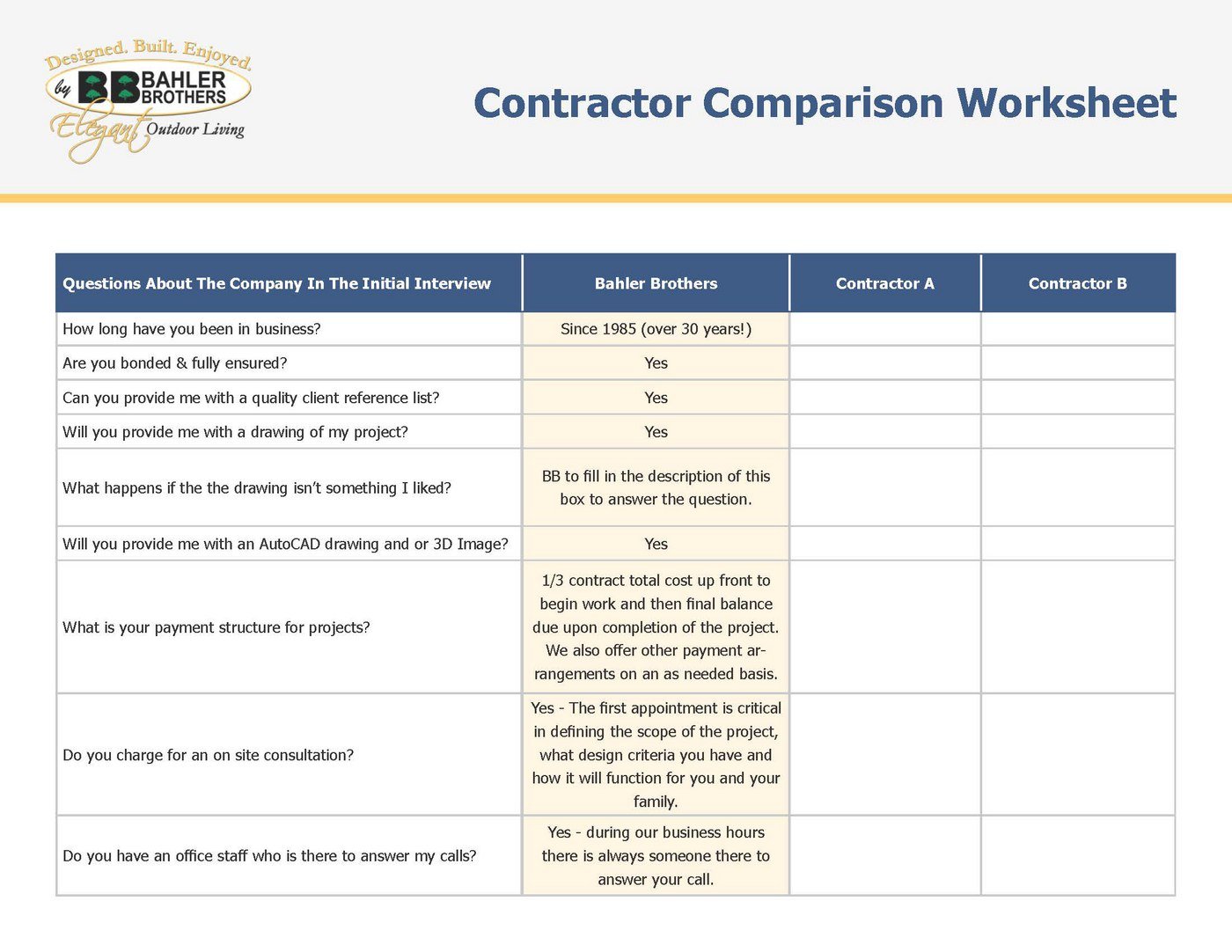 Contractor Comparison Worksheet
Take the frustration out of comparing bids from different landscape contractors with our Contractor Comparison Checklist
Landscape Lighting | Outdoor Living | Patio | Pavers | Sitting Wall | Steps | Techo-Bloc
This paver patio installation was simple but brought much more character to the customer's front porch area. They use their front porch a lot, but it wasn't big enough. They also wanted to include an area "just for mom", have steps stepping down the hill leading to the pool area, and have a small path through the herb garden to access the hose faucet. Some landscape lighting was also added. Here is what we came up with, resulting in a very satisfied customer!
Driveways | Non Permeable Pavement | Patio | Pavers | Pool Patio | Rainwater Harvesting | Techo-Bloc | Unilock | Water Feature
Over the last 20 years we have seen major advancements in permeable pavements. The first permeable paver was introduced here in North America in 1989.
Outdoor Living | Patio | Pavers | Sitting Wall
Take a scenic drive through the back roads of New England and you will inevitably spot some of the 240,000 miles of stone walls built by 19th-century farmers trying to define the border of their properties.