Landscaping | Pondless Waterfeature | Ponds | Water Feature | Water Garden
Landscaping doesn't have to be restricted to hardscapes and plantings. When you add a water feature, you open up your yard to much larger opportunities for visual impact. A water feature such as a pond invites many interesting visitors, like birds, dragonflies, frogs, and other wildlife, as well as offers a tranquil setting in which to relax and enjoy. But before you start digging, make sure you're ready. Water features can take time, energy, and a healthy budget to install. This post will help you decide if a water feature is right for your home. Take our patio style quiz for insight and inspiration!
There are few things more relaxing than the sound of water slowly trickling over rocks. While it would be nice to have a natural waterfall in your own backyard, that isn't very reasonable for most of us. Ponds are a nice addition to a yard, but sometimes there isn't the space or a pond sounds too time consuming with maintenance. Enter the pondless water feature. There is no reason why you can't enjoy the soothing effect and beauty of water from your own backyard! Let's take a look at the pondless water feature and see what it can do for your yard.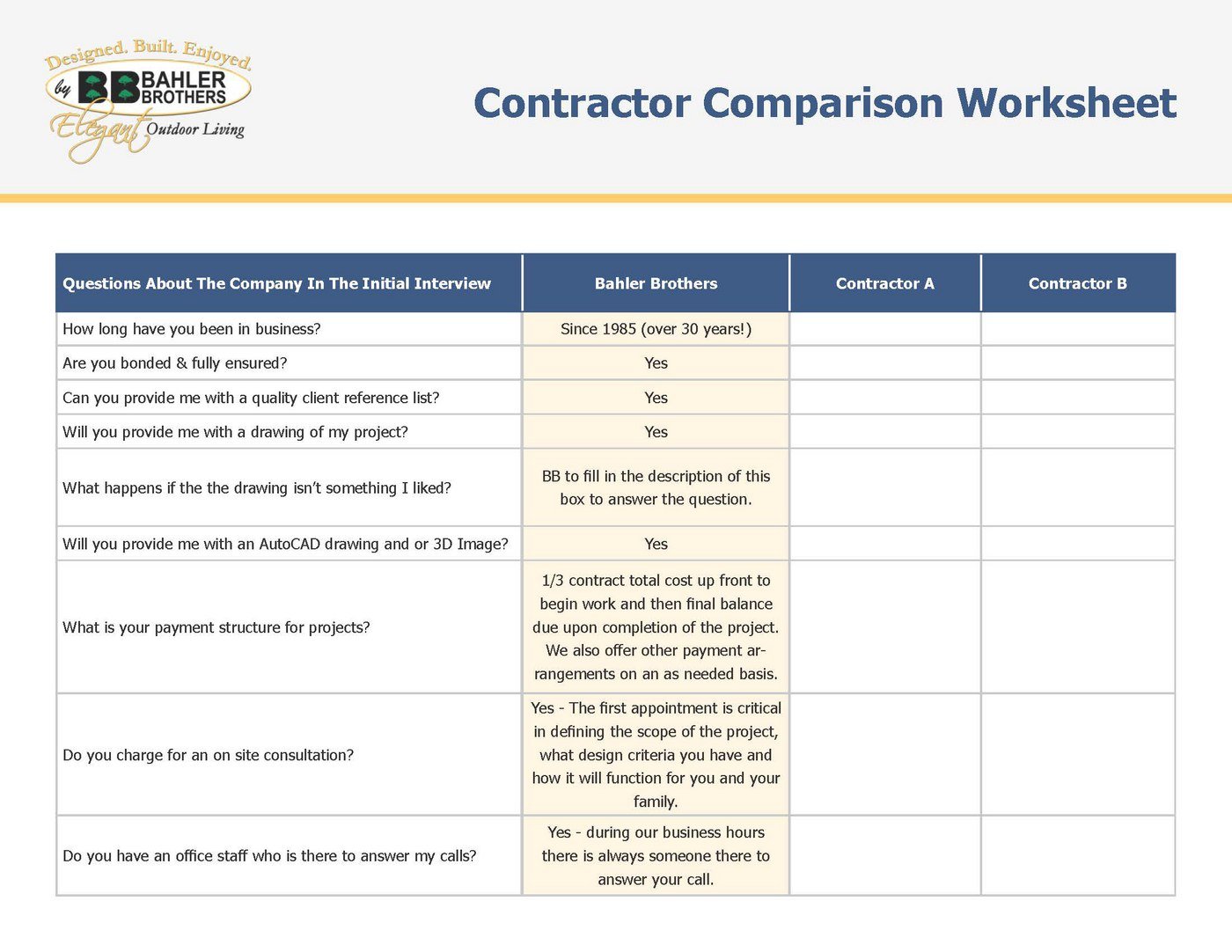 Contractor Comparison Worksheet
Take the frustration out of comparing bids from different landscape contractors with our Contractor Comparison Checklist
Landscape Lighting | Landscaping | Outdoor Kitchen | Outdoor Living | Water Feature
When you think of your ultimate backyard, what thoughts come to mind? Do you envision yourself gathered around your outdoor kitchen with family and friends for a picnic? Or do you see yourself roasting marshmallows over your fire pit in your own resort-like setting, with a water feature slowly trickling in the background? We are going to discuss 6 elements to help create the ultimate outdoor living space. Even if you currently have a patio or deck, here are some more ideas to maximize your outdoor experience.
Cleaning | Maintenance | Ponds | Water Feature
When winter is turning and springtime is in the air, it is time to start thinking about getting your water garden back into operation. Don't worry, the steps are very easy and almost anyone can do it.
How often do I need to refill my water feature is a question with many variables and factors. Below are a few questions that you may first want to ask yourself. What type of water feature is it, Fountainscape, Pondless Waterfeature, or Eco System Pond? How big is the pond? How long is the streambed? How many waterfalls are there? What climate are you in? What time of year is it? Is your water feature on the north or south side of your house? Is it in shade or full sun all day? Do you have an AutoFill? All of these are valid questions to ask yourself and relate directly to the rate of evaporation. After a few months a water feature owner will begin to understand their own feature and the needs it has. Evaporation is a big factor when this question arises. The more waterfalls and the longer the streambed the more evaporation will occur.
Outdoor Living | Water Feature | Water Garden
If you can imagine it, you can achieve it... -William Ward Imagination is one of the most powerful tools that has ever been given to mankind. If Thomas Edison had no imagination, we could still be living without electric lights, or microphones, or megaphones, or... The greastest thing about imagination is that it can become a dream, and dreams can be shared. When a person has a dream they have two choices, to share, or not to share their particular dream.