Decks | Outdoor Living | Transformation
My deck is falling apart, and I don't know what to do with it! Can I replace my deck with a patio? This question is posed to me quite often. The short answer is: most times. While most decks can simply be removed and a patio installed in its place, we need to step back and examine the project as a whole. A couple of questions that you may want to ask yourself are: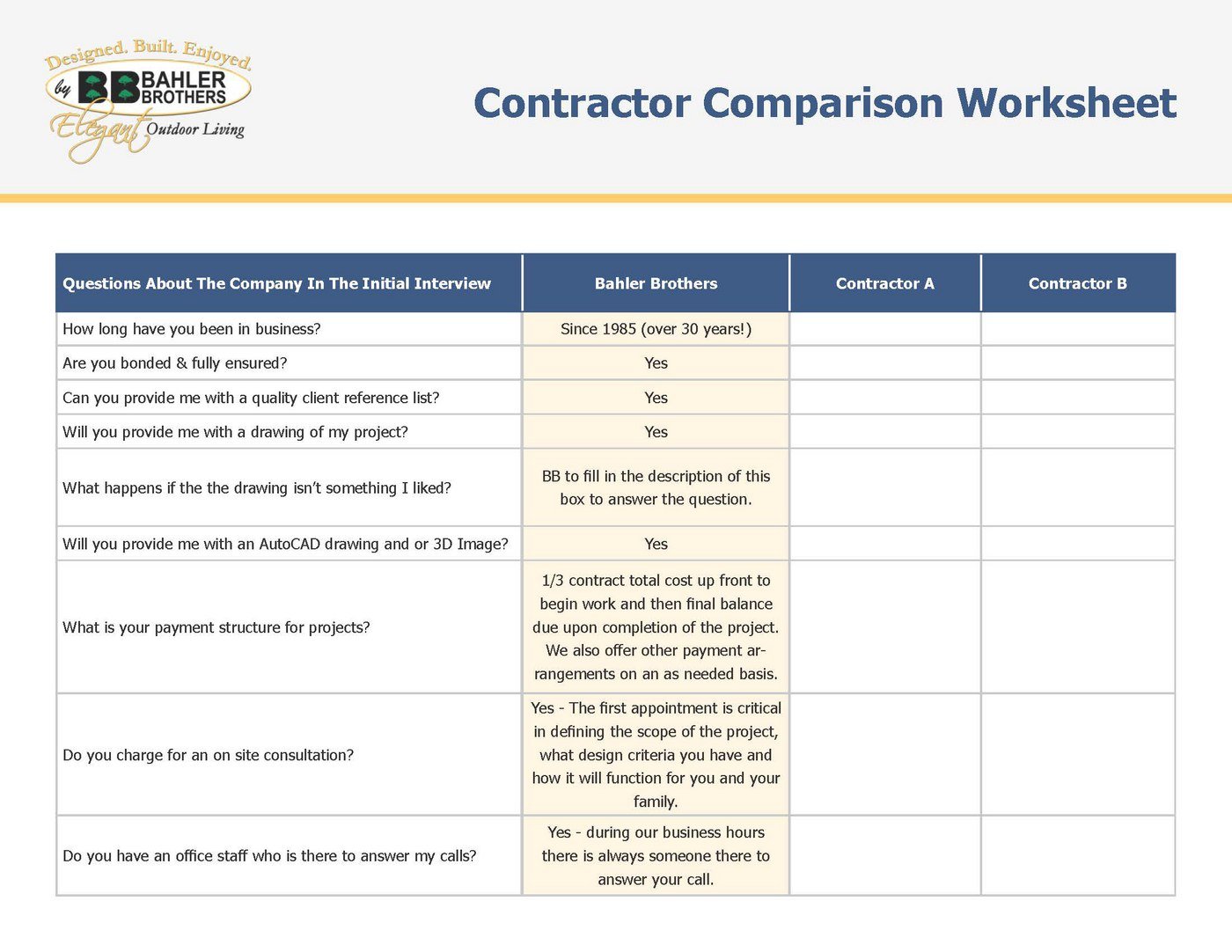 Contractor Comparison Worksheet
Take the frustration out of comparing bids from different landscape contractors with our Contractor Comparison Checklist
Built-in Grill | Driveways | Fireplace | Gas Fire Pit | Outdoor Kitchen | Outdoor Living | Patio | Pavers | Pool Patio | Project Design | Raised Patio | Retaining Wall | Retaining Walls | Steps | Transformation | Wall Design
Working with this customer was an incredible joy. They were not satisfied with their yard as it was so they called us in to help them out. It was amazing to watch this transformation unfold and now you can too!
How to Pick the Right Floor for Your Garden Room Kitchen designs, bathroom designs, and more ∨ From a designer chair and desk to bulletin boards and credenza, create your dream home office. With the help of a bath designer, revamp your bland bathroom with a walk-in shower stall, multiple bath sinks and new bathroom cabinets.
Choosing a Contractor | Outdoor Living | Pavers | Project Design
How do you know what your project will look like when you sign on the dotted line? Creating your backyard oasis is not something to take lightly. It is a considerable investment and takes time to create the perfect plan. Almost every time you choose a contractor to have a project done at your home, a contract is involved. Of course you want to read through it to know exactly what you are going to be getting for your money. So why should a landscape contract be any different? When a construction project is involved, we always want to know what the contractor is going to do and have a drawing to give us some idea of what they plan to do. In the landscaping business especially, it is important to know exactly what your landscape plan and design entails. How can you know what's going to be built if you don't have a drawing or designed plan?
Outdoor Living | Water Feature | Water Garden
If you can imagine it, you can achieve it... -William Ward Imagination is one of the most powerful tools that has ever been given to mankind. If Thomas Edison had no imagination, we could still be living without electric lights, or microphones, or megaphones, or... The greastest thing about imagination is that it can become a dream, and dreams can be shared. When a person has a dream they have two choices, to share, or not to share their particular dream.