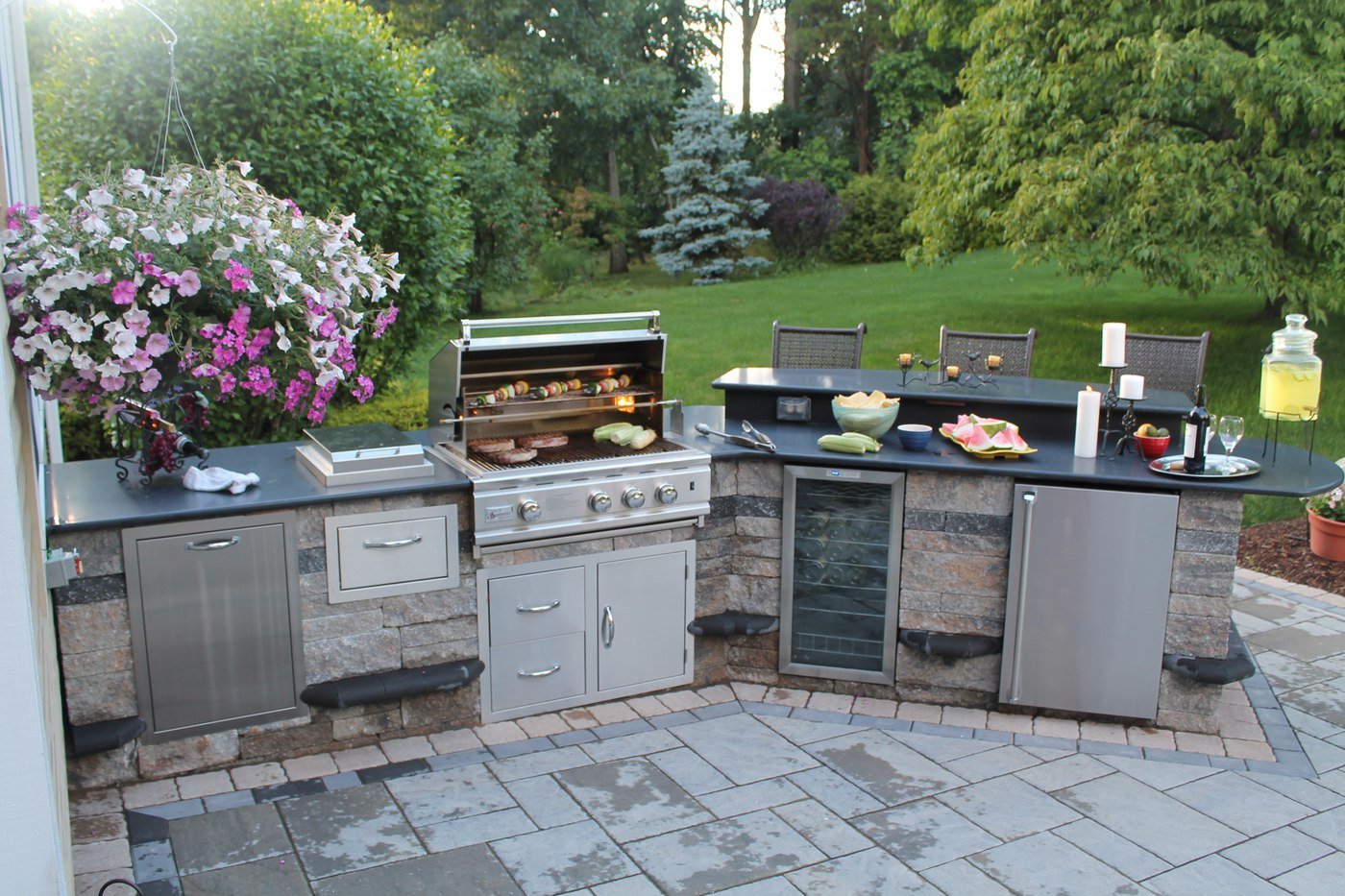 Subscribe
Outdoor Kitchens 101: Your Fundamental Design Considerations
Built-in Grill | Outdoor Kitchen | Patio Design
You may not need a kitchen on your patio, but installing a grill, prep area or more can be an amazing and effective use of your space. An outdoor kitchen is a luxury that not only gives you more flexibility, but it's a great way to spend more time in fresh air.
The idea of designing a patio that offers comfort, beauty, relaxation and functionality may be overwhelming – especially if you don't have the help of a landscape designer or outdoor living space specialist. But if you understand how to approach designing your outdoor kitchen, you'll have a much easier time choosing the right elements.
What are the most fundamental considerations when designing the ultimate outdoor kitchen? What are the best ways to enjoy your outdoor living space? Let's break it down based on our three main project initiatives:
Designing

Building

Enjoying
1) Designing the Perfect Outdoor Kitchen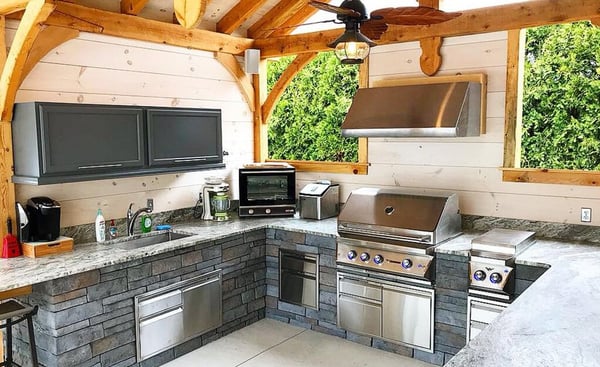 You can't design the perfect kitchen if you don't know what you're trying to build. An outdoor kitchen and patio serve a purpose. In the initial design phase, it's important to ask essential questions about how you want your patio to serve you. Approach your outdoor living space as a whole and think critically about your answers.

Do you want to entertain guests? How many?

If you plan to host outdoor gatherings, you have to take into account how often you plan to entertain guests, and how many you'll typically host. You want to ensure that you'll have enough seating, but also enough space around your kitchen for safe mingling.
How do you want to use the space?

Whether inside or outside, people tend to gather in the kitchen. Would you prefer that people hang out with a drink by the grill, or do you want a separate dining area or simple bar?
What time of day will you most frequently use your kitchen?

You may dream of having your morning cup of coffee and paper in the sun. You may dream of enjoying family dinner with a glass of wine. Certainly, you can do both. But the ideal sunlight, shade and lighting is different from morning to evening. You'll want to plan for the time of day you'll most use your patio.
Will you prepare and serve food outdoors?

Some people prefer preparing food indoors before heading outside to cook. Others want prep space, refrigeration and water in their outdoor kitchen. Your preference will determine what appliances you need and how to use your space. This consideration will also impact your utilities and food safety.
After you've determined the main purposes of your patio and outdoor kitchen, you can start gathering inspiration and ideas on how you can design your space. Manufacturers' product catalogs, home, garden or landscape magazines and HGTV are all great resources for brainstorming.
Some of our favorite resources are Garden Design, Southern Living, Coastal Living, Landscape Architecture and Better Homes and Gardens. You might also find great inspiration from Pinterest and Houzz. While you research, take note or what does and does not appeal to you. Colors, textures and overall ambiance are key considerations to creating a patio and kitchen you'll truly love.
Choosing the Right Cabinets
An outdoor kitchen is an investment. You want it to last a long time. Choosing the proper materials for your cabinetry is essential to ensuring your kitchen is as low maintenance as possible. Cabinet options include stainless steel, polymer, composite lumber and wood.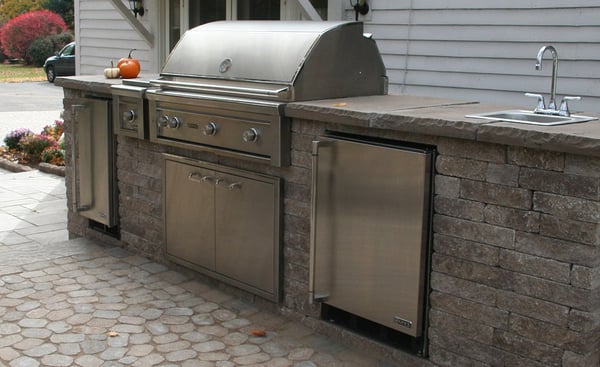 Stainless steel has become the go-to choice for outdoor kitchen cabinetry. It has a fabulous, polished, eye-catching look with tons of great benefits. Stainless steel cabinets are weatherproof, durable, environmentally friendly and easier to clean and maintain then polymer or wood. They're available in many textures and patterns, and you can paint them to match your design preferences. Stainless steel is often more expensive than other options, however. They can also become hot when exposed to direct sunlight, and without proper coating and finishing, can be prone to fingerprints and oils.
Polymer is a great option if you live in a place with harsh winters and warm, sunny summers – like we have here in Connecticut. Also known as high-density Polyethylene or HDPE, polymer is affordable, durable and easy to maintain and clean. It's weather resistant, non-corrosive, stain and fade resistant and won't crack, split or rot. Polymer can warp over time, however. And depending on the brand, polymer cabinets may not appear as luxurious as other materials, You'll also have a relatively-limited selection of colors and textures.
Wood offers a beautiful, natural look and feel for your outdoor kitchen. While it's not as durable as some options, marine-grade lumber such as teak, cypress and bamboo are better suited for outdoor use. To look great over time, wood does require regular maintenance and upkeep, though it can eventually fade and. But if you take the time to develop and follow a proper maintenance routine, you can enjoy beautiful wood outdoor cabinets for years to come. Just keep in mind that wood is on the more expensive side of materials.
Choosing the Right Grill and Appliances
When shopping for the right grill, there are several important considerations to keep in mind. The most important is the style of cooking and fuel you want to use. You can use propane or natural gas, charcoal, wood or hybrid-based grill. You can also choose between direct and indirect heat or a smoker.
You also need to choose between a roll-in or drop-in grill. To prevent having to rebuild a portion of your outdoor kitchen, we highly recommend buying a drop-in grill that's built with quality craftsmanship to will withstand various weather conditions and last a long time.
Summerset and Delta Heat are brands that offer a solid baseline of quality grills. Their 32" to 36" grills sell for $1,800 to $2,800. Twin Eagles offer a mid-range line of grills with excellent quality and features that start around $3,400. Viking, Wolf and Lynx cost closer to a range of $5,000 and $10,000. Primo and Kalamazoo are high-end luxury brands that offer greater specialty features – ceramic grills, indirect or convection cooking and hybrid grills that use a mix of fuels if desired. A 32" to 36" Kalamazoo grill will cost closer to $15,000.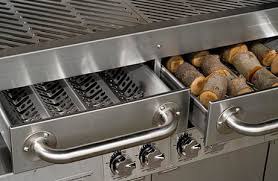 Some features worth considering are a rotisserie, sear burner, spring-loaded lid, grease pan, ignition options, grill lighting and easy cleaning features.
While the grill is your main attraction, you can benefit from building accessories or appliances into your outdoor kitchen. You might consider a:
Stovetop with additional burners for cooking with pots and pans

Griddle or large power burner

Small, under-the-counter refrigerator

Sink with hot and/or cold water

Roll-out trash bins/drawers
Determining the Best Layout & Design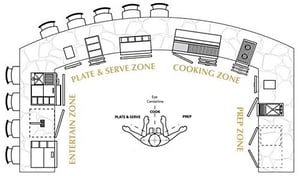 Inside or out, every kitchen can be organized into four basic functions – preparation, cooking, serving and entertaining. You don't have to include all four elements, and you can combine different zones depending on what your space allows. One unique and important consideration of outdoor kitchens is the space behind your grill. Make sure you don't put seating where your grill's smoke and heat will be released.
No matter what needs you have, use the standard kitchen triangle layout model when building your outdoor kitchen. This well-known model helps determine the most efficient working distance between your stove, sink and refrigerator.
How far do you have to walk to get cold food from a fridge?

Do you have to go inside?

How will you move through your patio?
2) Building Partners and Methods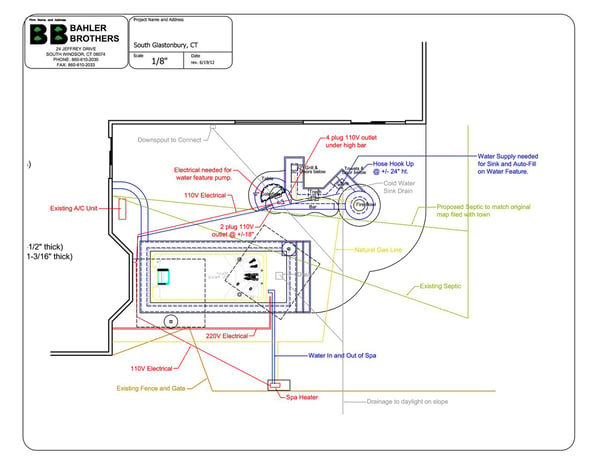 Constructing an outdoor kitchen can often include many special concerns. For instance, what type of permits are required before you can build your patio? You'll also need to consider hiring plumbers, electricians, gas service technicians, carpenters, hardscapers and other partners to complete your project.

Far too often, homeowners look for the wrong type of contractor. A specific mistake people often make is hiring a landscaper to build hardscaping for their patio. Unlike landscapers, hardscapers are construction minded – They understand equipment, compaction, utilities, flow of materials and the effects of the environment on their projects.
Choosing the right contractor is as important as any other variable in your project. You want to know what you're paying for and what services you may have to outsource to other vendors. When interviewing contractors, ask for the following information (if you're not already given them):
A client reference list

Information about their reputation with suppliers

Industry certifications, e.g. Interlocking Concrete Pavement Institute (ICPI), National Concrete Masonry Association (NCMA)
Be sure to download our Contractor Comparison Worksheet to help sort out what matters when choosing someone to build your outdoor kitchen.
3) Enjoying Your New Outdoor Kitchen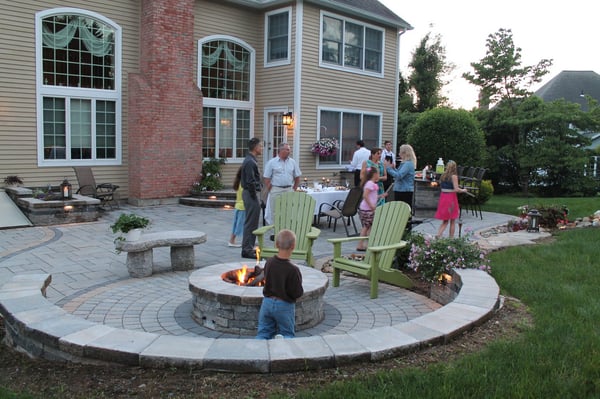 Now that you've got an idea of how start designing and building your ultimate outdoor kitchen, you can contemplate some of the best ways to enjoy it.
You can enjoy dinner with your family for three (or even four) seasons out of the year.

Host weekend BBQs with family and friends, all day and night. You may have a simple lunch and or a fancier, more elaborate dinner.

Invite your friends and neighbors to a grilling class, teaching them your best grilling techniques.

Host your child's little league team for postgame burgers and dogs.

Throw a Girls Night party with wine and appetizers served al fresco.
Creating an outdoor kitchen is a major investment, but it can become the staple of your home life. With the right consideration, thorough brainstorming and inspiration, you can create a space that delivers the ultimate value and experience. Are you ready to plan your new hotbed?
Not sure how much your ideal outdoor kitchen will cost? Click below to use our free cost estimator.