Choosing a Contractor | Come Alive Outside | Erosion | Landscaping | Maintenance | Outdoor Living | Transformation | Trees | landscape designer
A look at the elements involved in good landscape design and installation and what it means for your property long term. Your home is not just a place to live; it's an extension of your personality, a sanctuary of comfort, and an expression of your style. One of the most effective ways to enhance your home's beauty and value is through expert landscape design. We understand the profound impact that a well-planned landscape can have on your property. In this blog, we'll delve into the importance of landscape design, and touch upon the importance of good installation techniques. Also, responsible plant selection, consideration of year-round color and textures, soil amendments, transplant expertise, and proper drainage – all elements that make the Bahler Brothers Landscape Design team your trusted partner in creating the perfect outdoor space.
A beautiful outdoor living space is usually a combination of both flat and vertical design elements. Sometimes pergolas are added to the checklist of installed items being a versitile structure in many applications . In most hardscape designs they are used to define a certain space on a patio or outdoor area, such as a lounging space or dining area. Traditionally when we think of adding a pergola to your outdoor living space, we all can agree that a white PVC structure is what comes to mind. As freestanding structures, they are beautiful, cost effective, and the long term maintenance is relatively low. However, the market is ever changing and now we have new options on the design table for your project to help you create that focal point.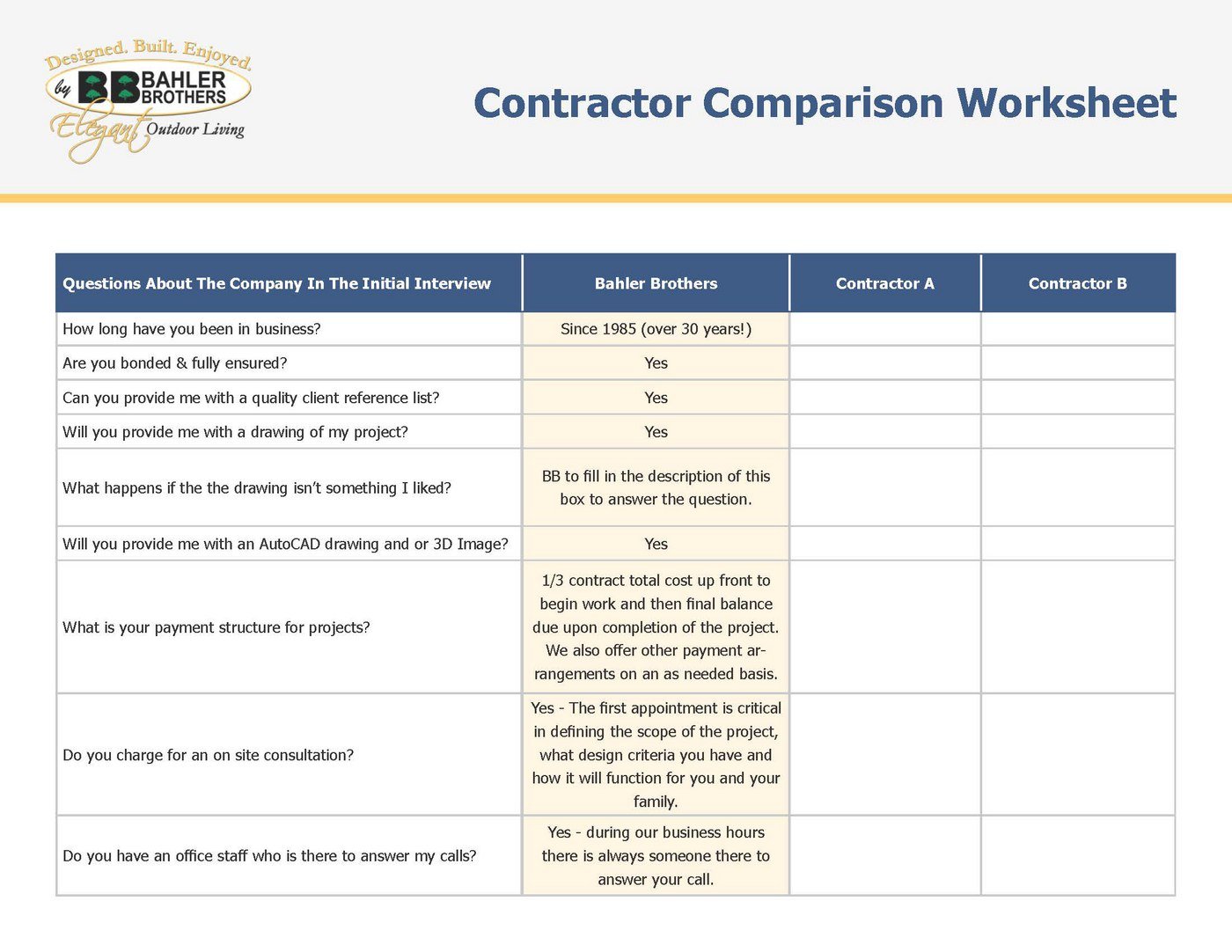 Contractor Comparison Worksheet
Take the frustration out of comparing bids from different landscape contractors with our Contractor Comparison Checklist
Hardscape Cleaning and Maintenance | Hardscaping | Maintenance | Patio | Patio Repairs | Paver Joint Sand | Pavers
Everyone loves a newly installed hardscape. We take pride in the newly renovated spaces we build and the upgraded curb appeal they provide. What we don't talk about enough is the routine maintenance needed to keep that beautiful hardscape looking its best for years to come. Hardscape materials have advanced tremendously over the years. Manufacturers have revolutionized the aggregates and pigments used in their materials, extending the life of their products. There is however still basic cleaning and maintenance required. Without following a structured maintenance schedule, you will slowly see wear and tear on your outdoor living space. Left undone, this could contribute to erosion and costly repairs. What should I expect to see after a hardscape installation? Shortly after installation you may see some efflorescence on your pavers and walls. These are naturally occurring white chalky stains that develop on the face of concrete products. While they may seem unsightly, these stains dissipate in time. You can choose to have this haze removed by an annual cleaning and sealing. With time you may also start to notice the joint sand failing. This is usually signified by moss growth or wash out.