Built-in Grill | Driveways | Fireplace | Gas Fire Pit | Outdoor Kitchen | Outdoor Living | Patio | Pavers | Pool Patio | Project Design | Raised Patio | Retaining Wall | Retaining Walls | Steps | Transformation | Wall Design
Working with this customer was an incredible joy. They were not satisfied with their yard as it was so they called us in to help them out. It was amazing to watch this transformation unfold and now you can too!
Built-in Grill | Landscape Lighting | Outdoor Kitchen | Outdoor Living | Patio | Pavers | Retaining Wall | Sitting Wall
"The professionalism and thoroughness with which our job was done was most impressive beginning with the sales/marketing and design team to the workers on site." The first time this customer came into our design center for an appointment we knew we were going to have a blast. We clicked right away and the process began. They wanted to redo not only their front yard but their back yard too. Through many many questions from an engineer to lauging at his many jokes, the design came together beautifully! After many appointments and picking out the perfect pavers, the plans were set and ready to go!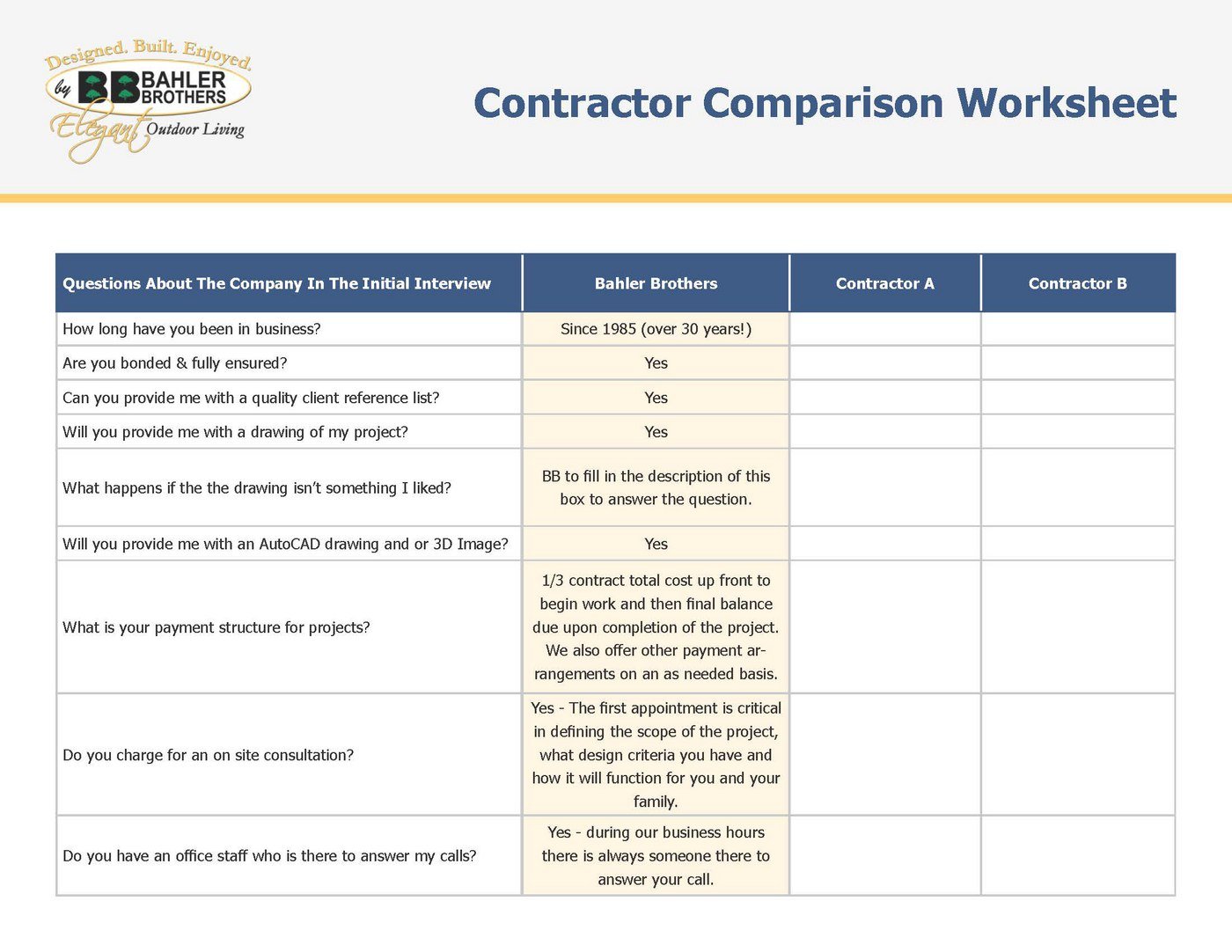 Contractor Comparison Worksheet
Take the frustration out of comparing bids from different landscape contractors with our Contractor Comparison Checklist
Outdoor Kitchen | Outdoor Living
Do I have to have a bar if I install an outdoor kitchen? This question comes to me often as I am designing a patio for a homeowner. The short answer is 'no'. As we design outdoor kitchens, we begin by looking at the homeowner's lifestyle. That in of itself may determine whether a bar or serving counter is applicable to the situation. If the grill is a place of solitude after a long day's work, or just another appliance to get a meal prepared, then a bar probably is not necessary.
Built-in Grill | Outdoor Kitchen | Pavers
Ahhh, food. This is one of my favorite topics. I love to eat... really, just about anything. But, I also enjoy the time of preparing the scrumptious food item(s). Although I love my indoor kitchen, there really isn't anything better than grilling that favorite steak or kabob with a few friends on a beautiful summer evening.