UPDATED 4/24/18: That's a great question and one that we get on a regular basis. The question I would pose to you is 'what are the functions you would like it to perform?' Jen wrote a fabulous article for Bahler Brothers a while back called 6 Things to consider when designing a paver patio. In this article, she lays out the thought process that a homeowner should consider when they begin to think about a patio.
Choosing a Contractor | Comparing Contractors | Patio Cost | Pavers | Retaining Wall Cost
So you want a new patio or walkway, and you're doing your research to pick 3 contractors to talk to. After all, it is the smart and responsible way to go about having a project built. All that is great, but do you know how to look for the differences between the bids, installation methods and the services that each one will give you? What information is going to help you make the right choice? This can be very intimidating for anyone, but especially for someone not in the consruction field, familiar with building terms and methods.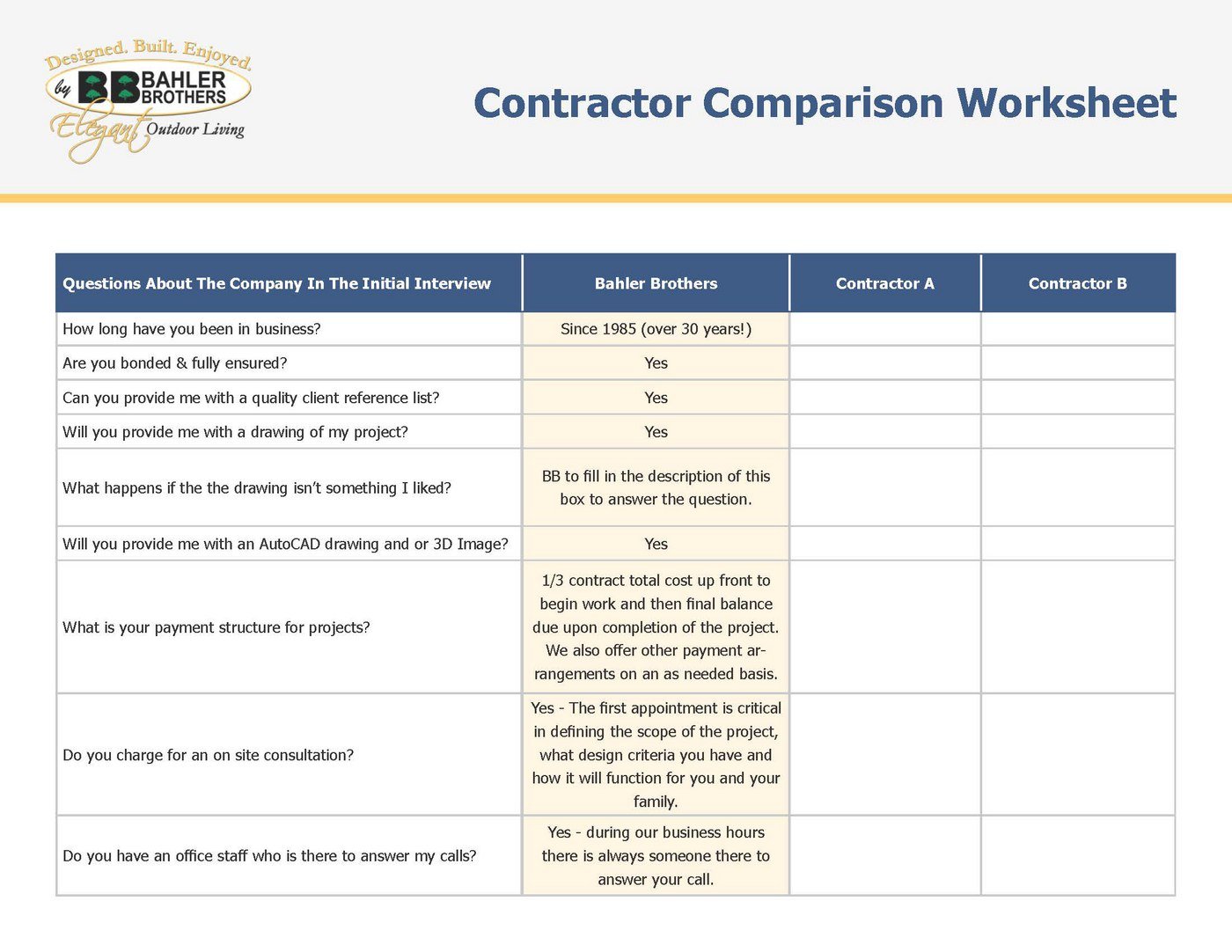 Contractor Comparison Worksheet
Take the frustration out of comparing bids from different landscape contractors with our Contractor Comparison Checklist
Choosing a Contractor | Outdoor Living | Patio Cost
How do we know when to pay a little more for something and know it's worth it??? There are many reasons as to why we buy something, and yet it always comes down to a few questions...
The most common question we get asked when considering a paver project is, "How much does it cost per square foot to install pavers?" Unfortunately, there is no simple answer. Sure, we can do calculations all day long to figure out that last week we installed a 430 sf patio for Mrs. Jones for $9,245.00, and with some quick math, we know that it was installed for $21.50 per square foot. But what about next door? We installed a walkway last week for the Smiths and the price per square foot was closer to $28.00. What gives? Why did the Smiths have to pay so much more? And what goes into the pricing for each job?