Fire Pit | Fireplace | Gas Fire Pit | Outdoor Fireplace
Incorporating a fire element into your outdoor living space will provide unbeatable ambiance and enjoyment. Whether your idea of the perfect night is roasting marshmallows with the kids or snuggling fireside with your sweetheart, an outdoor fire feature is sure to bring your entire patio space together.
Front Entrance Design | Landscape Lighting | Walkway
A warm and welcoming front walkway design is the perfect way to charm your guests, increase curb appeal, and add style to your front yard. Investing in a well designed walkway that compliments your home, your landscaping, and your style will not only increase your property value, but it will protect your lawn and provide an easy way for guests to reach your home.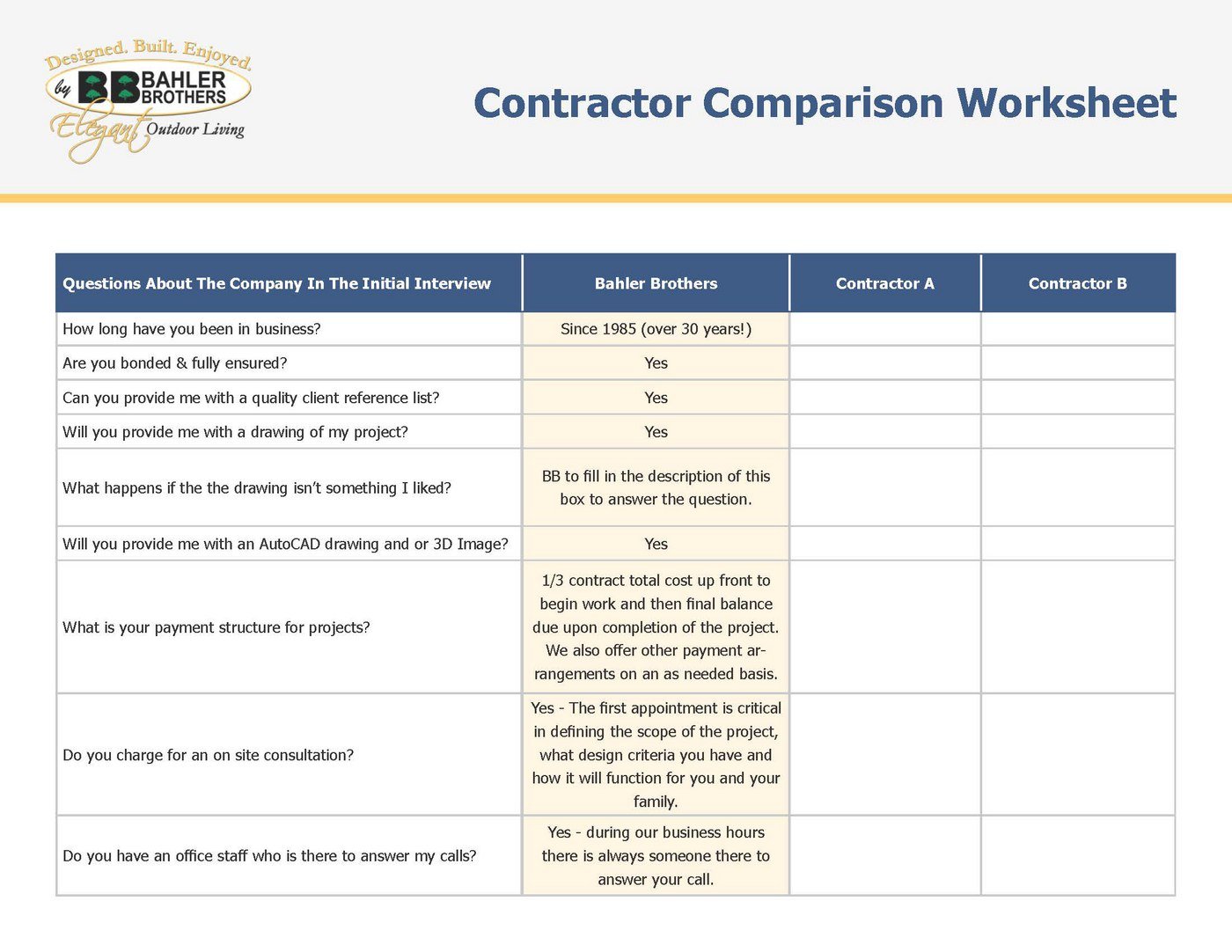 Contractor Comparison Worksheet
Take the frustration out of comparing bids from different landscape contractors with our Contractor Comparison Checklist
Built-in Grill | Outdoor Kitchen | Patio Design
You may not need a kitchen on your patio, but installing a grill, prep area or more can be an amazing and effective use of your space. An outdoor kitchen is a luxury that not only gives you more flexibility, but it's a great way to spend more time in fresh air. The idea of designing a patio that offers comfort, beauty, relaxation and functionality may be overwhelming – especially if you don't have the help of a landscape designer or outdoor living space specialist. But if you understand how to approach designing your outdoor kitchen, you'll have a much easier time choosing the right elements.
Hardscaping | Patio | Patio Design | Project Design | landscape designer
If you look outside your window or walk in your backyard, you may envision a day when you can walk out onto a patio and relax on a warm summer day. Perhaps later in the evening you'll grill a delicious meal and enjoy dinner with a side of fresh air. You may even be thinking as grand as swimming in a pool or lounging on a sundeck.
UPDATED 4/24/18: That's a great question and one that we get on a regular basis. The question I would pose to you is 'what are the functions you would like it to perform?' Jen wrote a fabulous article for Bahler Brothers a while back called 6 Things to consider when designing a paver patio. In this article, she lays out the thought process that a homeowner should consider when they begin to think about a patio.
Hardscape Cleaning and Maintenance | Paver Joint Sand | Polymer Sand
We've all seen those patios with the nice green border around each of the pavers. Appealing, right? We've also all seen patios with a ton of weeds or little anthills jutting out of the cracks in its border? It seems that everyone has come across one of these issues when dealing with pavers. The gorgeous weed- and ant-free paver driveway is the product of polymeric sand.