Retaining walls are found around many homes, businesses and schools. But chances are, you've never really noticed them. Though they can be beautiful additions to a property, they serve a fundamental purpose: expanding your useable outdoor living space.
Landscaping | Pondless Waterfeature | Ponds | Water Feature | Water Garden
Landscaping doesn't have to be restricted to hardscapes and plantings. When you add a water feature, you open up your yard to much larger opportunities for visual impact. A water feature such as a pond invites many interesting visitors, like birds, dragonflies, frogs, and other wildlife, as well as offers a tranquil setting in which to relax and enjoy. But before you start digging, make sure you're ready. Water features can take time, energy, and a healthy budget to install. This post will help you decide if a water feature is right for your home. Take our patio style quiz for insight and inspiration!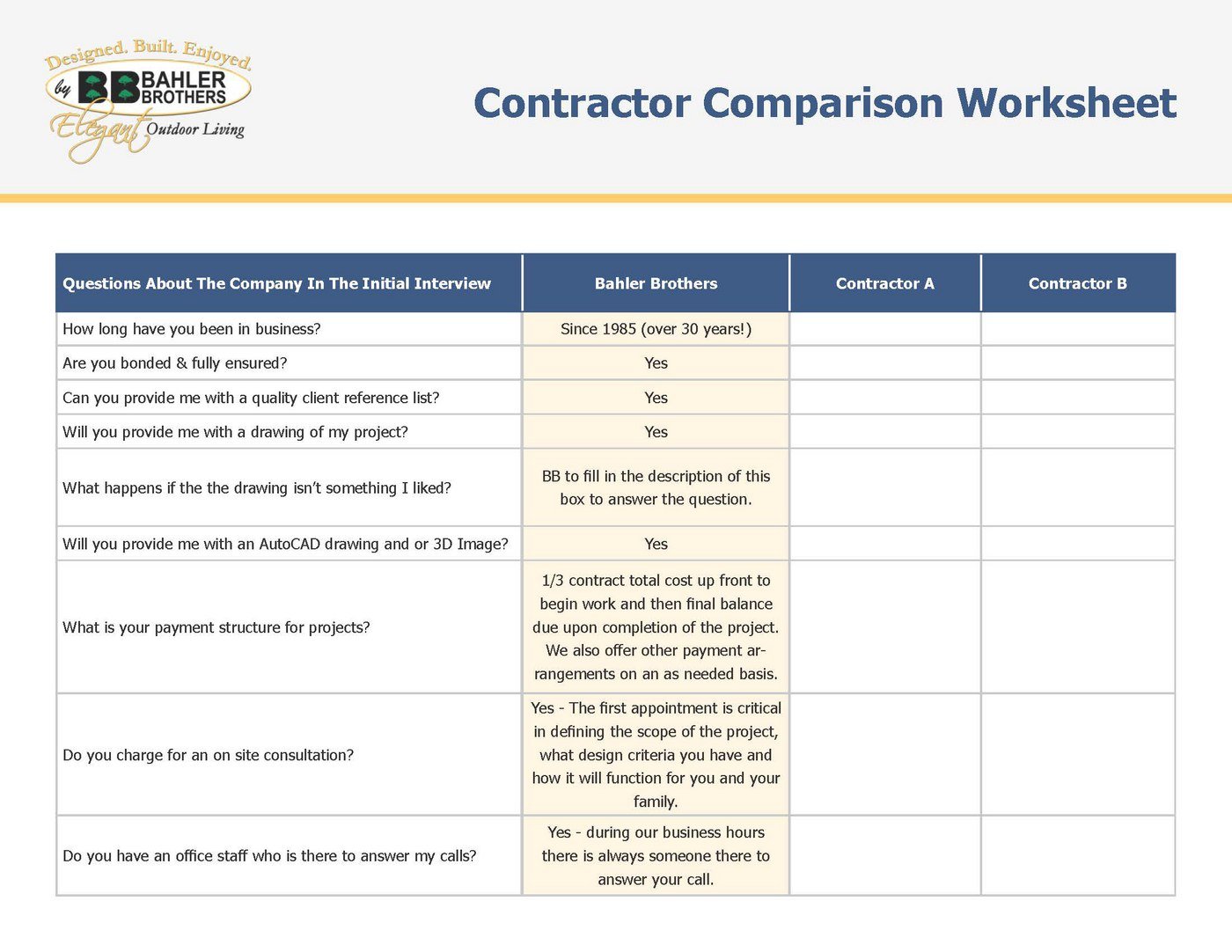 Contractor Comparison Worksheet
Take the frustration out of comparing bids from different landscape contractors with our Contractor Comparison Checklist
Fire Pit | Fireplace | Gas Fire Pit | Outdoor Fireplace
Incorporating a fire element into your outdoor living space will provide unbeatable ambiance and enjoyment. Whether your idea of the perfect night is roasting marshmallows with the kids or snuggling fireside with your sweetheart, an outdoor fire feature is sure to bring your entire patio space together.
Front Entrance Design | Landscape Lighting | Walkway
A warm and welcoming front walkway design is the perfect way to charm your guests, increase curb appeal, and add style to your front yard. Investing in a well designed walkway that compliments your home, your landscaping, and your style will not only increase your property value, but it will protect your lawn and provide an easy way for guests to reach your home.
Built-in Grill | Outdoor Kitchen | Patio Design
You may not need a kitchen on your patio, but installing a grill, prep area or more can be an amazing and effective use of your space. An outdoor kitchen is a luxury that not only gives you more flexibility, but it's a great way to spend more time in fresh air. The idea of designing a patio that offers comfort, beauty, relaxation and functionality may be overwhelming – especially if you don't have the help of a landscape designer or outdoor living space specialist. But if you understand how to approach designing your outdoor kitchen, you'll have a much easier time choosing the right elements.
Hardscaping | Patio | Patio Design | Project Design | landscape designer
If you look outside your window or walk in your backyard, you may envision a day when you can walk out onto a patio and relax on a warm summer day. Perhaps later in the evening you'll grill a delicious meal and enjoy dinner with a side of fresh air. You may even be thinking as grand as swimming in a pool or lounging on a sundeck.