Hardscaping | Patio | Patio Design | Project Design | landscape designer
If you look outside your window or walk in your backyard, you may envision a day when you can walk out onto a patio and relax on a warm summer day. Perhaps later in the evening you'll grill a delicious meal and enjoy dinner with a side of fresh air. You may even be thinking as grand as swimming in a pool or lounging on a sundeck.
UPDATED 4/24/18: That's a great question and one that we get on a regular basis. The question I would pose to you is 'what are the functions you would like it to perform?' Jen wrote a fabulous article for Bahler Brothers a while back called 6 Things to consider when designing a paver patio. In this article, she lays out the thought process that a homeowner should consider when they begin to think about a patio.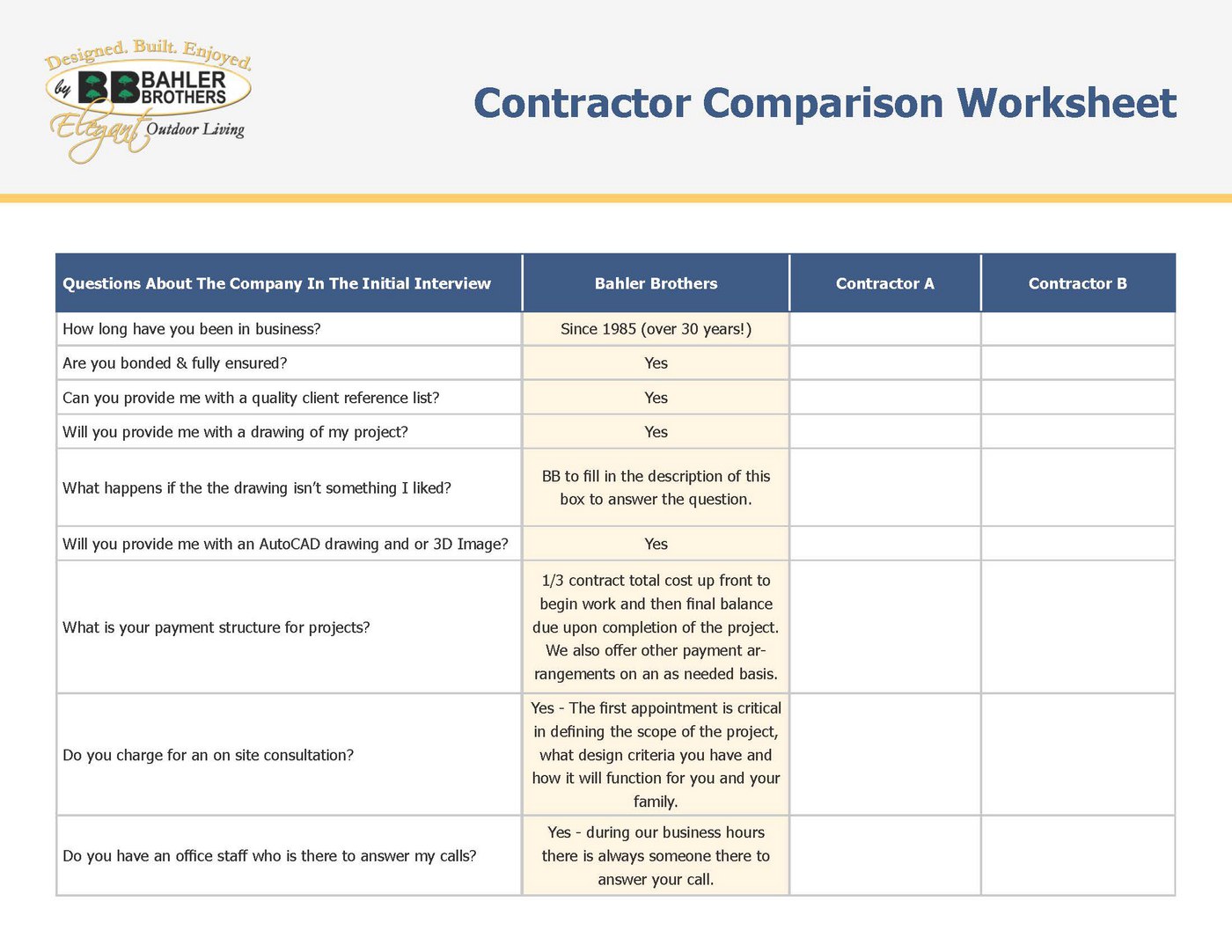 Contractor Comparison Worksheet
Take the frustration out of comparing bids from different landscape contractors with our Contractor Comparison Checklist
Hardscape Cleaning and Maintenance | Paver Joint Sand | Polymer Sand
We've all seen those patios with the nice green border around each of the pavers. Appealing, right? We've also all seen patios with a ton of weeds or little anthills jutting out of the cracks in its border? It seems that everyone has come across one of these issues when dealing with pavers. The gorgeous weed- and ant-free paver driveway is the product of polymeric sand.
Landscaping | landscape designer
As we are sure you have experienced, it's very easy for a home renovation project to become overwhelming. Whether you are remodeling your kitchen or customizing your outdoor living space, before you know it things can become out of scope and way beyond your budget. When taking on an outdoor project, such as a patio, walkway, or custom landscape project, there are a variety of different factors that come into play to ensure your project goes smoothly and that you get the most value out of your investment. This is where a landscape designer can be of assistance!
After the beating your yard took this winter, you're probably looking at it, wondering how you'll ever get it back in good shape. A few weeks ago, we shared some tips to help you get your yard ready for spring. There are many simple steps you can take to get your yard to where you want it to be for the warmer weather. And one of those steps is pruning.
After a long day of work, the first thing most people want to do is get home and relax. Say it's a nice day out and you want to sit out on your patio in your back yard, eat some dinner, and enjoy the rest of the evening. Instead of making trips in and out of the house, why not take the comfort of your kitchen outdoors with a new or updated back yard space that's perfect for entertaining, cooking, and relaxing. Outdoor kitchens are a trend that we believe is here to stay but, if you're not sure which appliances to include in your design, don't worry! We've rounded up some of the 'must have' appliances and other features for your outdoor kitchen.