Do you give Free Estimates?
Yes. Although there may be a fee for our design services, if you don't already have a design for us to estimate from.
How do I get started on a project?
Do I need a design?
Yes and no. A design is a conceptual idea of what your project can or will look like. It can be a really rough sketch or a very technical drawing drafted to show one aspect of a project. Not everyone can read, much less produce, a plan. So do you have to have a design drawn - yes, it's a really good idea, especially if you're getting more than one bid. Each contractor can then bid on the same drawing/design. (click HERE to read more on comparing contractors and bids) Do you have to have design in hand before your appointment with us? No. We have a talented design/sales team that can help you with that. We can work on a design together during our meeting. 
How long will my appointment take?
Most appointments take 1 to 2 hours. An appointment for a front walkway won't take as long as one for a back patio. Most appointments start with a design interview at your home (or project site). We will also make a detailed site evaluation and begin working out some design ideas.
This project will be an investment for your home. The first appointment is critical in defining the scope of the project, what design criteria you have and how it will function for you and your family. Is it worth taking a few hours off at the beginning of a project make sure everyone is on the same page? We can't design without your input.
What is your Warranty?
PAVERS and WALLS:  Bahler Brothers offers a 5 year warranty on our hardscape installations. Most of the manufacturers of the products we use offer a lifetime warranty. Please call us for more details.
LANDSCAPING:  Plant material is guaranteed for 1 year.
LOW VOLTAGE LIGHTING:  Our installation work is guaranteed for 5 years. There are limited manufacturers' warranties on the transformer and timer. There is no warratny on the LED lamps. Please call us for more replacement details.
Will you make a mess in my yard?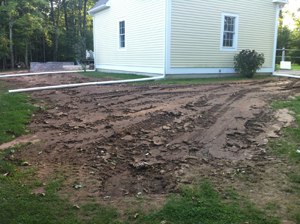 Definitely. "How much of a mess?" is the real question. We use heavy equipment and make a lot of dust and noise. We will leave tracks in your lawn areas. How much of a mess largely depends on the existing soils and what the weather has been like for the past few weeks, especially if we are working in the back yard. The worst mess that I can remember was made in a customer's yard becuase we started work there the day after a hurricane. The soil was very clayey and soaking wet. This mess was unavoidable. This was also an extreme case. The same yard after a couple of weeks of dryer weather would have had very little damage or ruts.
We will respect your property. Our crews are very concerned about keeping a safe, organized and as-clean-as-possible work site, but please be patient with us. Lawn and landscape restoration options are always available.
How do I pick my pavers and wall material?
We have a beautiful showroom and design center with about 7,000 square feet of materials installed for you to see, touch, feel and walk on. Please call us to set up an appointment, so that we can be sure to give you the service you deserve. You can also click on the "Book an Appointment" button on the left, fill out the form and we will call you.
View our showroom HERE and View a typical showroom appointment HERE.
We are located at 24 Jeffrey Drive in South Windsor, CT. Click HERE for Google Maps.
What are your payment terms?
We require a deposit (usually one third of the total contract amount) and a signed contract before we begin construction. We also require a deposit in order for your project to be placed on the schedule. Arrangements can be made for a smaller deposit amount to get your project on the calendar - if the project details are not completely finalized and you want to hold a spot. This smaller amout will go towards the required third deposit.
Once the project is completed, a bill will be sent for the remaining balance. It is due upon receipt.
How do I prevent weeds from growing up between my pavers?
When a gravel base for pavers is installed correctly, weeds cannot grow UP between the individual stones. There is no way that the seeds can germinate and push their way through a compacted gravel. Instead they are most likely blowing or drifting into the cracks on the wind. They will sometimes germinate in the joint sand.
There are 2 main ways to prevent this from happening. One is to keep the paver surface clean . Sweep or blow the pavers off occasionally to prevent the seeds from getting rooted in. You can also use a granular pre-emergent pesticide (like Preen). Gently sweep it into the joints, making sure to not leave any on the surface of the pavers as it may stain them.
The other way is to have polymer sand installed during the installation process. Polymer sand is a granular sand that has an additive in it that acts as a binder to the grains when it's activated. When it's dry, it is hard to the touch and seeds can not root into it.
How do I prevent moss from growing on my pavers?
Moss requires 2 things to grow: moisture and shade. Making sure an area has time to dry out, will go a long way preventing moss. Thinning out a tree canopy to allow more sunlight through will also help.
How do I get rid of moss on my pavers?
We have found that a simple solution of household vinegar can work well on getting rid of moss. Simply spray it on. The vinegar usually kills the moss and the spores. Make sure you test it on a sample area first to make sure it doesn't damage your pavers. Once the moss is dead it can be blown out of the paver joints with a hose. Resweep new sand into the joints when finished to keep the pavers from shifting out of alignment. NOTE: Vinegar will deactivate polymer sand and make it ineffective.
Other moss pesticides may be available - see your local garden center for available products and always read the product labels for application instructions and test it on your pavers to make sure it doesn't stain.
Why is my walkway uneven or heaving?
This is usually due to frost in the ground, and there is mostly likely an issue in how the gravel base was installed. Pavers are designed to flex with the ground as it freezes and thaws. A proper compaction and installation of the base is what keeps the movement to a minimum. Click here for more information on installing pavers in Connecticut.
Why are my steps crumbling?
Most likely crumbling steps indicate a concrete pour or concrete product that is pourous and can absorb water (and thus freeze) or it has had rock salt or other ice melt product applied. If the concrete can absorb water, freezing that water can bust the concrete apart. If a rock salt has been used on it or nearby, it will chemically eat away at some concrete products. Even if the rock salt was used on the road or driveway - if you walk through it and then use the steps, you have now moved a high concentration of it from your shoes to your concrete. Unfortunately, there is no way to reverse either situation. The steps need to be replaced.
The sand is gone from between the paver joints. Is this a problem?
Yes, actually it is. The sand is a very important part of the installation. It is what locks the individual stones together and makes them interlock - giving the pavement the name "interlocking concrete pavers". If there is no sand present in the joints, the pattern can shift and move.
We recommend that the sand be topped off and reswept into the joints every 2 to 3 years - or when the sand level gets below ½" from the chamfered edge of the paver.
What is the milky white stuff on my pavers?
A milky white substance on the surface of the pavers is most likely efflorescense. It is a natural by-product of concrete and often comes to the surface of new pavers. Some manufacturer's pavers are less likely to have it than others. It is temporary and will fade with time.
There are cleaners available that can speed up the process, if necessary.
Can Pavers Be Plowed or Snowblowed?
Yes. The edges on the pavers are beveled so the plow rides over the top and does not catch on the edges. Many people think that when plowing, if they catch a paver edge, they will plow all of the pavers right up and out. This is false. When the sand is swept into the joints, it makes the pavers interlock and extreemly hard to be taken up or out.