Book an Appointment
Have one of our professional sales and design team contact you to discuss your project.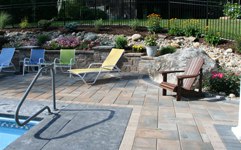 At that time we can gather some basic information about your project and schedule an appointment at your home.
Fill out the form to the right and someone will contact you to talk to you about your project.
Our On-Site Appointment entails:
FREE Professional insight to your project. Whether it is about construction of your project or the general design layout, our designers are happy to help you put together a project that works for you.
FREE Estimate- This portion of the consultation will give you insight to the approximate cost of the project that you have in mind.
Sketches are typically done when our designers are at your home if they feel that they are necessary for your project.
Design Center Visit:
Your visit to our Design Center gives you a glimpse of the many options for your project including product choices, design features, colors and patterns. This step may be taken before or after our designers come to your home. Please specify on the form to the right if you prefer to start your project in our Design Center.
Other professional Design Services are available for a fee:
AutoCAD Drawing
3D Rendering and Fly Through Movie of your proposed project
When you contract with us to build your project, all design fees will be applied to the required deposit.