Subscribe
Landscape Lighting: 10 Ways it Can Upgrade Your Outdoor Space
Landscape Lighting | Landscaping | landscape designer | Front Entrance Design
Lighting is an incredibly powerful addition to your outdoor living space. It can highlight your favorite features, help you set the mood for special occasions, and even protect your home from potential threats like burglars.

We choose fixtures designed to meet our client's specific needs and personal taste. We create your outdoor living area as a holistic space, so the entire picture works together — aesthetically and functionally.
Pretty much anything is possible when it comes to lighting your landscape!

And if you want to enjoy your backyard after dusk, lighting is key.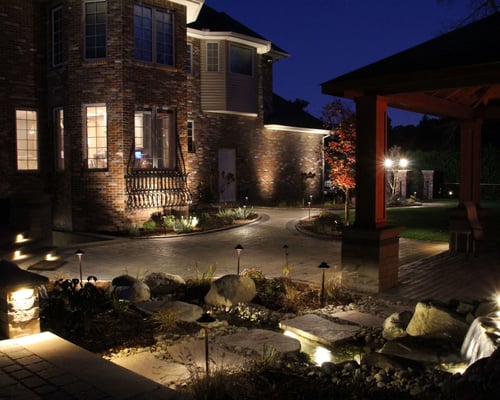 Here's How Landscape Lights Can Make Your Outdoors More Livable
Here are 10 ways landscape lights can benefit you and your family's enjoyment of your outdoor living space as spring and summer set in:

Extend the use of your patio beyond sunset.
When the sun goes down, the fun can stop. After all, pitch darkness doesn't lend itself to socializing or hanging around outside. Luckily, landscape lighting can ensure you're able to use your patio,

landscape

accessories

, or other outdoor space well after sunset. With the help of different lighting options, you can host (or cook!) dinner parties, lounge in your hot tub, or even play games.


Curb appeal.
Lighting can help your home look its very best. Landscape lighting can add a significant amount of attractiveness to any space, and maximize the appeal of your outdoor area. That not only makes your family more likely to enjoy the space, but it can also increase your home's value. Our manufacturer partners like

Alliance Outdoor Lighting

offer every type of lighting fixture and accessory, from path lights to wall sconces to ledge lights. Add some finishing touches to your beautiful outdoor space, and, you'll impress all your guests!


Use light where you need it most.
Lighting is about ambience and aesthetics, but it's also incredibly functional. Take a look at your outdoor space and see where lighting could make a difference. If there are any dark spots that could use a little extra attention or you have a different vision for the space — lighting can be just the addition you need. With the vast array of options, you can find a lighting solution that's the right fit. A deeply shadowed yard doesn't get used as often after dark as one that has a little bit of soft landscape lighting in it. The light invites you out of the house and into the yard.


Light your favorite items.
If you've put a lot of time, attention, and money into your outdoor living space, it's likely you have some key pieces you really love. That could include art, functional items like hot tubs, or even specimen trees or other cool plants. Adding lighting features specifically designed to highlight your favorite items will make you more likely to spend time outdoors! It's also a way to help you get more enjoyment out of your investments.




Safety.
Lights are an easy way to make any area safer. Having outdoor lights in the evening will deter potential burglars and other criminals who may be scoping out your house — burglars are far less likely to hit a bright home than a dark one. In addition, lights will make it safer for you and your family to move around outdoors and avoid potential hazards like steps,

ponds

, pools, and structural elements.


Highlight architectural elements.
Your home is your castle, and your outdoor space should be a natural extension. Undoubtedly you have specific architectural elements that make the most visual impact, and these deserve special lighting. Whether it's an architectural accent on your house or a stunning landscape feature like a pergola or trellis, custom lights can highlight these key elements and make them even more impressive.




Customized lighting for key spaces.
There are as many outdoor lighting options as there are outdoor activities! From string lights to lanterns to professional fixtures with integrated LEDs, we customize lighting to your individual spaces. If you have a space like a dining area, for example, lighting can help to create a cozy ambience. Hot tubs, walkways, fish ponds,

outdoor kitchens

, and other key spaces in your outdoor area can all be accented with soft lighting.


Ambiance! Set the mood.
Nothing sets the mood like lighting. Tiki torches can help enhance a party, while bistro lights might set the stage for a romantic occasion. There are countless options for any and every possible ambiance. Many controllers even come with specific themes and mood lighting settings so it's easy to change your surroundings up in order to match the occasion.


Colorful decor for holidays and special occasions.
Love the holidays? So do we! One of the best ways to start feeling festive is to use outdoor lighting to celebrate holidays and special occasions, from Halloween to the Fourth of July to New Year's Eve. Colored lights can help make your other decorations pop. A themed birthday party or next week's game night – change the colors of the lights to match the event.

Special occasions also get an upgrade with special lighting —

romantic lanterns, string lights, or exotic table lights

can all set the mood for a party, event, or intimate couples' dinner.




Use tech to set it and forget it.
One of the coolest things about modern landscape lighting is that technology and smart features have made it easier than ever. With apps and other tech, you can "set it and forget it." From turning on and off at a certain time to monitoring energy usage to

using smart light sensors

to deter theft, technology offers a wealth of options. There are many transformers used today that have location based astronomical timers. These adjust on/off times daily for sunset and sunrise and will even adjust for daylight savings time without reprogramming.

One manufacturer often used, FX Luminaire,

offers a Luxor® controller

that lets you set zoning, dimming, and color from one device. It works with an array of lighting options, and it can create up to 40 themes. The controller also comes preset with calendar-based programming, timed sunrise and sunset offsets, and dual 15V outputs.
Have You Considered the Impact of Landscape Lighting?

As the season sets in, now's the time to consider all the ways you want to use your outdoor space this spring and summer. If you have specific goals for utilizing your patio, events you want to host, or plans to get your family more engaged —landscape lighting fixtures and an improved ambiance can help you make some unforgettable memories.

Contact us if you'd like to discuss your outdoor living options and explore all the ways your family can come alive outside!