Is your joint sand failing signified by moss growth or wash out? Does your hardscape project not look as nice as when it was first installed? Are you experiencing efflorescence (whitish stains) on your pavers and walls? If so, hardscape cleaning and maintenance may be just right for you. Now is the time to Clean, Restore, Beautify and Protect your investment. Seal your recently installed job now to preserve its beauty, or have us restore your old, tired project like new again. Call today to have the Paver Doctor prescribe just what your Patio, Walkway, Pool Surround or steps need to look and perform their best for years to come. Our High-Performance Joint Sands, Cleaners & Coatings will enhance the look and protect your investment from future wear, efflorescence, staining, and contaminants.
You are looking out the window at your backyard, and you start thinking to yourself, "I need to make my outdoor space more usable!" Or you are at a friends backyard barbeque wishing your own yard would function like this! But where do you start? How much does a deck cost? How much does a patio cost? Here is a brief overview of the cost comparisons.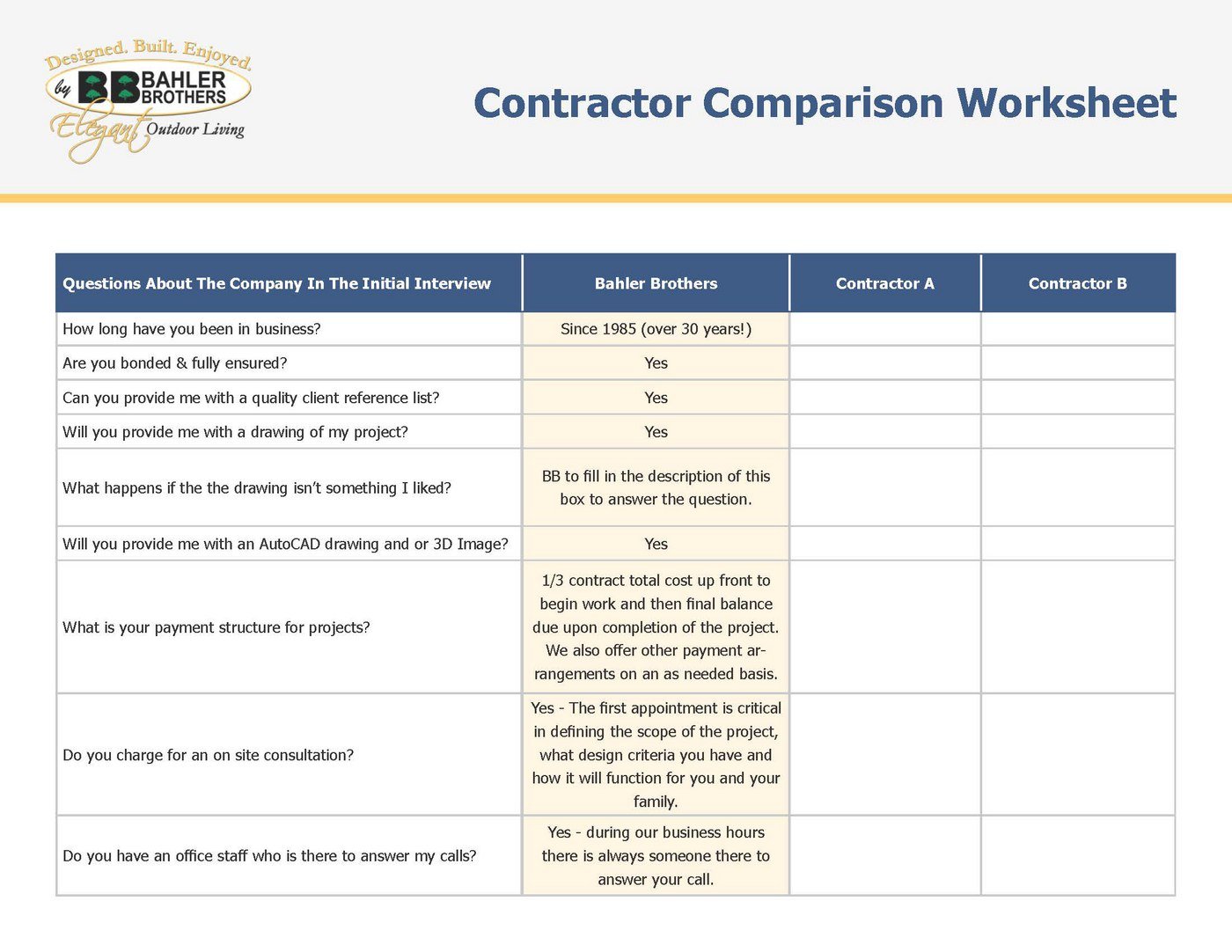 Contractor Comparison Worksheet
Take the frustration out of comparing bids from different landscape contractors with our Contractor Comparison Checklist
Built-in Grill | Outdoor Kitchen | Patio | Pavers
Built-in Grills are becoming more and more popular. In an economy that is making a recovery, we have seen a steady increase in the number of grills and outdoor kitchens we've been asked to install. So how much does a built-in grill cost to install? Well - It depends.
Fire Pit | Outdoor Living | Overlay | Patio | Pavers | Project Design | Retaining Wall | Sitting Bench | Sitting Wall | Steps | Techo-Bloc | Transformation | Walkway
When you pull up to the the Hebert residence, one of the first things you notice is the large set of concrete steps leading up to their side entry, with a walkway leading only part way to the patio. When you take the walkway (or grass) to the back patio...you discover what used to be a beautiful patio years ago but now needs a little face lift.
Excavation | Patio | Pavers
There are many reasons that paver contractors, like us here at Bahler Brothers, dig up so much ground for our customer's patios. The biggest reason is that in order for a paver patio to last, it must have a good base. The base must be free of biodegradable matter such as roots and other fill matter.