Outdoor Living | Ponds | Water Feature
Wikipedia defines aquascaping as "the craft of arranging aquatic plants, as well as rocks, stones, cavework, or driftwood, in an aesthetically pleasing manner..." This holds true in the aquarium world as well as in the water feature world. Since I am not very well versed in the aquarium world, we'll just stick to the outdoor water feature industry. So in layman's terms, what is aquascaping? My definition of aquascaping is: using water gardening to fill a void in someone's life that they didn't know existed.
Patio | Ponds | Water Feature
Deck-be-gone! This customer came to us and informed us that they were sick of their deck and it was all torn out. They needed a raised paver patio. Of course we thought that was a great idea and we started designing and planning right away. When the plans were complete, we had a raised patio using Techo-Bloc's Blu 60. Multiple sets of Rosetta steps leading to the pool, a waterfall, and low voltage landscape lighting.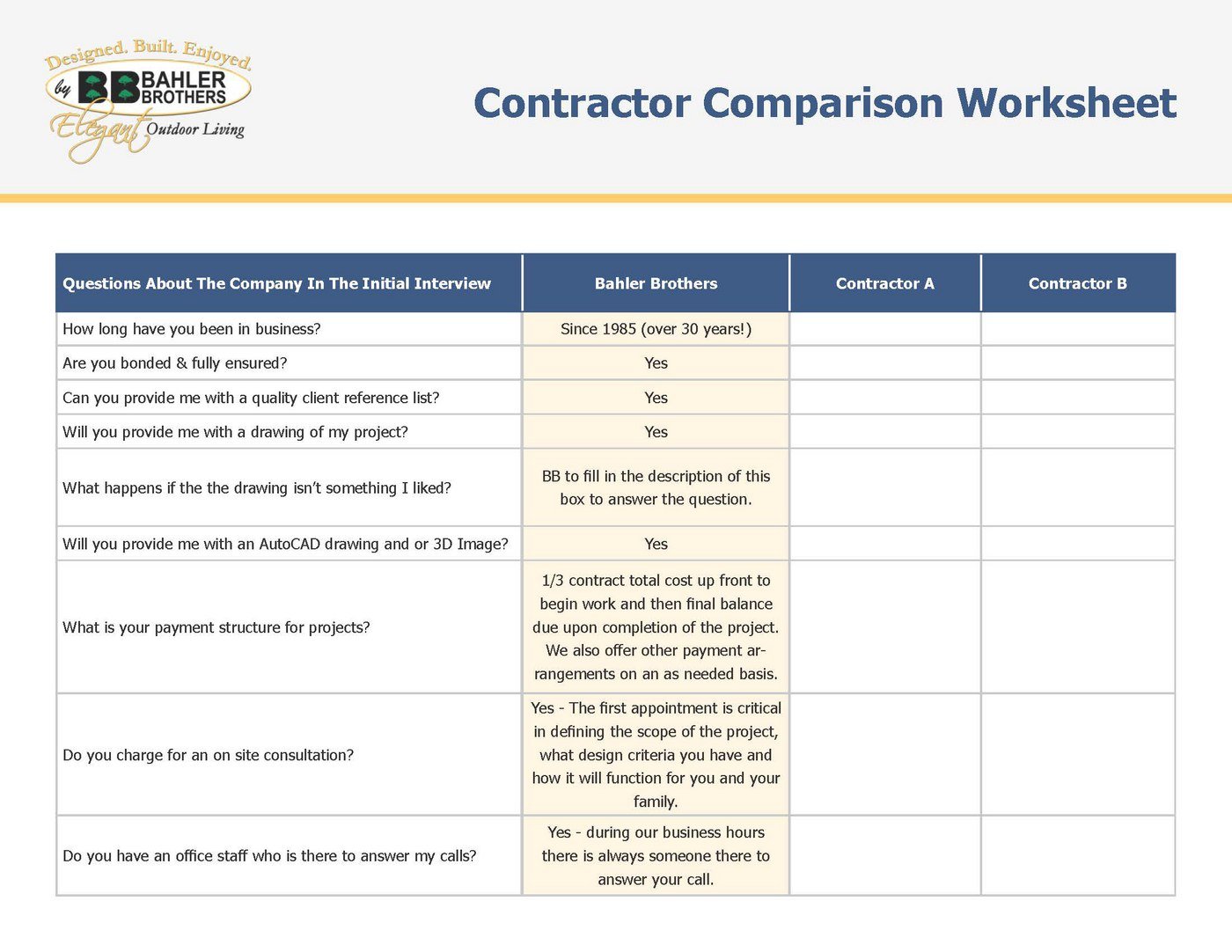 Contractor Comparison Worksheet
Take the frustration out of comparing bids from different landscape contractors with our Contractor Comparison Checklist
Many images come to mind when I think of ways to relax and unwind after a long day or week of work. There are places that we can go to relax such as a beach, a park, or a pond. Is there any type of correlation between these places? Yep-Water. So if you are traveling to get to these places to enjoy this type of recreation, why not bring it home to you in the form of a water feature?
Ahhh Spring... I love this time of year. The frost is coming out of the ground, the sun is warmer, the days are longer, the bulbs are poking their heads out, and the manufacturers are releasing their new catalogs. I always look forward to the unveiling of the new latest and greatest that these guys come out with.
Pavers | Rainwater Harvesting | Techo-Bloc | Water Feature
In todays society we need to conserve water. According to a Gallup poll in March 2008 Americans rated their level of worry about each of 12 environmental concerns, the top 4 all related to the quality of water. Harvesting rainwater is better all around for you, your children, grandchildren and the generations to come. A quality company who is the leading innovator of water features Aquascape, Inc. has designed a revolutionary system known as the RainXchange sytem. Harvesting rainwater helps to avoid strict watering schedules during droughts and reduce water bills. Recycled rainwater is also better for the plants in your yard because no chemicals are added to rainwater. The water feature created from the system enhances the yard and increases value. Tying the downspouts into the system will recycle the rain water which falls on the roof. One inch of rain on a 2,000 sf. house is the equalivent of 1,250 gallons of water. According to the DEP website, Connecticut recieves on average 45 inches of rain. Just in one year on one roof that is 2,000 sf, harvesting the rainwater from just the roof alone would recycle 56,250 gallons. Harvesting the rainwater that falls on the driveway by using a Permeable pavement system would increase the amount of gallons conserved. For a short video on the installation of a rainwater harvesting system click here. Use the RainXchange system to get up to 12 LEED points on a "Green Project". Related Articles: Permeable Pavers vs. Non-Permeable Pavers Advancements in Permeable Pavements Permeable Pavements Study
Driveways | Non Permeable Pavement | Patio | Pavers | Pool Patio | Rainwater Harvesting | Techo-Bloc | Unilock | Water Feature
Over the last 20 years we have seen major advancements in permeable pavements. The first permeable paver was introduced here in North America in 1989.