Landscape Lighting | Landscaping
When it comes to landscaping your front yard, the facade of your home can play a big role in what style, type of plants, and other landscape elements you may want to incorporate. From color to style, from architectural features to the mood you want to create, the structure of your home may have a bigger impact on your decisions than you may realize. Here are a few things to consider when getting ready to design your front yard landscaping. Consider Color If your home is neutral in color, you may want to choose a limited color scheme for your landscape to add visual appeal. Rich purple and pink flowering plants are great choices for beige, gray, or white homes; soft yellow is also a beautiful accent.
There are few things more relaxing than the sound of water slowly trickling over rocks. While it would be nice to have a natural waterfall in your own backyard, that isn't very reasonable for most of us. Ponds are a nice addition to a yard, but sometimes there isn't the space or a pond sounds too time consuming with maintenance. Enter the pondless water feature. There is no reason why you can't enjoy the soothing effect and beauty of water from your own backyard! Let's take a look at the pondless water feature and see what it can do for your yard.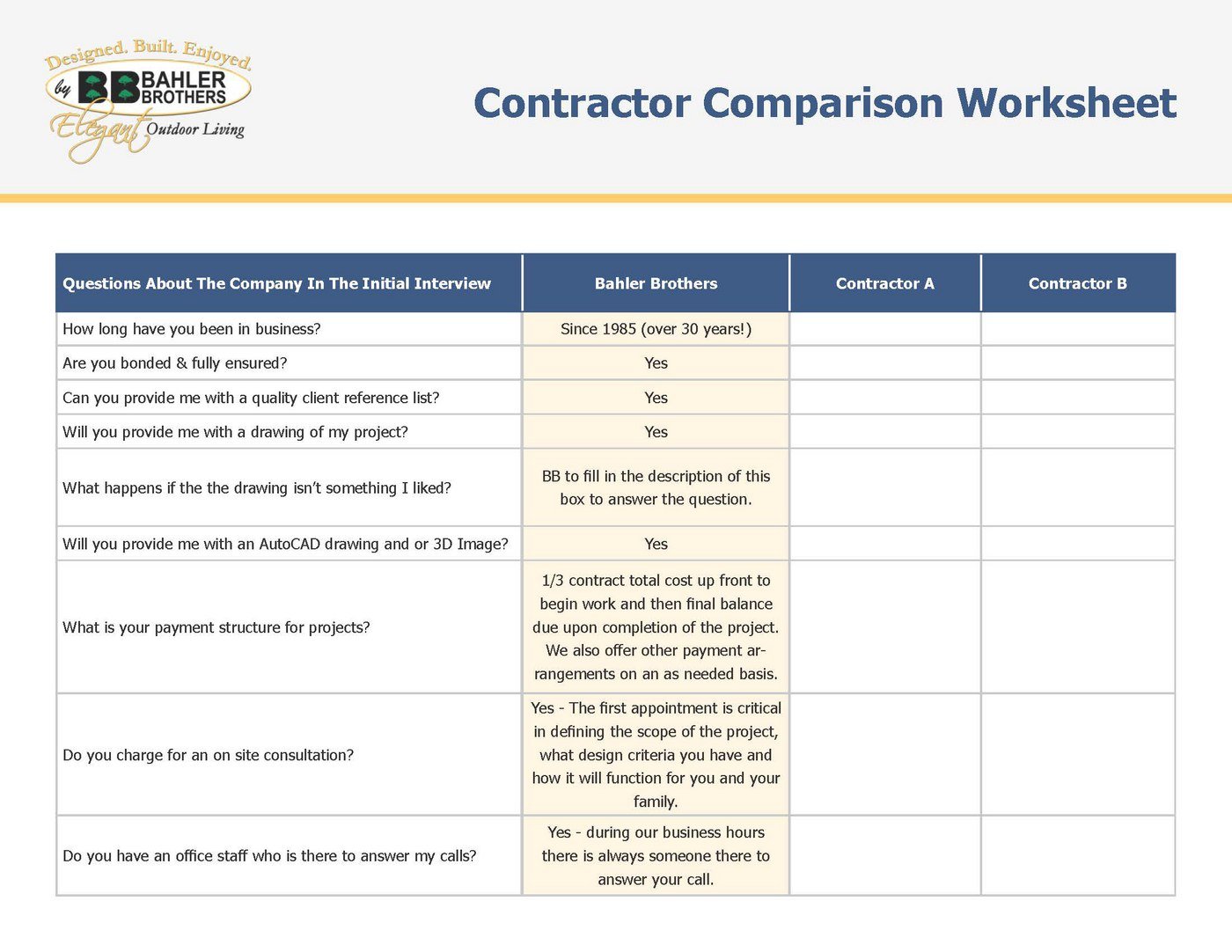 Contractor Comparison Worksheet
Take the frustration out of comparing bids from different landscape contractors with our Contractor Comparison Checklist
Maximize space and increase the welcome with a built-in bench that suits your patio or deck just right
Driveways | Landscape Lighting | Landscaping | Walkway
There are many ways to boost your home's curb appeal. Here are a few ideas to make your house the real show stopper on your street.
If anyone else is like me up here in the Northeast, by this time of the year I am waiting, somewhat impatiently, for the time I can get out in my yard and feel the warm sun and soil. I will have to admit, though winter has it's own kind of beauty, with the freshly fallen snow making everything seem new and fresh, it can also be long and cold, and thinking of warmer days to come somehow gets me through. Thinking about spring and what to plant in my garden are also great coping mechanisms. With that being said, there are many plants that can still bring visual interest to your winter garden. Planning ahead now and deciding if any of these plants with visual interest in winter are right for your landscaping, will not only give you something to look forward to this spring, but will also leave you with much more to look at when the leaves fall again next year.
Outdoor Kitchen | Outdoor Living | Pergolas
As we are becoming well aware, outdoor kitchens are becoming more and more popular. "Outdoor kitchens have exploded in popularity because they provide an enjoyable space to cook and share food in the beauty of a garden environment," says J. Gieo Peonsoneault, host and producer for The New American Landscape Channel, an online resource for the green industry. While your kitchen can be tailored to your budget and tastes, here are four things for anyone to consider while planning your dream outdoor cooking space. Click here for many great outdoor kitchen ideas. 1. Evaluate your space and design a layout that works with your area and your budget. 2. Decide which materials you would like to use for your floor, raised structure and counter tops. 3. Think about your appliances, and what you would like to incorporate into your kitchen. 4. Overhead roof type of structure, such as a pergola or a pavilion. The first thing to consider is the space you are working with and the most efficient layout for your space. You should also consider your indoor space while planning this. You want your kitchen to be visually appealing from the inside as well at outside. Your budget and preferences also need to be taken into account at this stage, but you need to think about how the layout can be the most efficient for your needs and wants.