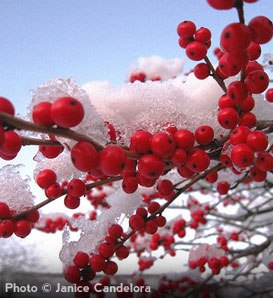 Subscribe
Plants That Bring Visual Interest to your Winter Garden
If anyone else is like me up here in the Northeast, by this time of the year I am waiting, somewhat impatiently, for the time I can get out in my yard and feel the warm sun and soil. I will have to admit, though winter has it's own kind of beauty, with the freshly fallen snow making everything seem new and fresh, it can also be long and cold, and thinking of warmer days to come somehow gets me through. Thinking about spring and what to plant in my garden are also great coping mechanisms. With that being said, there are many plants that can still bring visual interest to your winter garden. Planning ahead now and deciding if any of these plants with visual interest in winter are right for your landscaping, will not only give you something to look forward to this spring, but will also leave you with much more to look at when the leaves fall again next year.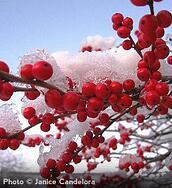 Winterberry: 'Winter Red'
Produces loads of bright-red berries on a large plant that grows 6 to 9-feet tall and wide. The growth is upright and mounded. The red berries will make this plant the focal point of your garden in the winter. Full sun to partial shade; moist, well-drained soil is best, but tolerates wet sites; tolerates alkaline soil. Attracts songbirds.
Photo courtesy of: Janice Candelora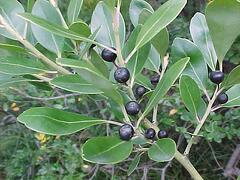 Inkberry Holly: 'Shamrock'
Selected for its compact habit and bright, glistening new foliage, this dwarf grower makes an excellent hedge or border plant. It is low maintenance and grows 3-4 feet tall and wide. The dense twiggy habit displays an abundance of black berries through winter. Evergreen. Full sun to part shade. Medium to wet soil. Attracts birds.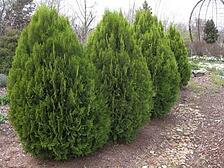 Arborvitae 'Berkman's Gold'
Conical-shaped evergreen shrub that features attractive golden-yellow foliage. Great for hedges because of it's narrow growth habit. As they mature they become pyramidal. They have a mature height of 4-5' with a width of 3-4'. They need full shade to partial shade.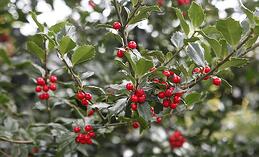 Blue Holly
Broadleaf evergreen. Female plants ('Blue Princess') produce attractive red berries which are prominent in the fall and winter. They have both a hieght and width of 8-12'. Full sun to part shade. Adaptable to both light and heavy soils, but prefers rich, moist, acidic soils with good drainage. Great for use in hedges.
Ornamental Grasses
There are many types and varieties of ornamental grasses. They can range anywhere from 1' to 10' tall and even taller in some cases. They typically prefer ordinary soil that is well drained. They prefer full sun but some varieties can tolerate partial shade. Ornamental grasses come in a variety of colors, including blues, greens, chartreuse, and even variegated with silver, white or yellow and even reds. They have graceful habits and heights and fine textures and colors that add great beauty and interest to the garden. Because they last so long, they are a great choice for all seasons. They also have an added bonus of material for long-lasting flower arrangements.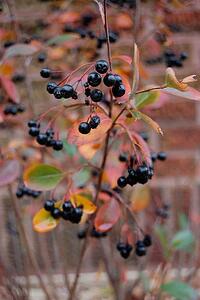 Black Chokeberry
This deciduous shrub is an open, upright, spreading, somewhat rounded but leggy, suckering plant that typically grows 3-6' tall and wide. It is noted for its 5-6 flowered clusters of white 5-petaled flowers that bloom mid to late spring, glossy dark green leaves which are 2-3" long, black autumn berries (blueberry size) and purple/red fall color. Although they are unappetizing to birds, the black berries persist into January offering nice visual interest in the winter. This bush prefers full sun to partial shade.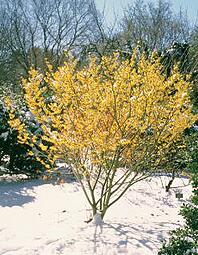 Witch-hazel
Witch-hazel is a fall blooming, deciduous shrub or small tree that typically grows 15-20' tall, with a similar width. It is known for it's stem hugging clusters of of fragrant bright yellow flowers, each with four crinkly, ribbon shaped petals, that appear along the branches from late fall through early winter. This plant is noted for it's good fall and winter interest. It prefers full sun to part shade, with the best flowering occuring in full sun.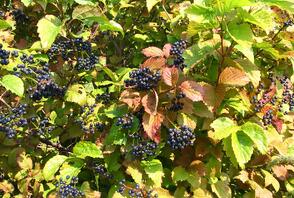 Viburnum 'Blue Muffin'
Blue Muffin is a compact, rounded, deciduous, arrowwood viburnum shrub that typically matures to 3-5' tall and as wide. White flowers in flat-topped clusters appear in mid to late spring. Flowers give way to pea-sized, vibrant, azure blue berries that mature in late summer. The ornamental berries persist well into winter. They are also attractive to birds. Dark green leaves (to 3.5" long) turn attractive shades of orange to burgundy-purple in fall. Blue Muffin does well in full sun to partial shade, with more sun providing more prolific blooms and abundant fruit.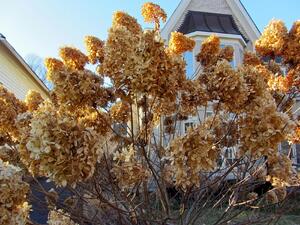 Hydrangea: 'Little Lime'
A smaller growing plant, 6' tall and wide. A new dwarf form of the popular Hydrangea 'Limelight'. Flowers emerge creamy white, mature to chartreuse-lime and eventually acquire pink-darkening-to-rose tones before finally fading to beige. As the flower show fades in fall, the oval to ovate, serrate, dark green leaves (to 4" long) turn attractive shades of red. The flowers are great to cut for drying, and may also be left on the plant where they persist well into winter. Prefers full sun to partial shade.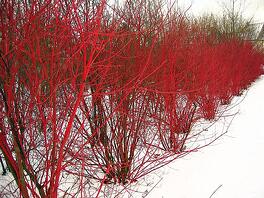 Red Twig Dogwood
This deciduous shrub is an upright-spreading, suckering shrub that typically grows 6-9' tall with a spread of 8-12'. Medium to dark green leaves (2-5" long) turn to shades of red and orange, eventually turning to purple in autumn. Reddish stems turn to bright red in winter, which are particularly striking against a snowy backdrop. They bloom with tiny white flowers in flat topped clusters in late spring, with some intermittent, sparse flowering somtimes continuing into summer. The flowers give way to whitsh (sometimes bluish) drupes in the summer. The fruit is considered to have as much or more visual interest as the flowers. Attracts birds and butterflies.
As is evident in this article, there are many plants that offer year round interest, and can take your garden from drab to fabulous in the winter. Just because there aren't fresh blooms and lush greenery, some of these plants are complete showstoppers against a backdrop of snow! So this spring, when you are trying to freshen up your landscaping, think about planting some of these, or other plants to give your garden and yard something to be excited about when the snow flies again.
Related Articles:
How to Prepare your Water Feature for the Upcoming Spring