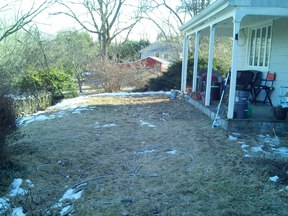 Subscribe
A Place for Everyone - Paver Patio Installation
Outdoor Living | Patio | Sitting Wall | Landscape Lighting | Techo-Bloc | Steps | Pavers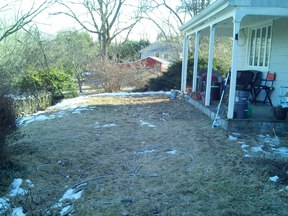 This paver patio installation was simple but brought much more character to the customer's front porch area. They use their front porch a lot, but it wasn't big enough. They also wanted to include an area "just for mom", have steps stepping down the hill leading to the pool area, and have a small path through the herb garden to access the hose faucet. Some landscape lighting was also added. Here is what we came up with, resulting in a very satisfied customer!
We started with the design phase.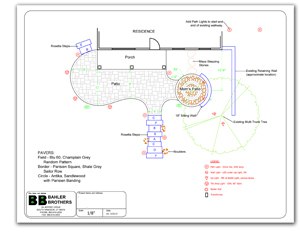 The customer came into the showroom, picked out their pavers, and the installation process began!
The patio came out beautiful. Laid in Techo-Bloc's Blu 60 in Champlain Gray, created to mimick natural bluestone. Techo-Bloc's Shale Gray Parisien square cordinates well as a border.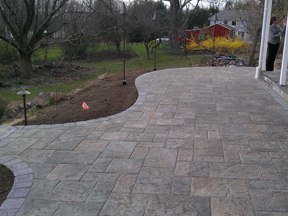 Low-voltage landscape lighting was also added. The tall lights in the background of the photo are a unique lighting combination from Alliance Outdoor Lighting of tiki torch on top (to keep those pesky bugs away) and low voltage area light underneath, expanding the hours of use on the patio. What a great idea!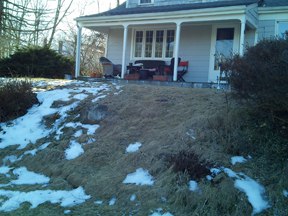 Informal Steps to Pool Area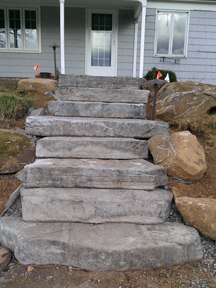 The homeowner needed steps of some sort down the hill to the lower area of the yard. Ideal's Rosetta steps, distributed by New England Silica, comes in many different sizes and colors and are made to look like big slabs of natrual stones. Perfect for an informal staircase!
Mom's Getaway - A space of her own!
The circle with the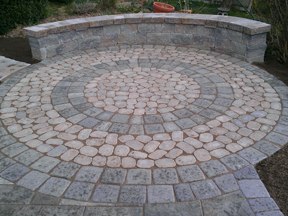 sitting wall = Mom's paradise. This area was designed for a biestro table where Mom could seperate herself from the hussle and bussle of life and enjoy a hot cup of coffee in peace!
Don't step on the Herbs!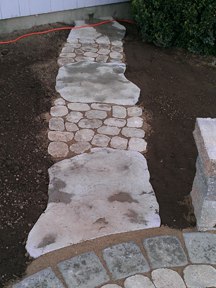 Stepping through the landscape bed to get to the hose was a step the homeowners did not want to take. They loved the combination of the small Techo-Bloc Antika pavers and the large Maya Stepping stones together to make the perfect path to their hose faucet!
Click Here to see more Project Tranformations!
Related Articles:
How Much does a Paver Patio Cost?
Dancing Circles - A Paver Patio Design Takes Form