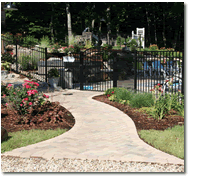 Subscribe
How much does a Paver Patio Cost?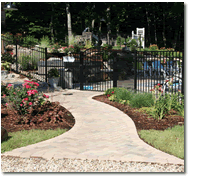 How much does a paver patio cost? That's a great question and one that we get on a regular basis. The question I would pose to you is 'what are the functions you would like it to perform?' Jen wrote a fabulous article a while back called 6 Things to consider when designing a paver patio. In this arcticle, she lays out the thought process that a homeowner should have when they begin to think about a patio.
Jen poses a lot of questions in this article that cause most people to begin to think... imagine... and ultimately get up from where they are sitting and go out into the selected space and begin to wave their hands in the air as they describe to anyone within earshot what their new patio is going to look like. Ok, so maybe everyone isn't like me, but it's exciting right??!!! This is really cool stuff, I'm getting a new patio! But... what's it going to cost me?
I published an arcticle recently based on an arcticle written by a company that I highly respect based on their writing/ teaching abilities. It is called how much does a retaining wall cost. In it I used a modified version of River Pools & Spa's arcticle that talks about buying a car. (This is a great time if you haven't already, to link to this arcticle and read that section).
Now that you have read and understand the buying thought process that we as Americans go through, I am going to apply the same principles to a patio. When a patio is priced out we begin with the very simple question: is it one level, or multi-leveled? The pictures below illustrate the difference between the two.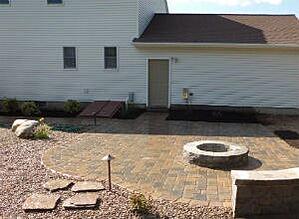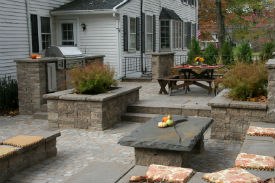 So let's take a closer look at the pictures.
Example #1 shows a single level patio with a couple of amenities or elements (we'll discuss those later). This is the simplest form of a patio because there are no steps, retaining walls, or other grade issues to deal with. Of course there are final grades that we need to hit for access issues such as the garage door in the picture, but that's normal.
Example #2 is what we call a multi-level patio and is much more complicated. You may look at the picture and think 'well that doesn't seem too difficult, all they have to do is put in a couple of steps'... I can totally relate to you in this aspect because if I didn't know the industry as well as I do, I would think the same thing. However, this is not as easy as setting in a few steps. Somehow everything above the steps has to be retained, hence a retaining wall behind it. Also the steps themselves need to be retained, hence the planters and blade walls on either side. Now planters and blade walls aren't always necessary, but some sort of retention is imperative.
Now that you have an idea in your mind what type of patio you want, we move on to the other factors that play a part in the price... Accessories! This is where your dreams become reality. If you've always wanted a fire pit with a sitting wall around it, well now you can have one. How about adding a water feature complete with a water fall to help you relax at the end of a stressful day, or some low-voltage landscape lighting to extend your patio night life? The possibilites are endless! However, all of these elements need to be taken into consideration when pricing out a patio. Don't be discouraged if the initial price tag exceeds your planned budget, because many of these items can be added in a later phase.
Other items take into consideration:
Type of paver chosen- What kind of floor coverings do you prefer? Do you like sufaces with areas rugs, or just a simple pattern? As I illustrated above in my vehicle purchase example, we have choices in the products we buy. This holds true as well when choosing a patio surface. The two pictures below are a small example of what is available to us...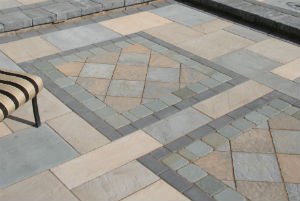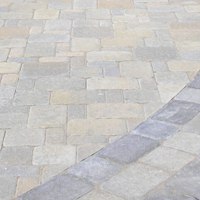 Type of Soil- Just like we take this into consideration when we price out a retaining wall project, this is taken into consideration for a paver project. We especially single out heavy clay soils beacuse of their high water holding capacity.
Access- How easy is it for our machines and guys to get to the project site? Is it right off of the front driveway, or is it around the side of the house, squeeze through the shrubs, crouch beneeth the low hanging branches, watch out for the quick sand, and oh yeah... the septic system is 2 feet in front of where the patio needs to be built? You get the point.
Site Dump- Can we leave the material that we dig out (which can get quite extensive at times) on your property, or do we have to haul it away and pay to dump it somewhere?
So we come to the $1M question: how do you price out a patio? As you can see there is a tremendous amount of information that is compiled to make up a bid for a patio. A typical 400 sq ft patio (w/o accessories) as illustrated in the first example can range anywhere between $5,000 - $8,500 depending on all that is involved. A safe budget number for a patio similar to the one shown in example #2 can range between $40,000 - $50,000 again depending on the circumstances. Now, that is a pretty big number. A lot of multi-leveled patios typically range from $10,000 - $15,000 for a basic bi-level and up from there. All accessories range in price as well, but the list below is a good starting point. (These prices reflect the quality and craftsmanship of Bahler Brothers and are only relevant to those of you in our region.)
Fire Pit: $750 & up
Fireplace: $4,500 & up
Sitting Wall: $1,500 & up (depends vastly upon the length)
Water Feature: $1,500 & up
Low-Voltage Landscape Lighting: $1,850 & up
Pergolas: $2,600 & up
Outdoor Islands:
Grill Surround Only: $2000 & up (appliances not incl.)
Full Outdoor Kitchen: $8,000 & up
Related Articles:
The Price per Square Foot Myth for Paver Installation
Quality Workmanship for a Paver Patio. Is it worth the price?