Subscribe
Patio Designs That Truly Fit Your Space
Patio | Project Design | Hardscaping | landscape designer | Patio Design
If you look outside your window or walk in your backyard, you may envision a day when you can walk out onto a patio and relax on a warm summer day. Perhaps later in the evening you'll grill a delicious meal and enjoy dinner with a side of fresh air. You may even be thinking as grand as swimming in a pool or lounging on a sundeck.
The sky's the limit when it comes to patio design, and you may already have specific functions or features in mind. But to make the most out of your space, you need to consider your constraints. From the topography and size of your property to budgetary limitations, not every patio design will work for your home. Trying to force something into your build will only lead to unintended frustrations.
We've put together a list of the most common design elements that homeowners consider. Read below to learn about each of these categories – their best practices and consequences of a poor design.
Designing a Dining Area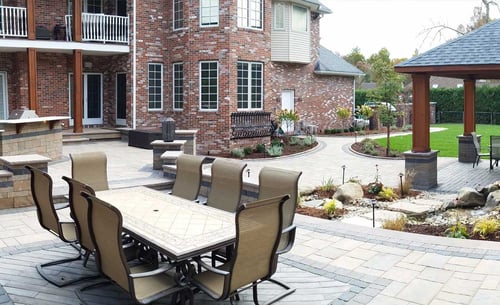 The ability to eat outdoors in the fresh air or enjoy some wine with friends as the sun sets is a beautiful luxury. If you're planning to create a dining area on your patio, think about how you'll use the space and consider how much room you have.
Do you plan to use the dining area for your immediate family, or do you expect to host many guests for frequent summertime parties? This thought process will lead you to choose the appropriate number of chairs and length of your table. Patio dining areas typically have either four, six or eight chairs. You probably don't need more than that for day-to-day use.
Once you have your perfect dining set (you can contact our friends over at Kloter Farms if you're looking for furniture) and know where on the patio you are going to incorporate it, make sure to include a minimum 4' buffer (from edge of table to edge of patio) to give room for someone to sit at the table and another person to walk behind them.
Designing a Outdoor Kitchen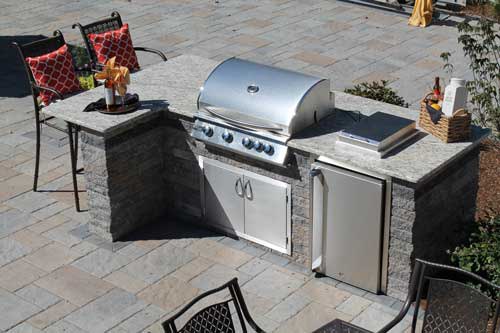 While not every patio needs a kitchen, installing a grill, prep area or other elements can be an amazing and effective use of your space. It's also a great way to spend more time outdoors.
The average grill size is 36 inches, and you have a few options when installing one on your patio. You could construct a complete kitchen area that includes a built-in grill - like the one in the photo at right from Summerset Professional Grills, additional gas burners and counter top space. Or, you might prefer a standalone grill instead. A few homeowners choose the best of both worlds: a "slide-in" grill station with counter space that's designed for a portable grill to be slid in and out. Especially if you already have your a grill, this is a lower-cost alternative that can dress up your grill area and give you added space to cook.The size of the kitchen ultimately depends on which appliances and cabinetry you want.
Beyond a grill counter top, you'd also benefit from a kitchen prep area – a key component for any cook. At minimum, you want 36 inches of counter space for cooking preparation, and a counter height of about 38 inches will afford you maximum comfort while working. You'll also want to make sure to design your prep area with as much freedom to move around the space as possible.
Another great patio component is a bar, especially great for enjoying a drink under the stars. As with a dining table, the proper width of your bar also depends on how many people you expect to sit there. Most bars have about 30 inches of width per person, and the number of spots is likely less than the number at your dining table. For instance, a bar large enough to sit 3 people should be at least 7 and a half feet long. Sometimes it's possible to have 2 different counter heights to separate prep space from bar or serving space. The ideal bar height is 42 inches, but you'll still want a lower working space to make drinks, 36 to 38 inches for maximum comfort. A bar can also double as a great serving counter to set food out on.
Designing a Fire Pit or Fireplace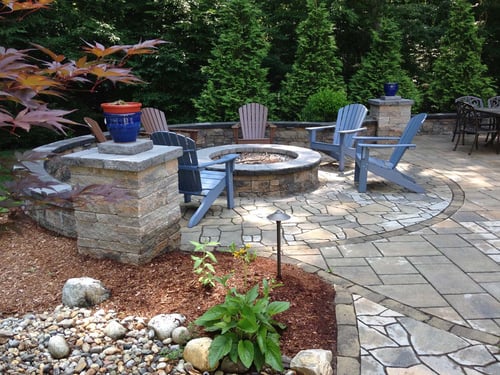 A fireplace or fire pit tends to be the heart of a homeowner's outdoor experience. You want to design it for maximum comfort, but you also need to balance your safety. Depending on whether you will burn wood or gas, you should consider certain precautions such as steel rings, stone, fire brick, screens and more. You should also design your fire feature so the center of the fire is 16 to 20 feet from any combustible materials.
The typical dimensions of most simple stone fire pits have an outside diameter of four-and-a-half feet (4'6"), inside diameter of 33 inches, and a height of 12 to 15 inches (if you want to use it as a comfortable foot rest). When designing, include room for seating around your fire pit. We suggest a five foot buffer all the way around the fire pit to keep your family and friends safe. This also provides enough room to set up a few chairs around the fire pit, and allow someone to get by.
Designing Steps
If your patio will have steps, you want to make sure they're designed for ease of use. They should be built to ensure the ease at which people can get on and off the patio. You don't want people bumping into one another trying to use your steps. Think about their width, the height of riser and depth of tread. Your steps' riser height should be six to eight inches tall and consistent across all of your steps.
You'll also need to include railings based on your town's regulations and building codes. But as a good rule of thumb, any steps with a landing height taller than 30 inches needs a railing. Even if the building codes don't require a hand rail, sometimes it's just more comfortable to have one as you're walking up or down them.
If your steps lead to a door entrance into your home, you want their width to be the same as your doorframe, or slightly wider. The landing of such a design should be at least three-feet deep at the door. This way, you have enough room to easily carry things in and out of your home without simultaneously worrying about how to open your door if you're in your own way of it opening. This best practice is particularly helpful if your door swings out.
Designing a Pool Patio: An Entirely Different Animal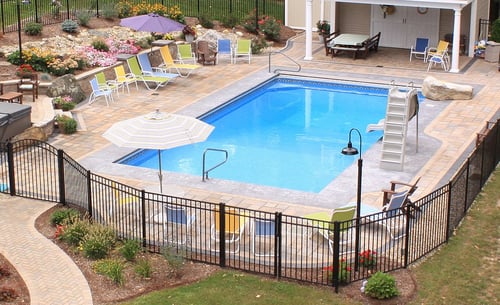 While the dining considerations outlined above apply to pool patios, this design undertaking involves many more discussions. From splash zones and access walks to building codes and fencing, there are many elements of a backyard pool that require careful thought.
As the name implies, a splash zone is where water from splashing is likely to land. No one wants to be lying comfortably in the sun and have a sudden rush of cold water hit them unexpectedly. Most splashing covers roughly six feet of space from the edge of the pool. And keep in mind that your family and friends may use this area for more than standing - so any seating or dining areas will need a wider area than six feet.
Speaking of lying comfortably, sundecks are a great addition to a poolside patio. If you intend to include chaise lounges on your sundeck, plan for 10 to 12 feet of patio depth. You don't want to build a space that is too cramped for real comfort. Make sure you have the space for what you envision.
When designing a pool deck, you will want to account for an access walk around the pool. You want your access walk to be a minimum of four-feet wide from outside the coping. This will provide enough room for two people to walk side by side without worrying about taking an unexpected swim.
Lastly, you'll need to consider fencing around your pool and patio and complying with local building codes. Do you want to keep eyes out, people out, or both? Your answer will affect how you build your fence, but the most common height is 54 inches. As for building codes, you'll need to do your research and use your local requirements at a bare minimum. There are lots of ideas online for how to creatively incorporate a fence into your landscape. Here's one such website for ideas.
Conclusion
A patio can be a wonderful addition to your home, but you need to make sure it's designed to fit your space. A bar and sundeck are great. But if they're jammed into a space that doesn't have enough room, they could lead to less enjoyment and leave you unhappy with your design. Consider all of these points and how each variable will impact the others. If you find you're not sure where to start, call a professional landscape designer to help bring your dream to life. We recently wrote a blog about the benefits of hiring a landscape designer.
Not sure where you should start? Click below to get our in-depth patio design guide.