Landscape Lighting | Landscaping
When it comes to landscaping your front yard, the facade of your home can play a big role in what style, type of plants, and other landscape elements you may want to incorporate. From color to style, from architectural features to the mood you want to create, the structure of your home may have a bigger impact on your decisions than you may realize. Here are a few things to consider when getting ready to design your front yard landscaping. Consider Color If your home is neutral in color, you may want to choose a limited color scheme for your landscape to add visual appeal. Rich purple and pink flowering plants are great choices for beige, gray, or white homes; soft yellow is also a beautiful accent.
Driveways | Landscape Lighting | Landscaping | Walkway
There are many ways to boost your home's curb appeal. Here are a few ideas to make your house the real show stopper on your street.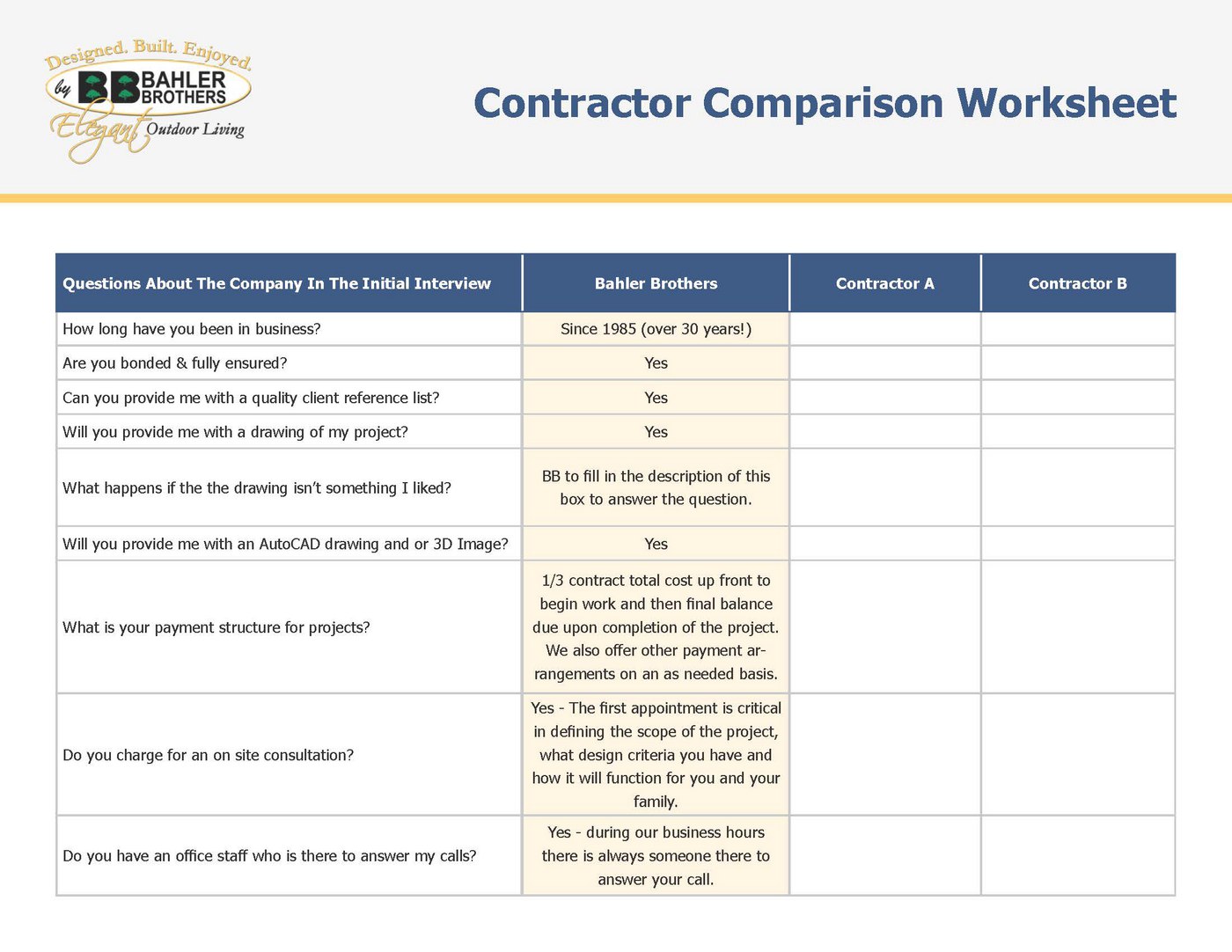 Contractor Comparison Worksheet
Take the frustration out of comparing bids from different landscape contractors with our Contractor Comparison Checklist
Landscape Lighting | Landscaping | Outdoor Kitchen | Outdoor Living | Water Feature
When you think of your ultimate backyard, what thoughts come to mind? Do you envision yourself gathered around your outdoor kitchen with family and friends for a picnic? Or do you see yourself roasting marshmallows over your fire pit in your own resort-like setting, with a water feature slowly trickling in the background? We are going to discuss 6 elements to help create the ultimate outdoor living space. Even if you currently have a patio or deck, here are some more ideas to maximize your outdoor experience.
The question what is low voltage landscape lighting can be broken down into two parts. #1- What is Low Voltage Landscape lighting, and #2- What are the benefits I can expect to receive from it?
Landscape Lighting | Project Design
Outdoor Lighting to Make Your Home and Landscape Glow Houzz- Kitchen Remodel, Bathroom Remodel and More »
Built-in Grill | Landscape Lighting | Outdoor Kitchen | Outdoor Living | Patio | Pavers | Retaining Wall | Sitting Wall
"The professionalism and thoroughness with which our job was done was most impressive beginning with the sales/marketing and design team to the workers on site." The first time this customer came into our design center for an appointment we knew we were going to have a blast. We clicked right away and the process began. They wanted to redo not only their front yard but their back yard too. Through many many questions from an engineer to lauging at his many jokes, the design came together beautifully! After many appointments and picking out the perfect pavers, the plans were set and ready to go!