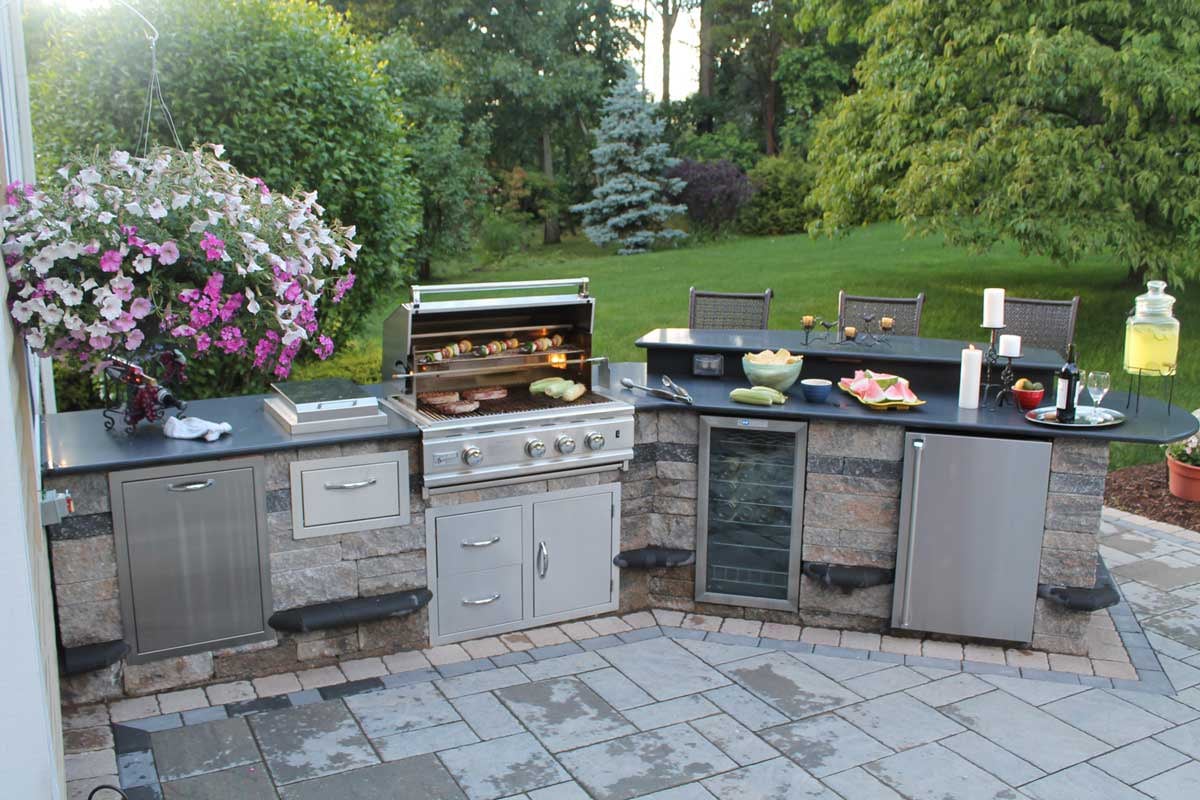 Subscribe
The Must Have Appliances for Your Outdoor Kitchen
After a long day of work, the first thing most people want to do is get home and relax. Say it's a nice day out and you want to sit out on your patio in your back yard, eat some dinner, and enjoy the rest of the evening. Instead of making trips in and out of the house, why not take the comfort of your kitchen outdoors with a new or updated back yard space that's perfect for entertaining, cooking, and relaxing.
Outdoor kitchens are a trend that we believe is here to stay but, if you're not sure which appliances to include in your design, don't worry! We've rounded up some of the 'must have' appliances and other features for your outdoor kitchen.
---
See how we stack up to our competition with our Contractor Comparison Worksheet
---
Choose the Grill That is Right for You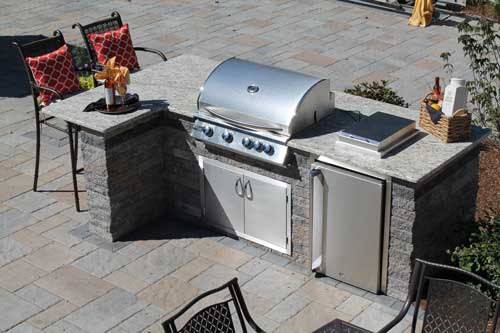 The first 'must have' is your grill. The two different grill styles are free-standing or built-in. The benefit of a free-standing grill is having the ability to move the grill around to different parts of your patio or deck.
Free-standing grills can also be rolled into a stone grill surround. The grill surround will increase counter space and storage. These are also commonly known as 'roll in grills.' The benefit of a built-in grill is having a large counter space to either side of the grill for prepping and serving food. And below the counter will be room to add storage and other appliances to make your outdoor living more convenient.
Each grill will also have a specific fuel type, or a combination of them. A typical grill will either be charcoal or gas fueled. Certain grills, which can also be classified as 'smokers,' are fueled on wood chips (or pellets) to provide different flavoring to the food being cooked. There are also higher-end grills on the market that use a combination of all three fuel types to add even more delicious flavoring options to the food being cooked.
Keeping Items Cool with an Outdoor Refrigerator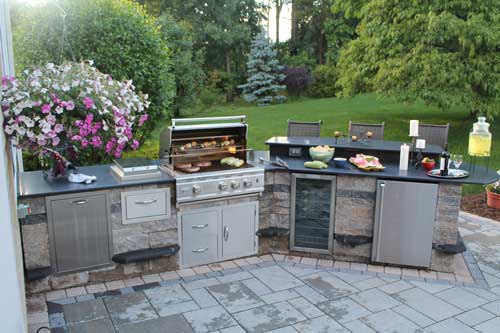 The second must-have on any outdoor kitchen is an outdoor rated refrigerator, because the only thing that goes better with delicious food is a cold beverage.
The first benefit of an outdoor rated fridge is keeping your food and drinks cold and readily available. This will help prevent you from making multiple trips into the house to grab another round of cold drinks, or more food to throw on the grill.
Also, if you aren't cooking all the food at once, you can leave everything else in the fridge until the time comes to cook what's left. And at the end of the night, when it is time to pick everything up, all your food will already be stored in the fridge, minimizing what needs to be brought inside the house.
Storage Drawers and Cabinets Give You More Space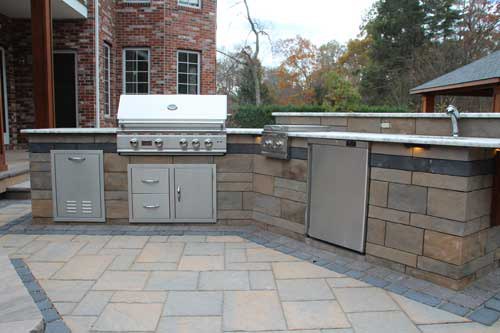 The third must-have feature for your outdoor kitchen is storage. In a built-in kitchen, there will be space below the counter to install storage drawers or cabinets. Drawers can range from a single drawer to multiple drawers, stacked on top of each other.
There are also paper towel drawers, ice chests and even warming drawer. And just like your indoor kitchen, cabinets can be essential to keep all the food at a perfect temperature. Overall, these storage drawers make it convenient for keeping things like spices and utensils on hand for when you need them.
Another important addition to any outdoor kitchen is a trash receptacle. When entertaining a group of people, one of the last things you want to see, or even smell, is the trash. Built directly into the outdoor kitchen, this feature is typically a stainless-steel drawer that can be pulled out with one or two trash bins inside. When the drawer is closed, there is no worry of animals accessing the trash. But most of all, there is no trash laying around your outdoor living space. Once again, minimizing the cleanup at the end of the night.
Some Additional Outdoor Kitchen Essentials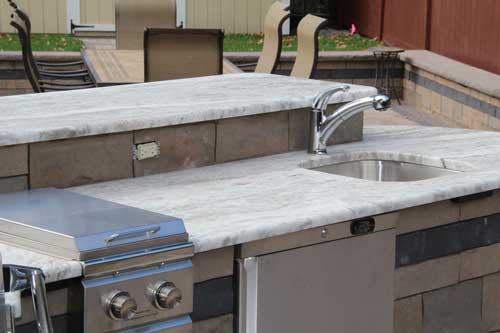 One thing commonly forgotten when designing and building an outdoor kitchen are electrical outlets. Since all your cooking is taking place outdoor, why not create the ability to use electrical appliances outside as well, such as a blender. This also will create the ability to charge electronics like cell phones or use a speaker to play music.
Now, before anything is cooked, the first thing that needs to be done is the food preparation. When a built-in sink is added to an outdoor kitchen, it simplifies the process of the food prep as well as clean up. This is another appliance to help reduce the traffic going in and out of your home. Having a sink right by the grill allows you to wash off any of the utensils or spray off any of the vegetables and fruits. Or, if you are simply just thirsty and need a glass of water, the sink will be close by.
Another very fun appliance to have built into any outdoor kitchen is a pizza oven. Let's say one evening you want to switch up what you are having for dinner, and instead of BBQ, everyone wants to make their own pizza with custom toppings. Not only does the pizza come out fabulous, but it is also a fun activity to do. First, you will want to get the pizza oven started by adding wood to the oven and igniting it.
While the pizza oven is heating up, you, your family and friends can create their own individual pizzas with a variety of toppings. Once the pizza oven is to the correct temperature, push the burning coals to the back and sides and slide the pizzas in, one or two at a time. In a matter of minutes, you'll have fresh homemade pizza ready to eat.
---
Overall, when considering an outdoor kitchen, you will find there are a wide variety of options. Whether you feel comfortable spending a lot or a little, you can begin to create the outdoor kitchen of your dreams. The easiest way to go about it is to decide on your 'must haves.' Determine which appliances will benefit you by bringing the most convenience to your outdoor living space. And finally, once each appliance is decided on, enjoy your new outdoor living space!
Considering an outdoor kitchen, or have an appliance you have questions about? Be sure to let us know in the comments!