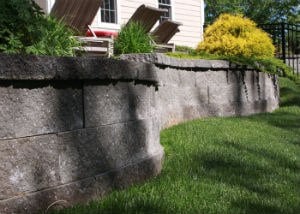 Subscribe
How much do Retaining Walls Cost?
Retaining Walls | Retaining Wall Cost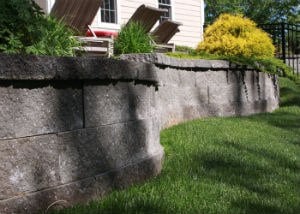 One of the first questions potential customers want to know when they call our company is : How much does a retaining wall cost? Although this is a very difficult question to answer over the phone, I will try to do my best here to explain some general pricing guidelines.
The purchase of a retaining wall or any other 'outdoor living' element is much like the purchase of a vehicle or even a home. With so many options available, price ranges can vary drastically. Let's think about the basic Ford F150 pickup. It can start around $20k with just a basic package, but it can quickly cost over $40k once a shopper adds such items as power windows, satellite radio, leather seats, chrome finishes, extended cab, 4-wheel drive, 4 doors versus two, upgraded wheels, dual exhaust, spray-on bedliner, built-in GPS system, etc, etc.
Considering that the average American sells or trades-in their vehicle within the first five years of purchase, why do so many people elect to get so many upgrades? The answer is very simple. It is because most people understand the importance of getting what they want the first time so as to not have any regrets down the road. Because many Americans spend over 30 minutes a day in their vehicles, they want to make sure their vehicle will provide them with comfort, quality, longevity, and ease of use. These same principles typically apply to most retaining wall and 'outdoor living' shoppers.
Understanding that a customer is going to have to see their retaining wall everyday for as long as they live in their home, most people choose exactly what they want. Unfortunately, sometimes it's not an upgrade or the customer's choice that drives the final cost. Sometimes there are site conditions and other factors that play into the pricing of retaining walls.
Now that you hopefully understand the vehicle analogy, I will list some of the most common pricing elements taken into consideration when we price out a retaining wall:
Height of Wall- this is extremely critical because in the beautiful state of CT, retaining walls over the height of 3' require the services and drawings of a structural engineer. (if you are not from CT, I recommend checking your local building code before signing on the dotted line)…


Geo Grid- Geo-Grid is what we refer to as a geo-textile. It is a soil stabilizing fabric with an open weave that is layered into the wall while it is being built. It's main function is to distribute loads over a wider area, increasing the load capacity of the soil and allow us to build a taller wall.
Type of block chosen- This is pretty much one of the only things that the customer can control. As I illustrated above in my vehicle purchase example, we have choices in the products we buy. This holds true as well in retaining walls. The two pictures below are a small example of what is available to us...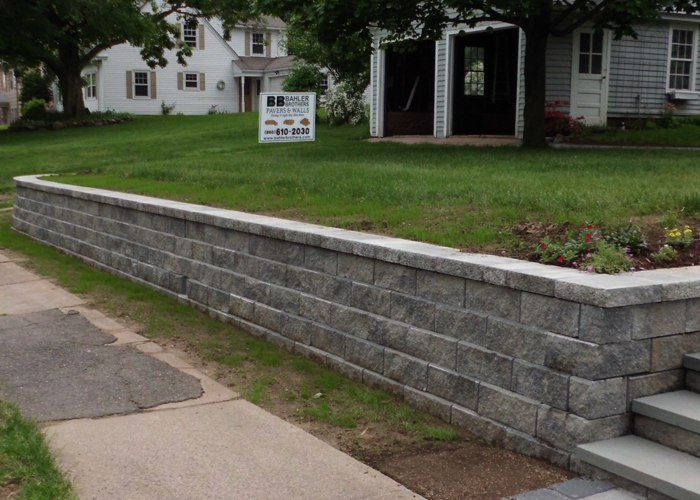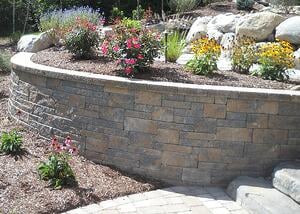 Type of Soil- Just like we take this into consideration when we price out a paver project, this is taken into consideration for a wall project. We especially single out heavy clay soils beacuse of their high water holding capacity.


Access- How easy is it for our machines and guys to get to the project site? Is it right off of the front driveway, or is it around the side of the house, squeeze through the shrubs, crouch beneeth the low hanging branches, watch out for the quick sand, and oh yeah... the underground propane tank is 2 feet in front of where the wall needs to be built. You get the point.


Site Dump- Can we leave the material that we dig out (which can get quite extensive at times) on your property, or do we have to haul it away and pay to dump it somewhere off site?
So, how do you come up with a price when you have all of these factors to deal with. Well, thankfully, it isn't common for all of them to appear on one particular job. You may have 2 or 3 factors to deal with, and that is what we work with. Our straight forward basic walls usually start around $40.00/ sq ft. Any additional factors will then be added to that figure and can range up to an additional $20 or $30 per sq foot.
You may ask, 'How do you figure the sq footage of a wall?' Length of the wall X Average Height of wall = sq. footage of the face of the wall.
Total Height of Wall - This number includes the buried portion of the wall also known as 'key'. NCMA standards recommend that 10% of the height of the wall be buried below grade. The buried portion helps eliminate the chance of the base of the wall kicking out and causing immediate failure.
Related Topics:
4 Things to Consider when planning a Retaining Wall Project
Quality Workmanship for a Paver Patio. Is it worth the price?