After the beating your yard took this winter, you're probably looking at it, wondering how you'll ever get it back in good shape. A few weeks ago, we shared some tips to help you get your yard ready for spring. There are many simple steps you can take to get your yard to where you want it to be for the warmer weather. And one of those steps is pruning.
In our years of business, we've heard a lot of misconceptions about paver patios. The internet is a valuable tool that contains a wealth of information. However, we've also found that not all of the information is accurate or showing the complete picture. When looking at paver patios, it seems that information can be skewed against them. We've seen firsthand that they are an excellent option for many people looking to spruce up their landscaping or outdoor living space. We'd like to bring a lot of the info together so that you can make your own choice. Read on to learn the real pros and cons of paver patios.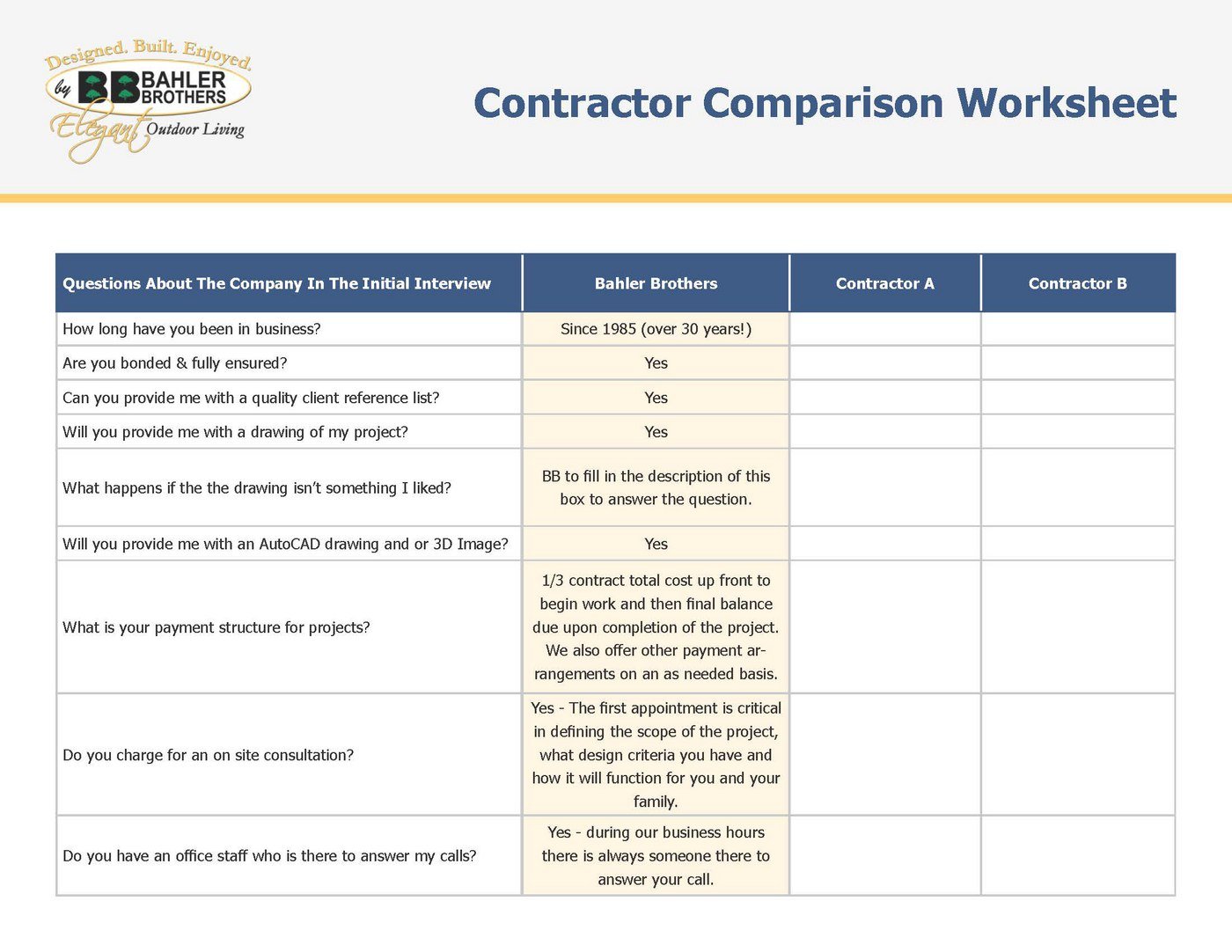 Contractor Comparison Worksheet
Take the frustration out of comparing bids from different landscape contractors with our Contractor Comparison Checklist
Erosion | Flood Protection | Rainwater Harvesting
As the April showers come to a close, you might be dealing with a nice swamp where your backyard used to be. But aside from the possible property damage a heavy downpour can cause, big storms can have a big effect on the environment as well. Therefore, it's necessary to plan for the rainy seasons to come with proper drainage solutions for your property. By making your landscapes more resistant to extreme weather, you can mitigate damaging soil erosion and manage water run off.
Built-in Grill | How To | Maintenance | Outdoor Kitchen
Protect the investment you've put into your outdoor kitchen and built-in grill. Keeping the grill, other appliances and stainless steel cabinets clean and well maintained is going to help preserve your investment for many years to come. There are some minor issues that can occur when you own a gas grill – no matter how much you spend on it, things can go wrong and malfunction once in awhile. Here is a checklist of things to watch for and to include in your regular maintenance of the grill. Some of these tips are specific to the Summerset brand of grills, and some are more general and may apply to other brands as well.
Put your garden slice or grand patio on the best-dressed list with furniture and features best suited to its square footage
Built-in Grill | Outdoor Kitchen | Patio | Pavers
Built-in Grills are becoming more and more popular. In an economy that is making a recovery, we have seen a steady increase in the number of grills and outdoor kitchens we've been asked to install. So how much does a built-in grill cost to install? Well - It depends.