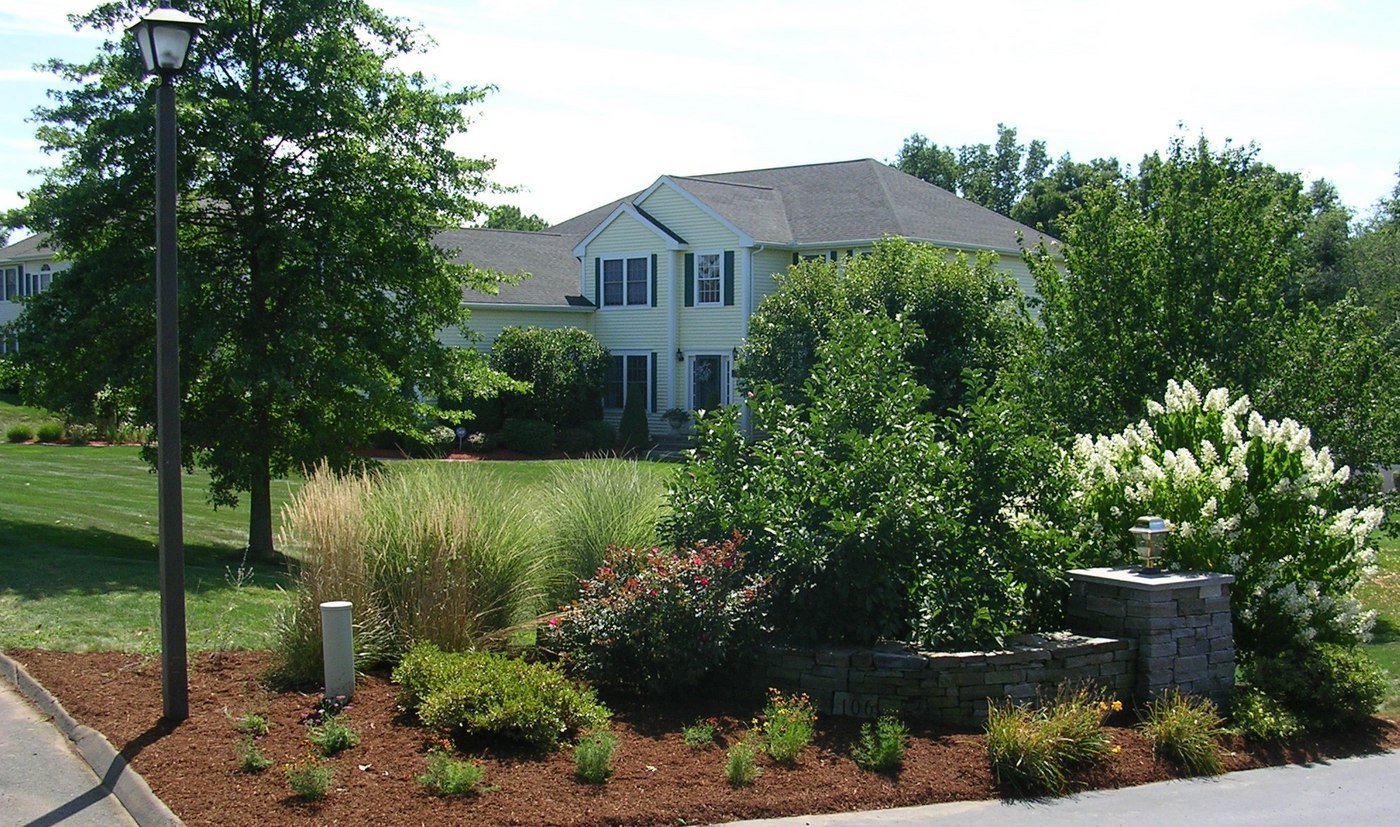 Subscribe
How to Get Your Yard Ready for Spring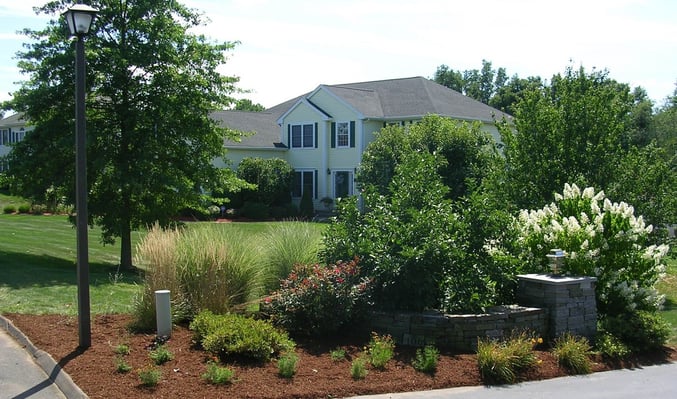 Spring is here!
With all of the rain, snow and cold that the winter brought with it, we're all anticipating that beautiful spring weather we look forward to in New England! Nature's presence increases with each passing day. Sweet and pleasurable aromas follow us wherever we go as flowers and trees begin to bloom. As we open our windows and doors to let the Spring air in, thoughts turn to our own outdoor spaces. This is where we congregate, share and celebrate – so let's make sure we do what we can to enjoy our yards all season long.
---
Get 10% Off a Spring Cleanup Before May 1st!
---
1. Do a Quick Walk Through of Your Property
Upon a first walk through, your lawn in the early days of Spring may look like it's in rough shape. Don't worry! You can get your landscape looking great again with these simple tips!
If a good fall cleanup was performed on your property, you should be in decent shape. Either way, make sure all leaves, sticks and debris are removed from all lawn and planting bed areas. This will enable new growth to flourish without any interference. Debris build up creates an environment which invites pests, fungus and disease – so get rid of it.
2. Inspect Your Lawn
Lawns are very important to our environment; they filter out many pollutants including carbon dioxide and can produce enough oxygen to sustain an average adult life. However, because we deal with drought conditions every year, lawns can be tricky to maintain. The solution though is quite simple; optimize soil health so that your lawn can endure poor conditions.
Dethatch as needed: A common misconception is that thatch is caused by leaving grass clippings on your lawn. On the contrary, recycling grass clippings into your lawn promotes natural health.
Thatch is made up of plant matter, which is resistant to microorganisms that break down the materials. This plant matter consists of stem nodes, crowns, fibers, vascular tissues and roots. On existing lawns, thatch should never exceed 1". If it does, de-thatch your lawn in the Spring. This can be done manually with a de-thatching rake, or with a gas powered de-thatcher.
Check for compaction: If your lawn is too hard, grass roots will be restricted and not have enough oxygen and space to grow. A good rule of thumb is to stick your finger into the soil. If you cannot insert your finger into the soil an inch or more, it is too compact. If this is the case, aerating your lawn would be the next step
Aerate: Typical gas-powered aerating machines remove plugs from your lawn, which allow air into the root systems. Natural settlement will fill the holes back in, and the plugs can be left on the lawn to breakdown, or you can remove them. After aerating, you should apply a dusting or 1/4" of compost directly on the lawn as a fertilizer replacement. This will amend the soil for a longer life, rather than supplying short term stimulation.
Apply Lime: Next, apply lime; this is a crucial step to maintaining a healthy lawn. The pH of a lawn should always be around 6.8. An incorrect pH can result in a 70% decrease of your lawn's ability to absorb and utilize nutrients and water.
Reseed: At this point, we recommend slit seeding your lawn. A slit or slice seeder is a piece of equipment which cuts into the soil and drops the seed into the "slits". It is a very effective and efficient way to install new seed. You should essentially slit seed your lawn twice, in a crossing pattern, to avoid unattractive lines of new growth. Any bare areas that are seeded should be covered with a top dressing to help maintain moisture and protection. We recommend the use of Penn Mulch or Green Mulch, which is much more effective than shredded straw. If new grass is being installed, make sure you choose the right seed. The seed should be drought tolerant, disease and insect resistant and hardy enough for your regional zone.
3. Clean Up Your Garden Beds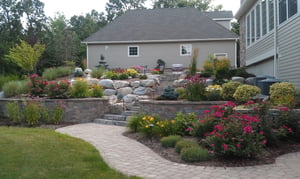 Prune: Rule of thumb for pruning – first, do no harm! You can always prune more, but you can never put it back! Remember that by the end of winter, some plants such as Rhododendrons and Forsythia have already developed flower buds for the coming Spring. You want to wait until after they have flowered before you prune them. Plants such as roses, ornamental grasses (if left over winter) and some hydrangeas should be pruned in the spring. (note: use caution when pruning Hydrangea, as pruning techniques and timing varies by variety).
Pruning the right plants at the right time AND knowing about the plants you want to prune are essential to effective pruning. Boxwoods and Inkberry Hollies can tolerate hard sheering and be shaped relatively closely, while more "woody" plants, such as Mt. Laurels or Clethra, do not respond well to shearing, and require more selective pruning. The idea is to allow light and oxygen into dense plants to promote better health and battle disease, such as blight. It takes time, experience and knowledge to successfully prune plants. Poor practices may damage your plants over time, so prune wisely or hire an expert for best results.
Weeding & Cleaning: If a garden bed was left untouched for too long, chances are you will need to dig everything out and replace the soil. Established weeds such as crab grass are toxic and affect the areas in which it grows. Weeds are not only invasive, but they also compete with plants for vital nutrients and water. Dormant weed seeds can survive in the ground for many years, and have the potential to sprout whenever the conditions are optimal.
Dry and poor soils are the best environments for weeds to prosper. Just like lawns, if we allow sticks, leaves and debris to build up in our garden beds, – we are inviting pests, fungus' and diseases to enter. Keep the beds clean and make sure any excess mulch, soil and/or materials are removed from the beds before applying new mulch. Additionally, keep in mind that too much material around the base or stem of a perennial, shrub or tree is detrimental to the life of the plant.
Feed your Plants: Utilize compost and natural amendments for your plants! Using quality composts, teas and organic matter to replace fertilizer is not only safer for your family and pets, but can also produce better results for your plants and lawn. To apply compost, pull back the mulch from around the base of a plant and apply an inch of compost to the root system. Using your hands, cautiously work the compost into the soil and upper region of the roots. Replace the mulch and water the plant for best results.
Organic matter can come in powders or granules for easy applications. There are also products out there such as "Roots" that can be mixed with water to make a tea. This is used to water in plants or lawns and provide fantastic results to establish new plants as well as regular maintenance. You can also create your own teas by mixing compost or organic materials in water and letting it sit for a day or two. Shake before use.
Edge and mulch your garden beds for better health AND a better look: Edge and mulch your planting beds to provide better health and elegance for your outdoor living spaces. You should always aim for edges 3 or more inches deep, although sometimes large tree roots, ledge, or buried boulders make this very difficult.
After edging, make sure that you bring the mulch up to the very top of the soil line. Leaving the mulch lower than the soil line promotes undefined lines over a short period. Once you get a good rain, the soil will make its way on top of the mulch and damage your perfect edge; so always mulch right up to the top for longer lasting results.
Mulch serves several purposes, including helping to retain water and keeping weeds away. As it breaks down throughout the season, like compost, it will amend the ground and provide better overall health for the soil and plants.
Applying 3 inches of mulch on newly installed plants and 1-2 inches on previously mulched beds is the normal standard within our industry. With that said, it is very important to apply the mulch correctly. Have you ever driven down the road and passed a building with trees lining the property? Have you ever seen the mulch rings and what looks like volcanoes of mulch mounded against the base of the tree? We call these "mulch volcanoes" and they can severely damage the tree. Keep mulch away from the stem of a tree or plant, as it can cause root rot, girdling roots, diseases and attract insects.
4. Make Sure You Have the Right Tools
Check your hand tools and supplies to make sure you are prepared. Some of the most common and essential tools provide for personal safety. Begin by making sure you have a good pair of working gloves, safety glasses and hearing protection for starters.
As for tools, a good pair of hand pruners is always a necessity. Felco and Corona brands both provide good options– but you may have your own favorites. You will also need a sturdy leaf rake and should consider a good backpack blower.
In addition to basic shovels (flat and digging) and grade rakes (for soil and heavy debris), a grub or pick axe is always nice to have. These tools can cut roots, grass, and even help remove stubborn rocks in the ground.
Lastly, a lawn mower and trimmer are essential for good lawn care.
Don't forget about your gutters and water features
Now is a good time to have your gutters checked: April showers are here and the last thing you want is water wreaking havoc on your house and foundation. Hire a trained and insured professional to make sure your roof is sound and that your gutters are draining properly. This is also a great time to double check any drain boxes you may have on your property. Open them up and inspect them for any debris or blockages. If necessary, clean them out to allow proper water flow for the new season. If you have ponds or water features on your property, make sure they are free from dirt, debris, sticks etc. If necessary, you may have to drain your feature and hose it off or pressure wash it to make sure it is clean. The next step would be to re-install the water pump, as this should have been removed for the winter.
5. Have a Plan
It's always best to have a plan: If you want to do some additional planting, or make some more significant changes to your property, you likely have more work to do. Before planting, consider a few items such as these:
Characteristics of your yard (ph, soil type, sun vs. shade patterns, to name a few)
Planning which types of plants you want to have; annuals, perennials, shrubs, flowering trees, colorful potted plants
Seasonal color and foliage variation
Do you want to incorporate furniture, cooking and entertaining elements or perhaps a pergola?
6. Install a Paver Patio or Driveway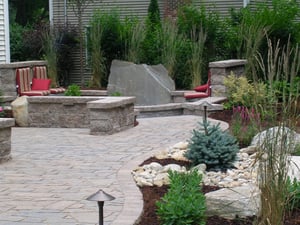 If you're looking for a way to take your yard to the next level, a paver patio and/or driveway will do just that. These days, companies such as Techo-Bloc and Unilock offer a wide selection of pavers to choose from, with a variety of color and texture varieties. There are also pavers that are appropriate for permeable applications where water management is an issue.
7. Hire a Landscape Contractor
Yes, we're biased! But one of the best ways to get your landscape looking pristine is to hire a reputable landscaping contractor. Shop around for the contractor that's the best fit for you - and use our Contractor Comparison Worksheet to help make your decision. Get your landscape in tip-top shape! Check out our landscaping and maintenance services today!
---
Cleaning up your yard for spring can make a big difference, and will help make sure you get your pets, children and family outside to enjoy the beauty all season long! There is plenty of work to be done out there, so have at it! If you run into any problems, we are just a call or click away, and when you sign a Spring Cleanup contract with us before May 1st, you'll receive 10% off!