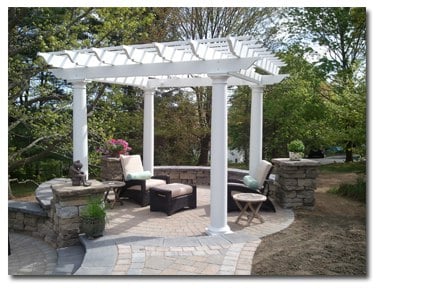 Subscribe
Why Fiberglass Pergolas are the Best
Outdoor Living | Pergolas | Arbors Direct | Fiberglass Pergolas
Fiberglass is one of three main types of materials used to build pergolas. Strength, appearance, resistance and stability by far outweight wood or vinyl structures. We have found, by installing all three types, that fiberglass pergolas truly are the best. To find out more about where we get our pergolas, check out Arbors Direct web site.
Long life and exceptional appearance

Fiberglass-reinforced composites are naturally corrosion resistant. Meaning they will not rust, corrode or pit regardless of the environment they are installed in. The fiberglass components hold paint extremely well, and since fiberglass is non-porous, they will not absorb moisture - the number one cause of cracking and peeling. Components may be painted any color on site prior to installation, or they come painted white or custom color in the factory prior to shipment.
Strength
Fiberglass beams can span longer distances than wood or vinyl. The latest technology has allowed for a clear span of up to 20 feet between columns. Unlike wood, their high strength-to-weight ratio keeps them from sagging under their own weight. Unlike vinyl, they are unaffected by variatons in temperature and will not sag in the heat of a summer day. Pound for pound, these light weight fiberglass-reinforced components are stronger than steel. They will not twist, warp or bow after installation, and they maintain their full strength over the life of the product.

A Smart Investment
Over the life of the arbor, the durability and weather resistace of fiberglass components make these pergolas a great investment. They are virtually maintenance free and will provide many years of enjoyment.
See what a pergola could do to your back yard! Check out the video by Arbors Direct!
Related Articles:
Dancing Circles - A Paver Patio Design Takes Form
6 Things to consider when designing a beautiful Paver Patio