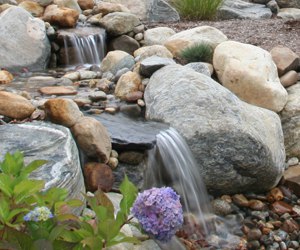 Here we are again. It's that time of the year where we are preparing the yard for Old Man Winter to make his seasonal debut. For some of us, he already made his presence very well known... Yah, don't remind me.
Of the different things that we need to winterize, pondless water features are one of the most crucial. If you fail to winterize your water feature, water could freeze inside the pump. The result is that it will crack and damage the vital parts that make the machine operate correctly. If you damage the pump, it may have to be replaced.
The process is really quite simple:
Unplug the pump from the electrical outlet.
Locate the vault that houses the pump.
Disconnect the plumbing portion. This is achieved by disconnecting the check valve. The check valve is attached to the pump and is located directly above the pump housing. As you can see illustrated in the picture to the right, there is a 'ribbed' portion of the check valve. To loosen, firmly hold the 'ribbed' clamp and carefully rotate it clock-wise. This should loosen the connection and allow you to seperate the pump and check valve from the rest of the plumbing.
Remove the pump from the vault and bring to a safe and warm location.
It's that simple! Stay tuned for tips in the spring to ready your water feature for another year of enjoyment.
If you don't have a waterfall, but have a pondless fountain please click the link below to find out how to winterize it.
Related Articles:
Getting my Fountain Ready for Winter
Imagine the Water Garden Dream
How to Prepare your Water Feature for the Upcoming Spring