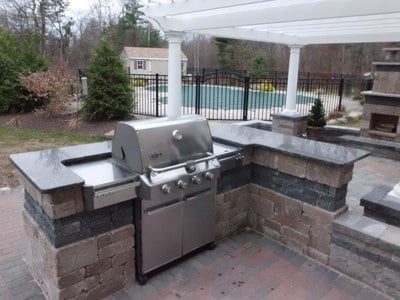 Subscribe
How do I plan my Outdoor Kitchen?
Pavers | Built-in Grill | Outdoor Kitchen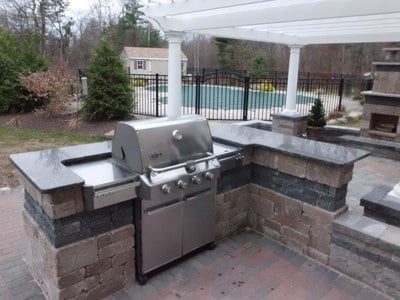 Ahhh, food. This is one of my favorite topics. I love to eat... really, just about anything. But, I also enjoy the time of preparing the scrumptious food item(s). Although I love my indoor kitchen, there really isn't anything better than grilling that favorite steak or kabob with a few friends on a beautiful summer evening.
We ask ourselves, 'Why is the kitchen the hub of all life and require so much planning?' That's a great question, and since it is so important, why not plan for it outdoors just like you do indoors?
So, you ask yourself, 'How do I plan an outdoor kitchen?' In my opinion these are a few things that you need to consider:
1. Proximity to indoor kitchen
(this proves very helpful when transporting food in and out)
2. What appliances do I want my kitchen to have?
The grill is obviously the primary, but there are numerous secondary appliances available as well; refridgerators, wine coolers, side burners/ grills, etc...
3. How about a sink?
This can be a little tricky in the Northeast - but only because of water freezing issues. You just need to make sure the water and drain pipes can be winterized.
4. Storage
There are many ways that you configure your storage solutions. Doors, drawers, trash bins, paper towel dispenser, to name a few.
5. Bar/ Serving Counter

There's nothing better than enjoying food with good company and conversation. Many of us enjoy the excitement of having a few friends around as we prepare the food, but there's never enough space to accomodate everyone around just the grill. Why not incoporate a bar or an island into your outdoor kitchen? It can also double as a serving counter when entertaining more than just a handful.
6. Shade Structure
One other thing that can effect the function of a kitchen drastically is overhead structure. If you're simply trying to get out of the sun, a pergola not only reduces sunshine, but also adds a magnificent architectural element as well.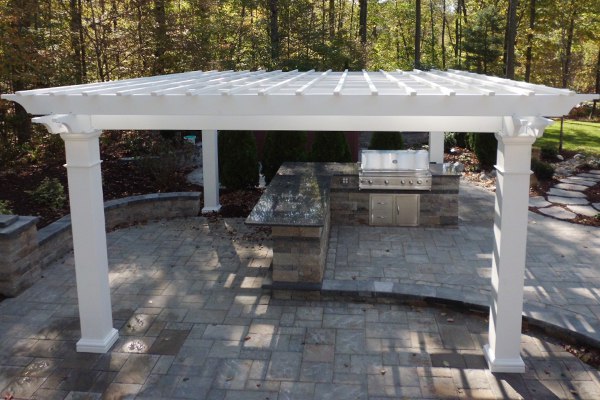 To keep the sun and rain off of you would require either a porch or a pavilion. Both of these will work well, and still allow you to embrace the outdoor living that you've been craving.
Related Articles:
The Versatility of an Outdoor Bar
How much does a Built in Grill Cost