We have been designing and installing landscapes for over 25 years.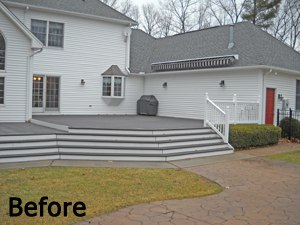 Our specialty is Outdoor Living 'Enjoyed!' Our designs incorporate patios, walkways, retaining walls, outdoor kitchens, sitting walls, fire features, pool patios and driveways to fit the scale and space of your home.
We also offer complete landscape designs which include plantings, water features, architectural structures such as pavilions or pergolas, pools, landscape lighting, and much more.
Our design process starts with a phone call to our office. The initial meeting generally begins with a lot of dialogue regarding what the project involves and what you as a customer can expect from us as the contractor.
We have 4 levels of the design that depend on the complexity of the project and how involved the layout is. The Ultimate goal of the sales and design team is to be able to collect all your dreams and wishes and make them a reality for you! Information about your project is then passed on to the foremen and crews in order to get your project installed as specified.
LEVEL 1:

On-Site Design and Installation Consultation
The first level of design is usually a hand drafted line drawing.
One of our professionally trained sales/design personell will meet with you at your home to discuss your dreams and ideas.
The designer will review site details and begin discussing potential design options.
This will give us a starting point to be able to verbally ballpark an estimate for the cost of the project installation.
Many times our designers will leave you with a hand sketch of your project and a written estimate of the cost you can ssume for your project.
For many of our projects, the hand drawn design is enough for our crews to take to the field and install the project.
As the complexity of a project increases, (like with different levels and heights, steps and walls in combination with pavers) so does the need for a more complex and complicated drawings and estimates.
LEVEL 2: Design Center Visit
The second level of design is a consultation that's done with you in our showroom. This usually occurs following a site visit by one of our sales personell, but doesn't have to.
Meet with one of our professionally trained design/sales staff to continue discussing your project.
Begin to look at the available product choices, design features, colors and patterns.
Please call us to set up an appointment for these visits or click the link on the right. We want to be able to devote enough time to you and your project.
If you are beginning your design process in our design center, please bring in a couple of photos of the project area with 1 or 2 dimensions of the space, and we will work with you to create a hand drawn design and get you a ball-park estimate.
LEVEL 3: CAD Drawing (design fees may apply)
The next level in the design process is to produce a CAD drawing.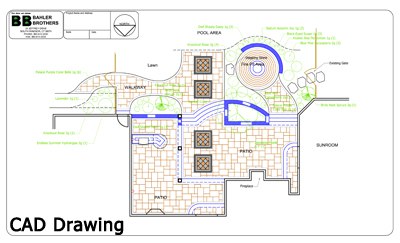 Allows us to get very detailed with the information we want to communicate.
Layers of notes and graphics can be turned on and off as needed for each phase of the project.
We have the ability to show paver patterns, border details, plant selections, future design elements and notes for everything. (A minimum deposit and commitment is required for this step.)
LEVEL 4: 3-D Rendering (design fees may apply)
The last level in our design process includes a 3-D rendering of the design.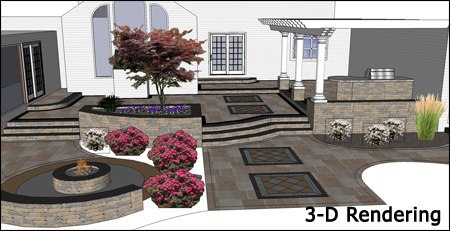 Assists in the visualization of the general design concepts and elements to be discussed.
We have found this to be a highly effective sales tool when trying to present a more advanced design idea.
This is not for the average project, but for those that are difficult to visualize because of the complexity. (A minimum deposit and commitment is required for this step.)