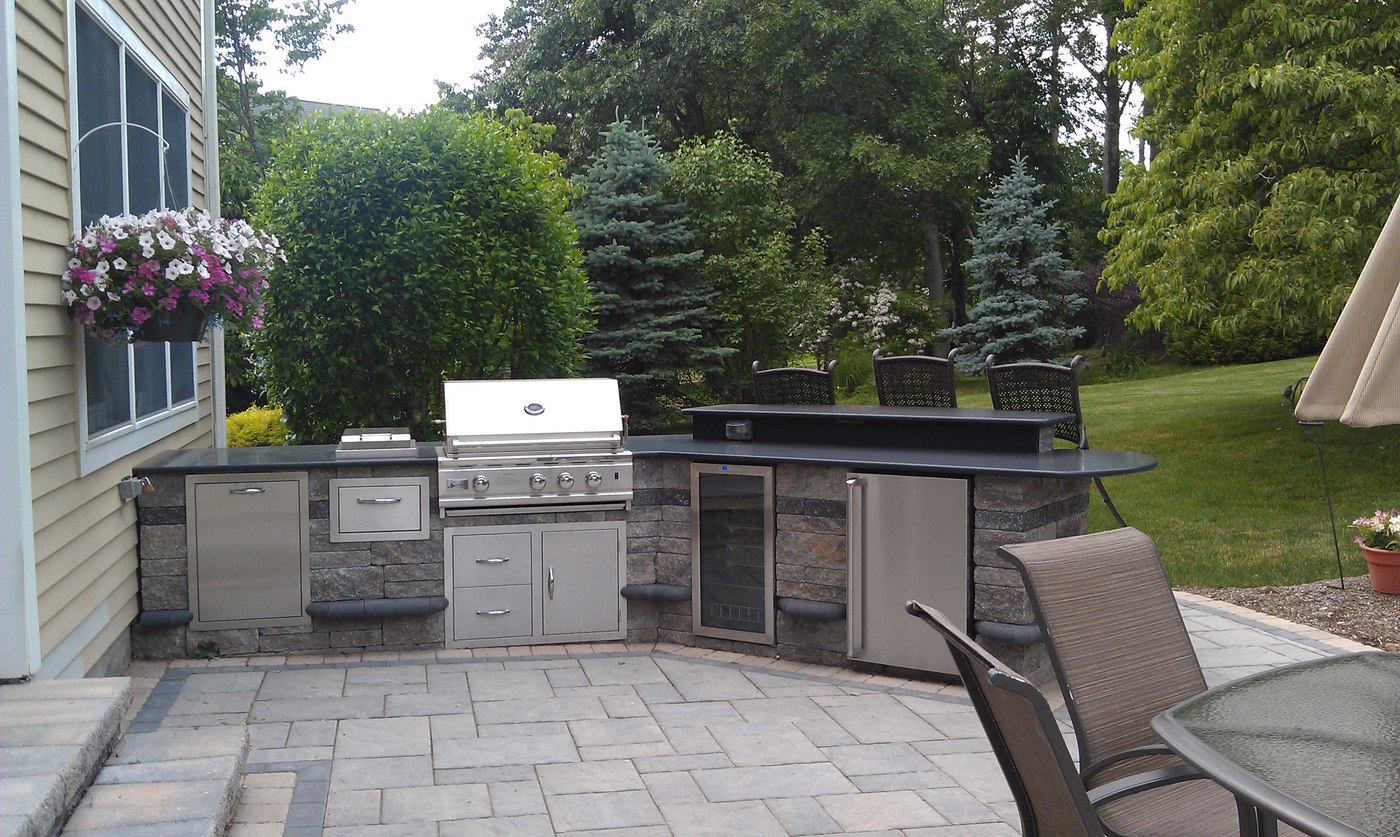 Subscribe
How to Create your Dream Outdoor Kitchen
Outdoor Living | Outdoor Kitchen | Pergolas
As we are becoming well aware, outdoor kitchens are becoming more and more popular.
"Outdoor kitchens have exploded in popularity because they provide an enjoyable space to cook and share food in the beauty of a garden environment,"
says J. Gieo Peonsoneault, host and producer for The New American Landscape Channel, an online resource for the green industry. While your kitchen can be tailored to your budget and tastes, here are four things for anyone to consider while planning your dream outdoor cooking space.
Click here for many great outdoor kitchen ideas.
1. Evaluate your space and design a layout that works with your area and your budget.
2. Decide which materials you would like to use for your floor, raised structure and counter tops.
3. Think about your appliances, and what you would like to incorporate into your kitchen.
4. Overhead roof type of structure, such as a pergola or a pavilion.
The first thing to consider is the space you are working with and the most efficient layout for your space. You should also consider your indoor space while planning this. You want your kitchen to be visually appealing from the inside as well at outside. Your budget and preferences also need to be taken into account at this stage, but you need to think about how the layout can be the most efficient for your needs and wants.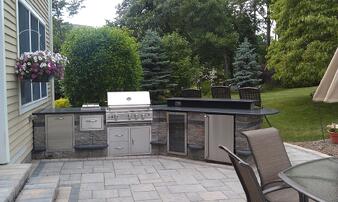 Now it's time to consider what materials you want to use to build your kitchen. While considering this, you also need to think about your climate and the weather your kitchen may have to put up with. Brick, natural stone, and interlocking block are all great options for the raised structure.
Some ideas for the countertops are slab granite or poured concrete. Tile is not the best option, especially in a colder climate, because the grout can collect water and crack with the freeze/thaw cycles. Cooking outside is usually a social event, so you should think about a seating or bar area in this space too.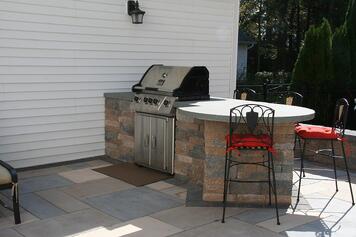 Once you have established the layout and materials you are going to incorporate into your kitchen, it's time to think about appliances. As the popularity of outdoor kitchens has increased, the days of running back and forth between indoors and out are gone. There are many elements you can incorporate into your outdoor space, including grills, pizza ovens, sinks, small refrigerators, and stoves. It's really up to you and how extensive you would like it to be.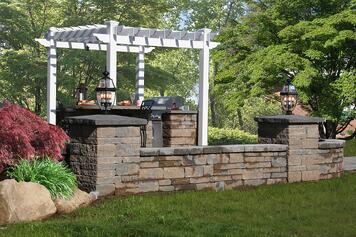 You may think your kitchen is complete, but there is another element that can really take your kitchen to the next level. Think pergola or pavilion, or some other form of roof/covering. These structures not only offer the practicality of shade and possibly shelter from the elements, but also add architectural interest and the ambience of 'room-like' feeling. Further, you can add lighting to the structure to extend your usage past sunset.
We have given you some basic things you should be thinking about for how to create your dream outdoor kitchen. Once you have determined these factors, you are ready to have your kitchen built, and start enjoying your new outdoor room!
To schedule an appointment with one of our professional design staff to help you plan your dream kitchen, please click on the link below!
Related Articles:
The Versatility of an Outdoor Bar