Subscribe
How Landscaping Complements Hardscapes
There are times when you know a new driveway, retaining wall, walkway or patio, would help you to maximize your outdoor space or make it more functional, but sometimes the beautifying landscaping portion can take a backseat. Here are some reasons you might want to consider giving some more thought to what landscaping can add to your hardscape and how the two can work together to give you a beautiful outcome.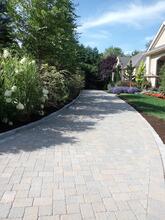 Landscaping can soften the edges of your hardscape surfaces and complement them, making a seamless flow from pavement to plantings. A professional landscape design can also add a wow factor and make the project feel 'complete'. It's kind of like decorating the inside of your house once it's built. It takes it from great to fabulous!
Landscaping can also offer a vertical element to give your space structure and also privacy. From ornamental trees, to perennials and shrubs, you can have a beautiful visual display of shapes and colors to make your yard stand out from the rest. Also, how much more beautiful is a row of flowering shrubs than a privacy fence? Your neighbors will thank you too!
As with any project, getting a professional designer involved who has expertise on plant varieties and good placement will help ensure that you will still love your landscaping when it matures. If you aren't very familiar with the plants your planting you may end up spacing them too closely, or picking something that is too big or too small for your space. A professional can also help with any drainage issues you may have and make sure your landscape and hardscapes flow seamlessly, giving your home a resort-like feeling.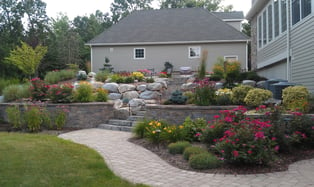 If you have a patio or walkway, driveway or retaining wall that doesn't have landscaping currently, or are considering adding one to your home, now is the time to think about how a beautiful landscape can really enhance your yard. It's like the frosting on the cupcake!
Related Articles:
7 Great Ornamental Trees to Plant in Your Yard