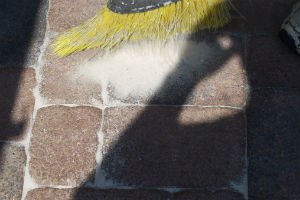 Subscribe
What is Joint Sand for Pavers?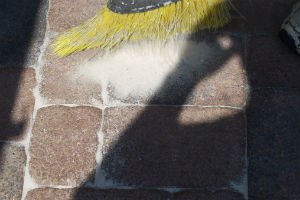 I wrote an article a while back regarding the very integral part that joint sand plays in the longevity of a paver project. The ICPI refers to joint sand in their tech spec sheet #2. There are basically three different options of joint sand that most paver installers offer to their customers.
Washed Concrete Sand

- This is the same sand that is used for the setting bed under the pavers and meets the gradation requirements of ASTM C33 and CSA A23.1. Some of the largest particles in the sand may be more difficult to sweep and compact into the joints. Still, some contractors prefer to use the bedding sand material for their jointing material since it means having one less material to control on a job site, and they also feel that they achieve better interlock between the pavers.
Graded Mason's Sand

- This sand contains more fine particles and tends to fill the joints faster, making final compaction less time consuming. Both materials are approved alternatives by ICPI. Using mason's sand makes sense if the time saved sweeping and compacting the sand into the joints outweighs the costs and inconvenience of having two kinds of sand at the jobsite. If not, then consider using bedding sand. Some contractors feel that finer sands create tighter, less permeable joints.


Polymeric Sand- When activated with water according to manufacturers instructions, this sand will harden, inhibiting weed growth, insect infestation, and sand run off from the joints. Generally, polymeric joint sands tend to cost more than C-33 washed concrete sand and masons sand, and require extra steps and time.

Whatever the final decision may be, the ICPI does NOT recommend using stone dust, limestone screenings or other materials that do not conform to either C-33 or C-144 gradation specifications.
Related Articles: