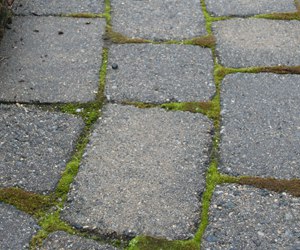 Have you ever seen a paver patio that had weeds or moss growing in the joints? How about areas with a lot of ant hills following the paver joints? Or entire sections of a paver area that had no sand in the joints whatsoever - because it had all washed out? These are all things we have seen, and they're maybe the reason you haven't wanted pavers. And yet... you really like the look of a beautiful stone patio or driveway with an accenting border - it's just gorgeous. There's hope. Pavers no longer have to be such an eyesore or so much maintenance. We can now use polymeric sand (or poly sand, as we like to call it).
What is Polymeric Sand?
Poly sand is a high-tech mix of a properly graded sand and a binder compound (yes, it's a polymer) that is specially formulated for filling the joints of pavers and slabs. Polymeric sand was invented by Techniseal in 1999, and it has revolutionized the installation of interlocking concrete pavers. It is a sand that hardens once it is activated and has dried and yet remains flexible when it is wet. This flexibility is necessary in regions where the ground freezes and thaws repeatedly.
Benefits of Poly Sand
Poly sand stays in the paver joints and resists erosion.
It prevents weeds from growing in the joints.
It prevents ants from coming up through it as well.
The biggest benefit is that it is flexible when it's wet and is able to move with the pavers.
It works in all paver applications and can be used in those natural stone applications with a joint width of up to 4" wide.
Once it has fully cured, it can be power washed - carefully.
Polymeric sand meets the ICPI industry standards.
Polymeric Sand Installation
The installation of poly sand can get a little tricky. If you're inclined to do this yourself, please please read the instructions on the bag. The results can be messy, if done incorrectly. That being said, the benefits of the polymeric sand far out weigh any installation issues that may come up.